I'd like to think that at Casino Answers we have a great section on Casino Betting Systems and I always give impartial advice that tends to come back to the fact that I don't like using rigid betting systems, simply because they tend not to work in the long run. Sure, they might give you a nice win in the short-term, but there is no evidence any of the betting system can beat a casino in the long term and if there is, no-one is ever going to let it slip, that's for sure!
As I always mention, most of the systems rely on "gambler's fallacy", which basically says a win or a loss is due to previous outcomes. In reality, any system that is based on this isn't worth paying any attention to if your intention is to have a serious chance of taking down the casino.
So, systems like the Martingale System are doomed for failure. The system can have you running up huge losses right from the get-go just because the idea is that you're due a win eventually. In reality, you could end up losing a lot of money using this system. It's definitely not one of the best. In fact, in the additional questions, we detail why the Martingale System sucks. If you're ever tempted to use it, just read that article and find something else to try.
Still don't believe me? Well, why not download the Bovada software and try it on the roulette table for 50 spins? 500 spins? 5,000 spins? Regardless, you'll end up in a lot of bankroll trouble.
The same is true for the Fibonacci Betting System, although it won't crush your bankroll as quickly as the Martingale System and it is a bit more fun than simply doubling your bet when you win.
The Cancellation Betting System is another system that can get out of control very quickly if you don't have good fortune, although unlike the others mentioned above, it does add a bit of variety to to proceedings. However, if you go on a bad run, you're going to end up betting ridiculous amounts to gain a small win, which isn't cool.
Now, it might sound like I'm totally against betting systems, but I'm not. I actually like using them to add a bit of spice when I load up a casino or pay a visit to a casino. However, instead of using the Martingale, I like to use limited systems and sometimes the D'Alembert System. However, it should be noted that you should know when to call it a night with the D'Alembert System – once you get a nice string of wins together, either start the system from the beginning again, or just walk away and either load up a different game, or call it quits.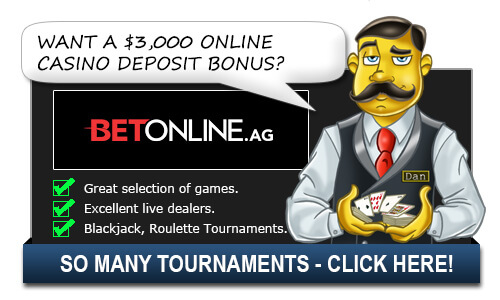 When I use limited betting systems, I like to simply write down how many units I want to bet on each stage of the ladder and stick to it rigidly. Why do I stick to it rigidly? Well, it means I don't make impulse bets just because it's come up red 10 times in a row, or because the opening throw has been a 7 the last 6 throws. If I have a system, I stick to it until I'm done with the game or I've lost all that I'm willing to lose.
I'll use something along the lines of the Base Two Betting System or Base Five Betting Systems. However, instead of moving up the ladder with a win or a loss, I'll just make the bet regardless of what the result of the previous spin is. You know, a cycle of 1-2-3-4-5-1-2…, or something similar depending on your bankroll, is quite fun and, again, it stops the impulse bets. It's only a slight variation to the Base Five Betting System, just getting the idea of "gambler's fallacy" out of it.
Seriously, give it a try at Bovada and I promise you that while you probably won't beat the casino in the long run, it's much more fun than being a slave to something that doesn't actually exist and if you do end up on a heater, you'll still win a nice amount of money without having to risk a small fortune.
What you do have to remember is that you will have losing sessions to go with the winning sessions and no matter what system you use, it's going to be the same. As I always say, just use betting systems to make your time spent gambling a bit more fun and less monotonous and, whatever you do, don't use the Martingale System, as it really does suck!
Oh, and if you want an answer about what system in the list is the best, well, you'll have to decide for yourself. I know it's a cop out, but it's just whatever system you have the most fun using.
Additional Best Betting System Questions:
Why do you say that you won't beat the casino in the long run with these systems?
You may not believe this, but casino games have what's called a house advantage which makes the games favor the casino. No betting system in the world is going to beat that, but they can add a nice strategy or guide for your play.
Top Casinos for Americans

Related Questions:
Alternative Ways to Ask/Incoming Search Traffic:
The answer to the question What Is The Best Betting System? is also applicable for the following questions:
What betting system wins the most? What betting system works? What betting systems are better than the Martingale System? Casino betting systems for dummies?
Top Casinos for Americans