If you've been tuning into the NBA Playoffs you've no doubt noticed the Miami Heat fans wearing White. You may be wondering why exactly the Miami Heat fans wear white during the NBA Playoffs.
Don't worry – it's not some secret Ku Klux Klan meeting that just happened coincide with the Heat playoff games at the American Airlines Arena. Here's a picture from the Heat 76ers Game 1 on April 16, 2011: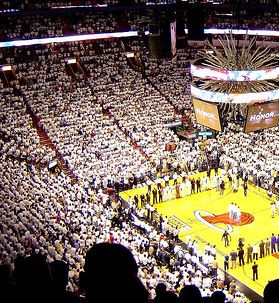 All the seats were draped in white and all fans were encouraged to wear a white t-shirt. Those who didn't were given a white t-shirt as they entered.
At it's core, this is basically a promotion by the Miami Heat to encourage team spirit and unity. If you've ever attended a college basketball game then you know how amazing that sort of atmosphere is – this is a promotional tactic to hopefully get that same crowd chemistry, because with the fans wearing the same colour and outfit it helps unify them.
It's called the "White Hot" campaign.
Additional White Hot Questions:
Where can I purchase White Hot Merchandise?
Right Here @ MiamiHoopsGear.com.
Related Questions:
Alternative Ways to Ask/Incoming Search Traffic:
The answer to the question Who do the Miami Heat Fans Wear White During the NBA Playoffs? is also applicable for the following questions:
Heat fans white, heat fans wearing white,