The Base Five Betting System is a progressive betting system that can be used in casino games, especially games such as blackjack, roulette and craps. It's designed to capitalize on any winning streaks and be gentler on your bankroll than other betting systems such as the Martingale System. It can be used playing at both online and offline casinos and for the sake of this article, we're going to use it playing roulette online at Bovada just because both US players and non-US players can use the great roulette software there.
So, we've downloaded the Bovada software, deposited and loaded up the roulette table, now what? Well, we have to define our system.
The basic principle of the system is this: 1-2-3-5-1-2… Each number represents a number of units to bet and we need to decide how much each unit is going to be. We'll make each unit $10, simply because it keeps things simple. So, our betting ladder will look like this: $10-$20-$30-$50.
Depending on your bankroll, you can make it $1, $100, $4 or $53 a unit, it just depends on how you're feeling. I also like to keep a pen and paper by my side so I can keep track of where I am on the system, because if you forget one step, the system can be ruined and you'll have to start over.
Now, as I stated earlier, this system is designed to capitalize on your winning streaks and avoid huge loses when you lose. How does it manage this? Well, after a winning bet, you're going to move up a level. Once you have a winning bet on the fourth level (5 unit bet), you go back to the start of the sequence and start all over again. When you have a losing bet, you stay at the level you're at until you have a winning bet. That's why it's called a "progressive betting system" as the amount you bet progresses as you win. Simple!
Using the roulette at Bovada, we can put this system into practice. Because the system only really works when making bets that pay out 1:1, I'm going to pick a color and bet on it. I'll stick with red, as I like the number 5 on a roulette table and that's red. So, the first spin comes up 20 black. I'm now -$10. I stick to betting $10, because that's the rung of the ladder I'm on in the system. The next number comes up 7 red, so I'm now back to level and I'm on rung two of the ladder and I'll be betting $20. The next spin comes up 21 red, so I'm now +$20 and on level 3 of the ladder, betting 3 units ($30). This time the ball lands on 20 black and I'm -$10 and still on level 3. The next spin is a winner, so I'm back to +20. The next spin also wins and I'm finished this sequence on +$70.
Now, that's the perfect example for anyone wanting to use this system, as it shows that it can be profitable without too much of a risk. But let's look at it this way: my first 3 bets win and I'm sitting on +$60. However, I lose at level 4 (5 units), so I'm +$10. I then lose again and I'm -$40. Let's say the losing sequence goes on for another 3 spins and I'm now -$190. So, from looking at a nice profit, I'm not looking at a substantial loss.
You might think that's quite an extreme example, but in reality it's not. You already won 3 spins in a row, so why can't you lose 5 in a row? Each spin is an individual event and the chances of it landing on black 5 times in a row isn't affected by the previous spins.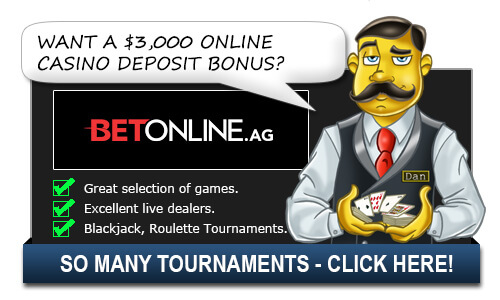 There are ways you can change the system so that loses won't be as harsh. For example, every time a bet loses, you can end the sequence and go back to the start, or move back down a level. Both have their merits, but aren't guaranteed to do any better than the system outlined above, it might just prolong the misery a bit more.
The way I prefer to use the system is make bets of 1-2-3-5-1-2… and move up the ladder regardless of the outcome of the bet. It isn't designed to guarantee success or take advantage of any winning streaks, it's just simply a lot more fun and if I'm playing roulette for fun, I'll use this system to add a bit of spice to it. The reason for this is that I don't believe that you can gauge a winning streak or a losing streak and you shouldn't either – each bet is an individual occurrence and the previous event has no bearing on the next one. If you bet bigger than normal simply because you're on a winning run, in the long run you're going to lose your bankroll.
Additional Base Five Betting System Questions:
Why Does The Base Five Betting System Suck?
Because it uses the principle of Gambler's Fallacy to say that you should take advantage of "hot streaks". As outlines in the article above, it can be dangerous to stick to betting 5 units until you win, because you might not win until your bankroll runs out. Sticking to this system and thinking you're due a win a recipe for disaster. Plus, no-one has ever taken down a casino using a system for that reason. Plus, let's say you're down $-190 like the article points out. Even if you win the next bet, you're back to $-140 and now you're betting $10 again and the cycle continues where you can't really afford to have many more losses and a loss is just as likely as a win.
Will Casinos Let Me Use The Base Five Betting System?
Why wouldn't they? It's going to make them money and it'll keep you at the table a bit longer than if you use the Martingale System, so you might buy some food from them, too! The Base Five Betting System really isn't something casinos are scared of. The system has been around a long time, but there are casinos out there that have been around longer and will still be around long after many players have gone broke from using it. Both offline and online casinos take the same stance on it, but you probably won't feel as bad using it online, because when you lose your bankroll, you don't have to take the walk of shame to the car park, you can just curl up in your bed.
Top Casinos for Americans

Related Questions:
Alternative Ways to Ask/Incoming Search Traffic:
The answer to the question What Is The Base Five Betting System? is also applicable for the following questions:
What is the 1-2-3-5 betting system? How does the Base Five Betting System work? What progressive betting systems are there? Is the Base Five Betting System for me? Will the Base Five Betting System make me a winner?
Top Casinos for Americans