The D'Alembert Betting System is an increasingly popular betting strategy for use at casinos. It can be used for most casino games, although it is easiest to employ in blackjack, roulette and baccarat. The system is simple enough so that it can be used in live casinos or in online casinos.
The D'Alembert Betting System is also known as The Pyramid System, but for the purposes of this article, we'll use the traditional name.
To understand the D'Alembert Betting System, it may help to "play along" as we explain it. There's great software available at Bovada and you can play for free, so you can have Blackjack or Roulette up within seconds.
Now, the D'Alembert Betting System is a "negative" betting system, so for each win, you reduce your bet by one unit, for each loss, you increase it by one unit. To explain the system, we'll use blackjack as the example. You decide to bet $1 a hand. You win this hand, you keep your bet at $1. Well done. However, the next hand you lose and the D'Alembert Betting System comes into play.
So, you've bet $1 and lost. According to the system, you now increase the bet by 1 unit. Your next hand will be for $2. Again, you lose. So, unlike the Martingale system where you would double your bet, you will simply add 1 unit to it. This time we'll bet $3. Again, you lose. According to the system, the next bet is $4. If you keep losing, you add 1 unit onto your bet until you win.
When you place your $4 bet, you win. Happy days! So, according to the system, you simply reduce the bet by one. Your next be is $3. Again, you win. The next bet is $2. You get on a hot streak and win again. The next bet is back to 1 unit and you start the process from the beginning.
In that sequence of bets, your losing bets cost you $6, but your winning bets won you $9, so it was a good session.
However, like most betting systems, there is a problem in that you will never win every bet you make. Of course, if you do, please get in touch and share your secret! But say you go on a cold streak and you lose 10 hands in a row (I've been there, it sucks), while betting $10 units. Your next bet will be $110 and you'll have lost $550 already. You would have to win 7 hands in a row to be in profit of $10. Now, it can be done. It can be done, but you're relying on having 7 perfect bets and it doesn't happen that often when betting against the house unless you have an elaborate system in place. But if you have this system in place, why did you lose those 10 hands?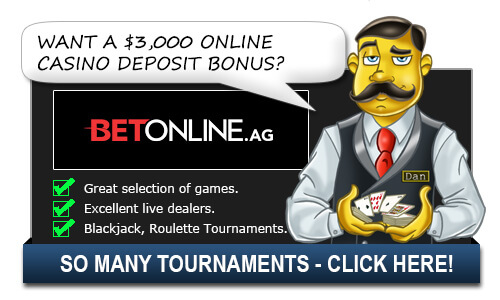 Basically, the theory behind the system is the Law of Equilibrium. Basically, the theory is that you're more likely to win after losing and vice-versa. As we all know, it's a ridiculous idea, especially if you've been on a bad run. The same applies in reverse, of course. If this theory was true, no-one would go on hot streaks. The system is deemed a "long term" strategy, which isn't too good if you're planning on using it on a night out at the casino, or having a bit of a gamble online.
If you'd like to try it out for yourself and see how it works in practice, head on over to Bovada. Get onto the Play Money tables, fire up your choice of blackjack game and try out the D'Alembert Betting System for yourself and see what type of streak you can build up.
I'm not a fan of betting systems and I wouldn't recommend this, but it is popular and is designed to help keep losses small and manageable. But, in the end, you will either see small wins or big losses using this system, it's as simple as that. The more big losses you have, even with the small wins, the sooner you'll have lost your entire bankroll.
Additional D'Alembert System Questions:
What is the history of the D'Alembert Betting System?
The D'Alembert Betting System is named after Jean le Rond d'Alembert, an 18th century French mathematician. D'Alembert had argued, in theory, that you are more likely to win after losing. He used a coin toss as an example and stated that the likelihood of it coming up heads after landing tails was greater. This is known as "gambler's fallacy", because we know that each toss of a coin is independent to the last one and it is simply a 50-50 chance, like the last time.
Do casinos let you use the D'Alembert Betting System?
Of course they do! In fact, they'll be more than happy to accommodate you if you decide to use this strategy. As stated, the system has been in use for over 200 years and, as far as we know, it's yet to bring down any casino we can think of, either online or offline. That's probably because it isn't exactly a successful strategy, so the casino will gladly take your +1 unit or -1 unit bets every time.
Top Casinos for Americans

Related Questions:
Alternative Ways to Ask/Incoming Search Traffic:
The answer to the question What is the D'Alembert Betting System? is also applicable for the following questions:
What alternatives are there to the Martingale betting system? What is a good casino betting system? What is a pyramid betting system? What is a good roulette betting system?
Top Casinos for Americans