Video Poker is a very easy game to play. If you've ever played a hand of draw poker, then you know exactly how to play video poker. But just in case you don't, here is a video poker rules guide for you.
Alright, first things first, let's talk about the poker hand rankings. They are from lowest to highest:
High Card: A hand without a pair, straight or flush, ie: :Qs::9d::7h::5h::3s:
One Pair: Two cards of the same rank, ie: :jc::jd::5s::6s::2c:
Two Pair:2 cards of the same rank, and 2 cards of a different rank, ie: :jc::jd::4s::4d::5c:
Three of a Kind: Three cards of the same rank, ie: :4s::4d::4c::5h::9h:
Straight: A hand with all five cards in the same sequence. ie: :3s::4c::5d::6d::7d:
Flush: A hand with five cards of the same suit, but not in sequence, ie: :5h::6h::9h::qh::kh:
Full House: A hand that consists of three cards of the same rank and two cards of another rank, ie: :4c::4d::4s::9h::9s:
Four of a Kind: Also known as quads, this hand consists of four cards of the same rank, ie: :7s::7d::7h::7c::4d:
Straight Flush: A hand which is both a straight and a flush, for example: :5c::6c::7c::8c::9c:
Royal Flush: A hand with the ten through ace all in the same suit. Like this: :ts::js::qs::ks::as: Pretty, isn't it?
Alright so that's poker hand rankings for you. Lets talk about how that works in relation to video poker. The fundamentals of all video poker games are the same, although the payouts are different.
First here's how video poker actually works. You put in your bet. You click "Deal". You get dealt five cards. You choose to either discard cards or hold cards. You can discard up to all 5 cards, and can hold all 5 cards. If you discard any cards, you are provided replacement cards.
At this point, depending on your hand, you either win or lose. Simple, huh?
Lets take the most common video poker game, Jacks or Better Video Poker. The way you win with Jacks or Better Video Poker is just as it sounds – you have to get a pair of jacks or better. A pair of 9s? You lose. High card? You lose.
Here's an example of a Jacks or Better Video Poker game courtesy of the awesome Rockbet Casino: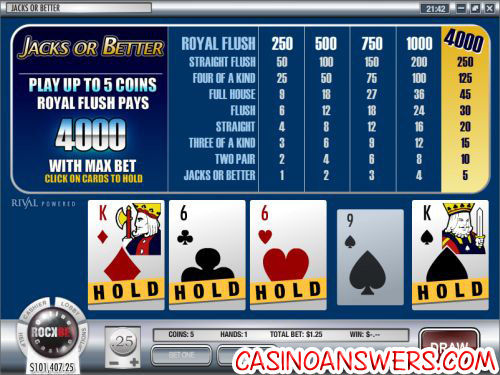 So as you can see in the above hand, we've been dealt two pair immediately. So we choose to hold the two pair, and we would then draw for the next card.
That's it – that's all there really is to video poker.
Now what you should know is that there is a LOT of different versions of video poker. That's one of the best things about video poker, there's so many variants of it, and so many crazy ways to play. However at the end of the day the fundamentals are all the same, and it's usually just a case of additional bonuses, wildcards and difference on payouts.
For a wide variety of video poker games check out Cherry Red Casino.
Additional Video Poker RulesQuestions:
(None yet)
Related Questions:
Alternative Ways to Ask/Incoming Search Traffic:
The answer to the question What Are The Rules to Video Poker? is also applicable for the following questions:
How do you play video poker? Where can I find video poker rules online?