So you tried to deposit to an online casino with your Mastercard, Visa or American Express. Maybe this is your first ever attempt at trying to deposit to this online casino, or perhaps you deposit at this casino all the time and your credit card suddenly got rejected. Yet you know you have enough money on the credit card, and you're not over your credit limit, so why did you suddenly get the message that they couldn't process your credit card?
First of all, we recommend reading our article on Casinos that accept Mastercard & Visa Deposits as we update this regularly with online casinos which can process credit card transactions.
But why exactly was your credit card rejected?
If you're in the USA then one possible reason is due to the whole UIEGA, which basically attempts to stop banks from processing any transfers to and from gambling programs. Of course if you are outside the US then this usually isn't the case. One reason your Mastercard or Visa deposit was rejected could be because the credit card company feels gambling deposits are considered high-risk deposits.
If you're looking for online casinos that have a lot of success in regard to credit card payments, online casinos that use N1 Interactive software seem to have no problem with credit card payments. So if you are having trouble depositing then try with some N1 Casinos and you will likely have more success.
You see, when it comes to online gambling there are always a lot of chargebacks and fraud in relation to credit cards. People deposit with their credit card, gamble more than they should have – then deposit more in an attempt to win it back – and next thing you know they are more in the hole than when they first started. Their first thought is to state that their credit card was stolen and used without them knowing about it. Doe to things like this, many credit card institutions will block deposits to gambling sites.
So what some casinos do to get around this, is have your funds deposited to a generic payment processor. So when you go to deposit with your Visa or Mastercard to an online casino it doesn't look to the bank like you are actually depositing to an online casino.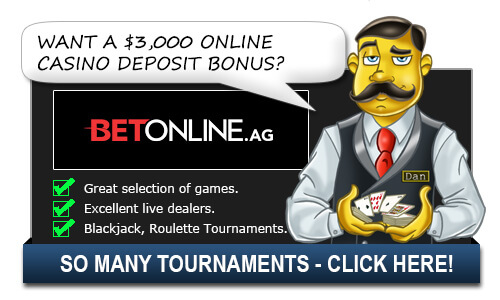 What we would highly recommend doing however, is sign up with an e-wallet. If you are familiar with
Paypal
that's an e-wallet – although please note that Paypal won't allow transfers for Americans to online casinos or online poker rooms, and there are only a very select few online casinos that use Paypal as a deposit method. To see the list, you can read our article:
What casinos accept paypal as a deposit option?
So what you want to do is sign up for an e-wallet. This is actually a huge timesaver for you too – depositing and withdrawing from online casinos is a lot quicker. If you deposit via Credit Card, then you usually can only withdraw via check, which can take weeks to arrive. Withdrawing to an e-wallet usually takes no longer than 48 hours.
Due to restrictions by many payment processors, we feel it is best to split the best e-wallets into selection by country.
USA: eWalletXPress
Canada: Moneybookers
Everywhere Else: Moneybookers, Neteller.
Additional Credit Card Casino Deposit Questions:
Will I have to pay a fee for depositing?
It varies from casino to casino, but many allow you to deposit using a credit card without a fee associated with it.
Top Casinos for Americans

Related Questions:
Alternative Ways to Ask/Incoming Search Traffic:
The answer to the question Why was my Credit Card rejected at an Online Casino? is also applicable for the following questions:
What casinos accept mastercard and visa?
Top Casinos for Americans