Fruit Slots is a 3-reel, 1-line classic slot machine developed by Microgaming. You can play Fruit Slots at Bovada.
Fruit Slots Game Description
Fruit Slots is not only a no-frills slot machine, it is proud of it! The slot machine boasts "no frills, no fuss" as its main hook. The slot machine is very bright and colourful, using a lot of green, yellow, purple and pink. The Microgaming Fruit Slots game is not to be confused with the Vegas Technology Fruit Slots game. Here is what Microgaming's Fruit Slots looks like: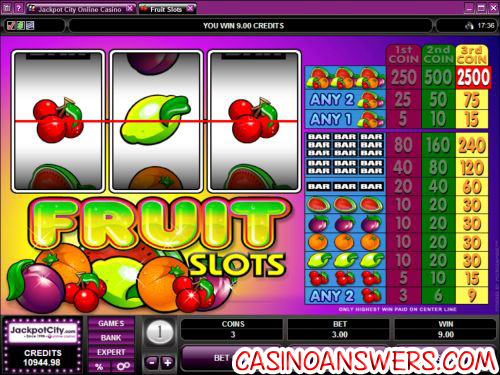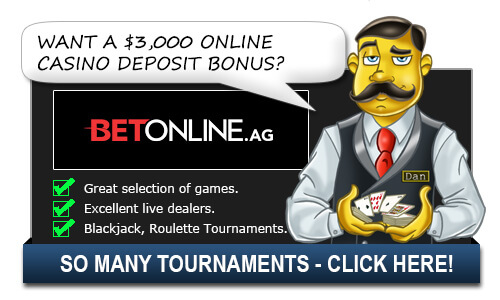 Fruit Slots Betting Options
Fruit Slots, like any classic slot machine is easy to play. Select your coin value. Your options will be $0.25, $0.50, $1, $2 and $5. Then, decide how many coins you wish to bet by hitting "Bet One" and hit "Spin." If you wish to play all three coins, you can hit "Bet Max" to spin the reels as well.
Fruit Slots Payout Schedule
The top jackpot on Fruit Slots is all fruits symbol. Three of these symbols on a 3-coin maximum bet and you will win 2500 coins. Payouts in Fruit Slots are (1/2/3 coin payouts listed in parenthesis): 2 cherries (3/6/9), 3 cherries or 1 fruits symbol (5/10/15), 3 of any single fruit (10/20/30), 3 single bars (20/40/60), 2 fruits symbols (25/50/75), 3 double bar symbols (40/80/120), 3 triple bars (80/160/240) and 3 fruits symbols (250/500/2500). Symbols do not have to start on the first reel to win.
Fruit Slots Autoplay Mode
Switch into expert mode on Fruit Slots and you can use the autoplay feature. To start the autoplay feature, hit the "Autoplay" button next to the 5X and 10X autoplay buttons. You will now be able to choose your number of spins (5, 10, 25, 50, 100, 250 or 500), number of seconds between spins (0, 0.5, 1, 1.5 or 2), to stop once all spins are complete, to stop when jackpot is won, to stop if a win exceeds or equals your selected value ($25, $50, $100, $500, $1000, $2500 or $5000), to stop on any win you receive or to stop if your credits increase or decrease by your selected value ($25, $50, $100, $500, $1000, $2500 or $5000). You may stop Fruit Slots' autoplay feature at any time.
Fruit Slots Summary
Fruit Slots is a great slot machine for what it is – nothing complicated, nothing that is going to set your world on fire, just an old-fashioned slot machine that is easy to play. You can find Fruit Slots at King Neptunes Casino where you can get a 100% signup bonus up to $100.
Additional Fruit Slots Machine Questions:
Is Fruit Slots a US-friendly slot machine?
Players located in the United States are unable to play at Microgaming casinos. If you are looking to play a Fruit Slots game at a US-friendly casino, please read our Fruit Slots Review for the Vegas Technology game of the same name.
Can I play Fruit Slots in my browser?
Yes, King Neptunes Casino provides an instant play flash version of Fruit Slots that you can play in your browser. If you have any problems playing Fruit Slots in your browser, make sure you have the latest version of Adobe Flash Player installed on your computer.
Does Fruit Slots have a progressive jackpot?
No, Fruit Slots does not have a progressive jackpot. Maybe you are thinking of Fruit Fiesta, which you can also play at King Neptunes Casino.
Related Questions:
Alternative Ways to Ask/Incoming Search Traffic:
The answer to the question Microgaming Fruit Slots Machine Review, Q&A, Flash Game, Rules is also applicable for the following questions:
What fruit machines are there online? What is a good slot fruit machine? What is the difference between the Fruit Slots at Microgaming and Vegas Tech?