Fruit Salad Jackpot is a 3-reel, 1-line classic progressive jackpot slot machine developed by CTXM. You can play the Fruit Salad Jackpot slot at Bovada.
The Fruit Salad Jackpot slot machine has an old-fashioned traditional casino theme. There is a casino ambiance of people talking and shouting while they are gambling in background that adds a lot of realism to the game. When you spin the reels, you can hear turning very slowly. Music will play, but it will sound like it's coming from the slot machine's speaker. The slot machine lights up a little bit and almost resembles a jukebox as much as a slot machine. Most of the symbols are fruits, but there are also bar symbols. Fruit Salad Jackpot's symbols are as follows: cherry, watermelon, plum, lemon, banana, apple, single bar, double bar and triple bar. Here is a screenshot of Fruit Salad Jackpot: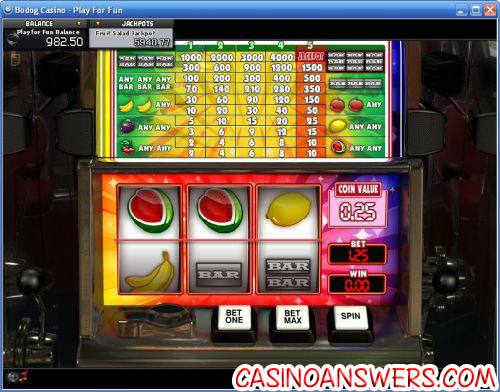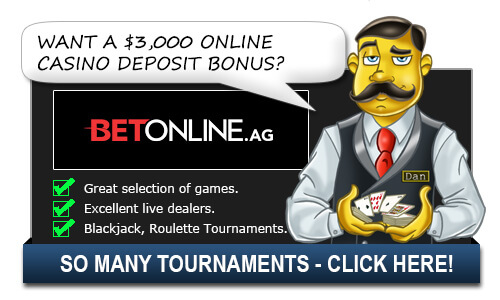 Fruit Salad Jackpot is a quarter slot. It is a multi-coin slot with the maximum number of coins being 5. To play the Fruit Salad Jackpot slot, either hit "Bet One" the desired number of times and then "Spin" or hit "Bet Max" to bet $1.25 on a spin and be eligible for the progressive jackpot. At $1.25, Fruit Salad Jackpot is one of the cheapest progressive jackpot slots you'll be able to find online.
Winning combinations and payouts on the Fruit Salad Jackpot progressive jackpot slot are (1/2/3/4/5-coin payouts listed in parenthesis): 1 cherry or watermelon (2/4/6/8/10), 1 plum (3/6/9/12/15), 1 lemon (5/10/15/20/25), 2 bananas (10/20/30/40/50), 2 apples (30/60/90/120/150), 3 any bars (70/140/210/280/350), 3 single bars (100/200/300/400/500), 3 double bars (300/600/900/1200/1500) and 3 triple bars (1000/2000/3000/4000/jackpot). All winning combinations must start on the first reel when applicable.
Fruit Salad Jackpot is an excellent low-end progressive jackpot for low stakes players looking for a significant win. The jackpot will usually only be in the four figures, but most casual players only dream of striking a jackpot of that size. The best online casino to play Fruit Salad Jackpot at is Bovada.
Additional Fruit Salad Progressive Jackpot Questions:
How do I win the progressive jackpot on Fruit Salad Jackpot?
To win Fruit Salad Jackpot's progressive jackpot, all you have to is line up three triple bar symbols on the center payline. Make sure you bet 5 coins on every spin to be eligible for the progressive jackpot on Fruit Salad Jackpot.
Are US players allowed to play Fruit Salad Jackpot for real money?
US players are allowed to play all of the exciting games at Bovada, including Fruit Salad Jackpot.
How come I can't find Fruit Salad Jackpot at any other RTG casino?
While
is a Realtime Gaming online casino, it also has independently added CTXM games to expand its game selection. There aren't very many casinos that have CTXM games like Fruit Salad Jackpot yet, but Bovada is the best one around.
What special features (if any) does Fruit Salad Jackpot have?
Fruit Salad Jackpot does not have any bonus games, free spins, wild symbols or anything of the sort. All it has is a progressive jackpot.
Related Questions:
Alternative Ways to Ask/Incoming Search Traffic:
The answer to the question Fruit Salad Jackpot Slot Review, Q&A, Flash Game, Rules is also applicable for the following questions:
What good fruit machines with progressive jackpots are there?