Since their introduction in the mid 1970s, Scratch cards have amused hopeful people to remain optimistic. Nearly all if not all of us have encountered the small pieces of paper with at least a portion concealed with plastic or latex and to reveal details in that part, the owner has to scratch off the latex using a finger, nail or sharp object. The scratch card alias scratchie contain concealed PINs of particular numbers, words or icons some of which bearing the winning prize.
All scratch cards regardless the applications have a common denominator; any person that takes part in the concept is gambler since he or she has to scratch the card, which is a gamble so as to know whether or not the prize is won. Most cards usually allow the entire area to be scratched to confirm the winning/losing code.
How it works
Scratch cards are typically small pieces of cards in form of tickets. What happens is; a portion of the ticket as mentioned earlier is concealed by a translucent substance (mostly latex-type) that is scratched to reveal the underlying code. The gamble here is to receive a winning card since you are only limited to scratch and reveal. Some cards have a single portion to scratch but others have more than one portion for the bearer to scratch open where you will find the winning combination. The gamble here is to select the specific blocks to pick your cards from.
At a relatively low cost, players have an affordable opportunity to scratch their way to the bank, which in many cases is more compared to what they initially laid out in the purchase. The fact that they are easily available exposes more people to the simple yet exciting fun form of gaming. There are no complex rules involved but it is recommended that you know the background of the company and some random picking strategy to guide you through the process.
If a person decides to scratch off more than a single block or section in a scratch ticket containing multiple portions, the card will be considered invalid and you as the player will not be awarded the prize. Once you find out that you possess the losing combination, it is then that you can scratch through all the sections making it null and void to get to know where the mistake was.
Scratchies provide instant results which is instant gratification for gamers who fail to have the patience of waiting for ages for the national lotteries to give their verdict. Offline scratch cards can be adapted to fit different themes and event with the extra plus lying on the small size and simple design that is produced in mass to ensure that many people stay entertained. Some of the applications include scratch cards sold for gambling, free cards used by quizzes, telephone calling cards, and cards inside food packages including many more.
Misconceptions
Many people carry the misconception that scratch cards are not a gamble. A significant percentage of these people might have an issue with gambling and at no time would they take a chance of entering a casino. Scratch cards are a great option but take some sort of a gamble. The tickets offer a great alternative to those that wish to spend less yet have the chance to win huge amount of money.
Online Scratch Cards: A simple step-by-step guide
Log in to the online scratch site; select whether you want the "Instant Win" or the "Scratch Card Menu".
Before proceeding to the next step, it is important before you decide to purchase a scratch card of your choice, go through the rules and regulations of play including the requirements for winning.
Once you are ready to go ahead, it is time to click "Purchase" to buy the scratch ticket.
Choose the "lucky" card by clicking it and as soon as you make the selection the scratchie will be displayed on the screen.
Scratch it off by clicking the "Instant Scratch" button or you can use the available "scratch tools" where you will usually find coins, keys, bottle caps and other creative not-so-sharp objects.
The final step is to hover the tool (mouse pointer) over the scratchable area, hold down the left mouse key and scratch to see whether or not it's your lucky day.
One user asked us how to play scratch cards. Like actual scratch cards – not the online scratch cards. But the scratch cards you can get at your local convenience store.
Interesting question.
It's a tough one to answer because there are so many variants in scratch cards. Some you scratch everything, others you scratch symbols off based on symbols you uncover etc.
There's no general rule as to how to play scratch cards. So what I will do is pick two separate scratch cards and then explain how they work, and then show you one.
Also if there is a scratch card you are not sure how to play – send me a screenshot. There's a link below to e-mail me and I'll explain it.
So here are two scratch cards: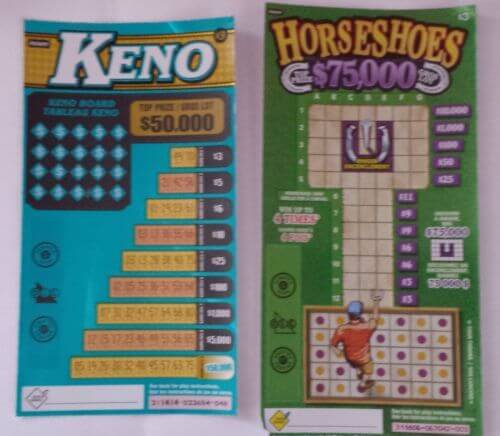 One is fairly simple, the other complicated.
The one on the left is Keno. You have the Keno Board at the top left. You scratch all of that and you will reveal numbers. You need to then scratch the corresponding number on the actual prize list at the right. It's a bit hard to see – but 21, 42 and 56 are the $5 line. So if you get 21 and 42 on your keno board you would then scratch them off.
Here's a completed scratch card:
As you can see I got 49 and 70 on my Keno board. So I scratched them off the $3 line and as I got all of the symbols on there I won $3. While on the $100 line I got all numbers except 2 – if I had got that 2, I would win $100. I didn't get anything though – there's no "hey you got SOME of the numbers" rule unfortunately.
Now let's look at horseshoes. Here it is after I scratched off a row: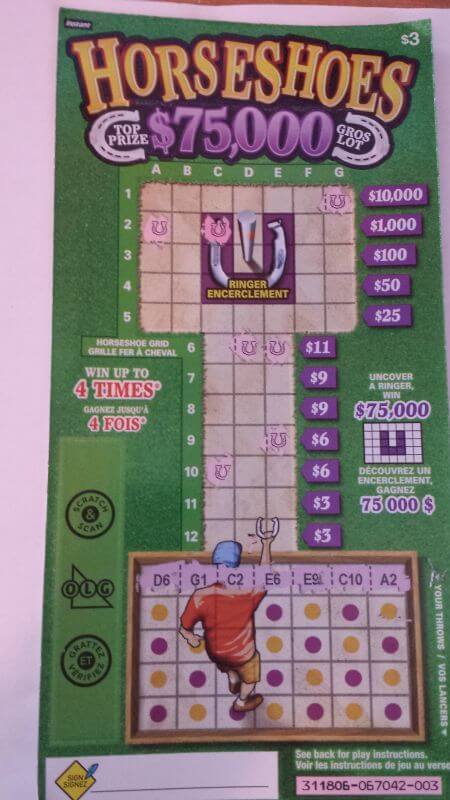 See that? It's similar to the Keno one. That's the thing with scratch cards is they all have different but similar methods. They all have a different design but it's usually the same. In this instance for example, I scratched off D6 and E6. So for $11 I just need C6. And then the bigger prizes you need to scratch off more.
Another variation you will see is word puzzles. Here's a scrabble scratch card: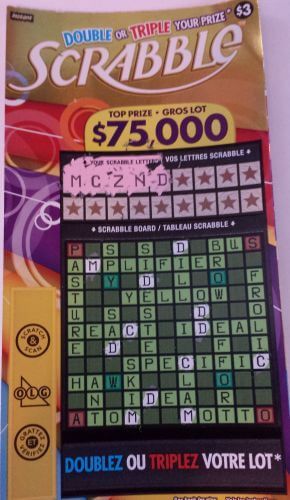 It's pretty simple – you get letters, you scratch them off. Simple as that. Then if you get a word – well that's 1 word scratched off. Usually those cards will only pay out when you get at least 2 words. Then the more words you scratch, the more money you win. In that instance the prizes were listed on the back.
And that is how you play scratch cards!
Additional How To Play Scratch Card Questions:
None Yet
Related Questions:
Alternative Ways to Ask/Incoming Search Traffic:
The answer to the question How Do You Play Scratch Cards? is also applicable for the following questions:
How Do Scratch Cards work?