Progressive jackpots are great. Now, we've never actually been fortunate enough to hit one of the big progressive jackpots out there, but we love playing them and we love writing about them, because they're what gambling is all about.
Gambling can, at times, be a bit of a grind.
You can sit and play keno and constantly hit a small win, followed by a small loss, followed by another small win. It's the same for a lot of casino games, such as blackjack, or baccarat.(Get 20 free spins on the Mariachi 5 slot, win real cash. Click here and use code DANSPINS20 during signup.)
However, at the back of our minds when playing certain games, especially slots, is the progressive jackpot – that little number at the top of the screen getting bigger and bigger as times goes on.
The chance to win an amazing amount of money, not just a few dollars here and there. We're talking about five-figure sums, or even six-figure sums. The great thing for all you keno players is that there are keno games with progressive jackpots out there, as long as you know where to look and if you are a serious keno player, you will be wanting to play at a casino with a progressive keno jackpot.
Unfortunately as of this time, I am unaware of any progressive jackpot keno games available online at any reputable casino.
There was Jackpot 15 Keno but there was actually no sort of "Jackpot" associated with that oddly enough. It was just a fancy name and there was no progressive jackpot attached to it. As far as I am aware that game isn't available online anyway anymore.
There ARE some Keno games that do offer a special or some sort of jackpot or reward for certain things however.
One of those is Cleopatra Keno which has a special bonus to it: each round, there is a marked spot. If the final ball hits that spot you get 12 free games. So while not a progressive jackpot, it is a big win.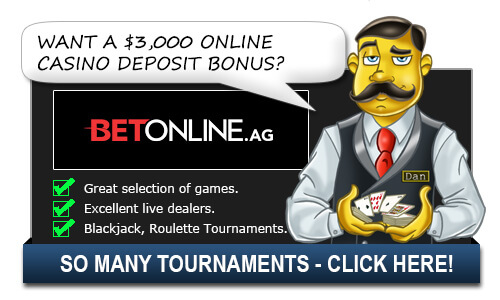 Then there's Klub Keno which offers a Starball. This is a special ball that doubles the payout.
Finally there is Superball Keno which offers up a superball that offers up a multiplier.
But as far as I know – and I have searched high and wide – there is no keno game available that has a progressive jackpot. If you know of any please be sure to use the contact form below so I can update this article.
Top Keno Casinos for Americans

| # | Online Casino | Reason | Visit |
| --- | --- | --- | --- |
| 1 | WinADay Casino | Amazing Multi Card Keno Game | |
| 2 | Slots.LV | $22 No Deposit Bonus just for registering, Fun Keno Game | |
Additional Progressive Jackpot Keno Questions:
I like Progressive Jackpots and Keno. What's the best casino for me?
If you like both of these individually, I'd recommend Bovada for everyone except Americans and Bovada if you're American.
Both have a solid selection of progressive jackpot games as well as a great selection of keno games.
Sadly, not combined.
Related Questions:
Alternative Ways to Ask/Incoming Search Traffic:
The answer to the question Where To Play Progressive Jackpot Keno Online is also applicable for the following questions:
Is there any progressive jackpot Keno online? Is there a keno progressive jackpot? Where can I play progressive jackpot keno? What casinos have progressive jackpot keno?
Top Keno Casinos for Americans

| # | Online Casino | Reason | Visit |
| --- | --- | --- | --- |
| 1 | WinADay Casino | Amazing Multi Card Keno Game | |
| 2 | Slots.LV | $22 No Deposit Bonus just for registering, Fun Keno Game | |