Jackpot Keno is a classic version of the popular Keno numbers game, whereby a player picks up to 15 numbers drawn from a set consisting of 80. The more you hit directly using the 20 drawn balls, the greater your chances of winning. On average, this game has a favorable Return-to-Player ratio of 92.09% out of the maximum 97.50%, but winning entirely depends on the player's strategy.
In terms of gameplay, one is introduced to a counter at the top-right corner of their screen, this slide shows gradual progress of the 20 drawn balls that have been launched onto the indexed square grid. When a ball hits any of your selected numbers, it's featured on the grid and this is done in two ways including representation of the 'NUMBER OF BALLS' indicator and 'Payout' paytable.
The amount of money you win depends on how many ball picks you've done correctly out of the 80 available. The game is complete once all 20 balls have successfully landed on the square grid. Moreover, your total account balance is increased based on the final value shown on the paytable. (Get 20 free spins on the Mariachi 5 slot, win real cash. Click here and use code DANSPINS20 during signup.)
How to play Jackpot Keno
I. Choosing your numbers
To play Jackpot 15 Keno, you must first enter your preferred numbers by choosing the center-numbered tiles. You can pick from as few as one number to a maximum of fifteen. Each selection on the grid will be highlighted, plus you are free to increase the 'NUMBER OF BALLS' display and even adjust the paytable accordingly. However, in most cases the least stake per game is 2p whereas the maximum stake is £50.
Alternatively, you can press on the 'random 15' button to be automatically presented with 15 random integers. If you want to deselect any number(s) from those that have already been chosen, just click on the highlighted section and it would immediately be removed.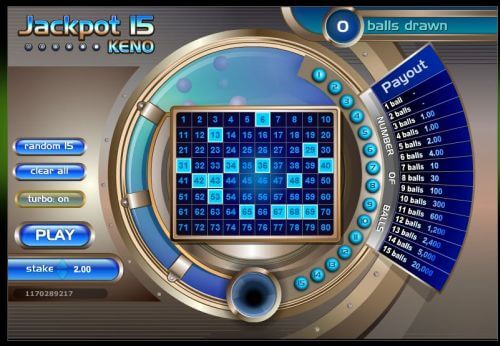 II. Placing a bet
Once you are satisfied with the numbers picked, enter your stake by pressing on the 'up/down' buttons then click on 'PLAY' to start the game. Your account balance shall be adjusted accordingly as the ball draw begins and game progresses.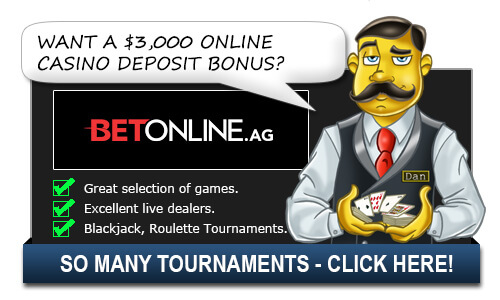 In most places, the maximum amount of payout for Jackpot 15, which is the aggregate winnings and returned stakes for any 24hr period to an individual player is £100,000. This sum is also accessible to any other person playing the game using your verified identification details, or group of players acting together.
The draws usually occur 'on demand', therefore, notwithstanding any other factor you sometimes may not receive a confirmation email in order for your placed bet to be considered valid.
After each playoff, your winnings will automatically be credited to your gambling account. Nevertheless, note that Jackpot 15 bets can't be merged with any other online betting event, also 2 or more draws cannot be combined in accumulative bets.
Additionally, payouts quoted and bets presented may be altered from time-to-time by the casinos. Jackpot 15 offers great payouts and stakes that suit all types of pockets, in some places you can even try the game for free on trial-version with any signup required. This game is quickly gaining popularity nowadays because of its huge payout sums, and low failure rate compared to other forms of Keno.
Top Keno Casinos for Americans

| # | Online Casino | Reason | Visit |
| --- | --- | --- | --- |
| 1 | WinADay Casino | Amazing Multi Card Keno Game | |
| 2 | Slots.LV | $22 No Deposit Bonus just for registering, Fun Keno Game | |
Additional Jackpot 15 Keno Questions:
None Yet
Related Questions:
Alternative Ways to Ask/Incoming Search Traffic:
The answer to the question Jackpot 15 Keno is also applicable for the following questions:
Where To Play Jackpot 15 Keno Online, Jackpot 15 Keno Review
Top Keno Casinos for Americans

| # | Online Casino | Reason | Visit |
| --- | --- | --- | --- |
| 1 | WinADay Casino | Amazing Multi Card Keno Game | |
| 2 | Slots.LV | $22 No Deposit Bonus just for registering, Fun Keno Game | |