Klub Keno is a fun game that can be played in various online casinos or brick-and-mortar casinos. One drawback of the game is that it is too basic and has very few features, but the likelihood of winning a big amount of money makes up for that. Klub Keno uses only forty numbers, and players are expected to pick between three numbers and 10. You win double the payout if the StarBall lands on any of your numbers on the board.
The game allows you to wager as little as $0.02 or as high as $1.00, and that may not augur well with people who like to bet with huge amounts. But for the rest, they'll find an amount they'll be comfortable to wager.
But how do you play Klub Keno?
If you intend to play the Klub Keno game for real money, select a bet size and then tick up to a maximum of ten numbers you wish to play. You'll then choose to play either of the following rounds: one, five or ten. In case the numbers drawn match with your selected numbers, they'll be marked with a star. It is noteworthy that wins are rewarded according to the bet size as well as how many matching numbers you get. For Klub Keno, getting a StarBall entitles you to double your payout.
Klub Keno is available for playing at a variety of online casinos, and you can play either for fun or for real money. In case you intend to win real money, then you'll need to sign up with a reputable or respectable online casino offering the game and make a deposit. After that, you'll then head over to the game and choose your bet size.
You win depending on the numbers you match. If you match more numbers, you win more. If you bet a lot, you also win a lot. You can bet with at least a penny for each game, and you can wager up to $1 on each game. The maximum payout you can ever expect when you play $1 and match all the ten balls is $15,000.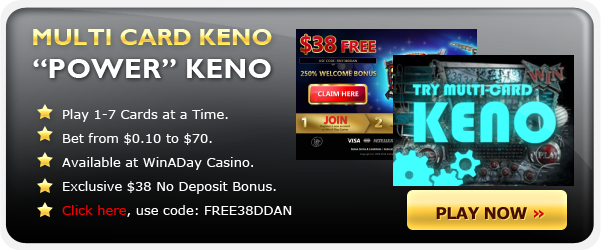 With Klub Keno, you may opt to play a game at a time, or play ten games simultaneously using a single bet and numbers picked without the need to stop and pick numbers again. After the games are over, you may click on 'New Game' to commence a new card and start anew.
Claim to Popularity
You might be wondering why this hitherto little-known game is growing in popularity at such a rate. Its main claim to popularity is the frequency of the wins. Because a lot more numbers are produced by the random number generator in Klub Keno than in a standard lottery, players invariably have the chance to get smaller wins more frequently. And, thanks to that, the game has become popular among all ages and across the globe. In many countries, the game is run by national or private lottery organizations which have made the fun game available outside the precincts of licensed casinos. Klub Keno's fewer features turn out to be an incentive rather than a disincentive because it appeals to newbies who might feel intimidated by all the shiny things that other Keno games offer.
Another reason why the game is so popular to wagers of all ages is that Klub Keno features a StarBall that grants players the chance to win huge money – twice the normal payout.
It is definitely a game worth trying.
Top Keno Casinos for Americans

| # | Online Casino | Reason | Visit |
| --- | --- | --- | --- |
| 1 | WinADay Casino | Amazing Multi Card Keno Game | |
| 2 | Slots.LV | $22 No Deposit Bonus just for registering, Fun Keno Game | |
| 3 | Lucky Red Casino | $4000 in Bonus Money for Keno | |
Additional Klub Keno Questions:
None Yet
Related Questions:
Alternative Ways to Ask/Incoming Search Traffic:
The answer to the question Klub Keno is also applicable for the following questions:
Play Klub Keno Online, Klub Keno Review
Top Keno Casinos for Americans

| # | Online Casino | Reason | Visit |
| --- | --- | --- | --- |
| 1 | WinADay Casino | Amazing Multi Card Keno Game | |
| 2 | Slots.LV | $22 No Deposit Bonus just for registering, Fun Keno Game | |
| 3 | Lucky Red Casino | $4000 in Bonus Money for Keno | |