Slot machine players always strive for one thing: the progressive jackpot. Why? Well, simply because of the size the jackpots can reach life-changing amounts. Yes, it's nice to land a four-figure win, it's even better if you're lucky enough to get a five-figure win, but how about seven-figures? Well, that's the reason people play slot machines with a progressive jackpot, because they know if they hit it, they might never have to work again.
So, with that in mind, wouldn't you like to be Georgios M of Greece? You see, Georgios was playing at River Belle Casino when he won a life-changing amount of money on the 12th of May 2009.
He was playing the Mega Moolah slot machine when he won the princely sum of €6,374,434. For those that can't be bothered to convert it, that works out at around $8.62m at the current exchange rate, which really isn't bad for a win on a slot machine. I'm sure you've had worse days, I know I have, that's for sure!
Microgaming slot machines have made well over a dozen millionaires, but none anywhere near as big as the win by Georgios M achieved. Mega Moolah also gave a Finnish player (Klaus E) an amazing $5.5m win back in 2008, so it's definitely a slot that has proven to be a big earner for players. Seriously, the machine has paid out well over $16m in progressive jackpots to players and although recently they haven't hit the heady heights of Georgios' win, they've still been very large sums, many still well over $1m.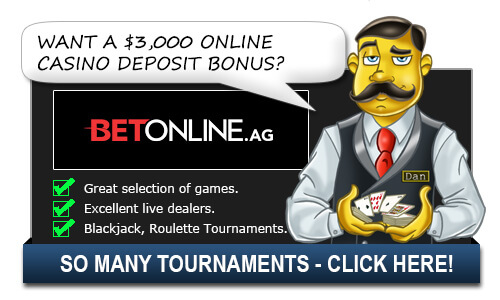 Previous to Georgios' big win at River Belle Casino, previous biggest win was 5.9m on the Millionaires Club slot machine at InterCasino. Again, this is a slot machine that has made quite a few people very rich, indeed. The 5.9m was won in 2007 and smaller wins, albeit still in the millions have been won to this date.
So, this is proof, if you ever needed it, that playing progressive slots can be life-changing if you ever hit the jackpot and they're certainly worth trying out if you ever decide to play slots. The progressive jackpot adds a nice edge when playing that regular slot machines can't give you.
Top Casinos for Americans

Additional Biggest Progressive Jackpot Questions:
Where would you recommend I play for progressive jackpots?
If you're looking to hit some progressive jackpots online, there are a lot of options. In terms of quantity, Bovada probably has the most and is easy to use and is available to play in your browser. Some of the more quality ones though include Bovada which along with a wide variety of slots and some good progressive jackpots, accepts Americans. Both of these online casinos have a great selection of games and progressive jackpots and are trustworthy.
Related Questions:
Alternative Ways to Ask/Incoming Search Traffic:
The answer to the question What is the Biggest Progressive Jackpot Won Online? is also applicable for the following questions:
When was the biggest progressive jackpot won? What is the biggest online progressive jackpot? What is the biggest slots progressive jackpot?
Top Casinos for Americans