Sports Betting Challenges are nothing new – but they're something that have grown a lot in popularity recently. This is due to many Facebook Groups or Pages who are dedicated to sports betting tips running various of these challenges.
This is also due to the popularity and evolution of live in-play betting, where you can actually bet during the game. This has added a whole new excitement to the world of "sports betting challenges".
In short – a sports betting challenge is where you take an amount, and then try and make a higher amount out of it via various bets. You want to take $x and turn it into $y. Examples of the amounts would be starting off with $10, and then turning it into $100. Or you can go much higher, and aim for something like $1000.
Although if you are just starting out, it's better to aim low.
Sports betting challenges are mostly popular for soccer/football – the reason for this is because of the variety of bets available and the amount of games in play.
Practically everyone doing these sports betting challenges will bet at Bet365 Sportsbook. They offer the biggest variety of game selection available. Even better is you can "watch" the game – if they aren't offering live streaming(which they often do), they offer a pitch and text graphics instead which is horrendously addictive.
Here are a couple of screenshots showing Bet365 live in-play:
Mobile: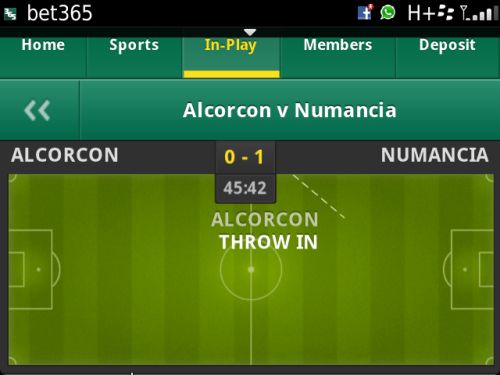 Website: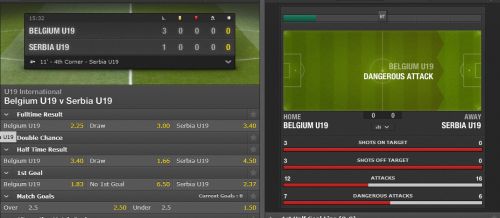 So remember Bet365 is generally the best place to do these sports betting challenges.
What you are looking for with these sports betting challenges is odds of between 1.3 and 1.7. Any lower or any higher and you're either risking too much for too little reward, or simply risking the chance of busting out early.
You also can't bet randomly – don't just put your trust in the sportsbooks odds. Do some research. For example in the screenshot above for the Bet365 website you saw where it listed "Dangerous Attacks" and "Attacks" – that's one indicator that the game is open and you're going to be getting some goals, so you may want to bet on that.
Here's an example of a Sports Betting Challenge and how it would work – assuming all bets win! I'll use sports that are going on as I write this:
Start with $10. Aim is to get to $100.
IFK Norrkoping vs Jonkopings Sodra – bet Over 0.5 goals in the first half with 3 minutes gone at 1.44 odds. $5 returns $7.22. Win that.
Sarsporg vs Follo: Only 4 corners in match at 50 minute mark. Bet $7.22 on Sarpsorg to win the "Race to 5" corners at 1.36 odds. Returns $9.84.
Germany U 19s vs Ukraine U19s: Bet Germany U19s next goal at 1.40 odds. $9.84 returns $13.77.
And so on and so forth – almost like the Reverse Martingale betting system.
Notice how most of my bets were "short" bets – as in I would know the outcome early on. That's the best method to do it.
So that's what a sports betting challenge is. Basically – keep track of it as you go. Have a spreadsheet going and make notes as to why you put the bet – and try and look for a formula. For example see if there is any correlation between attacks/dangerous attacks and goals or corners, and then have that to back you up.
And be sure to do this challenge At Bet365.
Additional Sports Betting Challenge Questions:
Can you do this with American sports like NBA, NFL or NHL?
Yes of course, however depending on the sport it can be quite tricky. It depends what is offered – you want bets where you will get them settled within the first period, or the first quarter. The aim is to do short bets that are settled quickly.
Related Questions:
Alternative Ways to Ask/Incoming Search Traffic:
The answer to the question What Is A Sports Betting Challenge? is also applicable for the following questions:
How do I do a sports betting challenge? How do sports betting challenges work?