Our favourite sport is back – and that means 18 weeks of NFL betting action. So, what can we expect in 2021 after witnessing a wild Week 1 and with 16 more games to go?
Improvement of Home Team Records in 2021
Last season was the only season in NFL history where the home team had a losing record. Compare that to only two years prior, when home teams won 61.8% of their games. That is a significant difference. Why was there such a decline in home teams winning in 2020?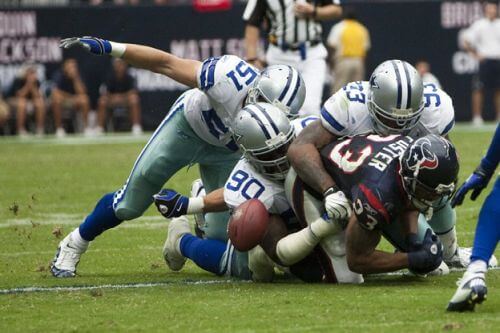 "Fumble" by AJ Guel Photography is licensed under CC BY 2.0
The obvious answer is the simplest one – most teams had no fans for most of the season. You can argue, fans in football can play a bigger role in the outcome of the game than any other sport. Why? Because noise levels in the NFL can make life more difficult for the visiting team.
Communicating with teammates when decibel levels are encroaching 100 is challenging. Keeping players from committing a false start is more difficult. The defence you're facing is more amped up when the crowd is chanting their names.
Without them in the stands, quarterbacks could orchestra their offences more easily. They could save timeouts instead of using them to avoid delay of game penalties. Now with the fans back – and many starved from a year, not in the stands – we expect home teams to regain the winning edge through the 2021 NFL season.
An Extra Game Could Mean Extra Rest
It is common to see in the NFL, teams resting their best players in the final game of the season (if they have stuff locked up). However, what if some teams are resting players for two weeks instead of one? Injuries are always a big concern, but when you are ready to make a run at the Super Bowl, they are a nightmare.
Players Still at the Risk of Missing Games
While this season has a lower chance of players missing games and games getting rescheduled – due to the virus and contact tracing – it is still possible. And that means we could get some crazy wide swings in lines if a team's starting quarterback cannot play in a game. Obviously, predicting what teams will have players out is difficult.
However, if you bet early and look at something called quarterback redundancy, you may be able to pull off a few smart bets this season. So, what is QB redundancy – the new NFL buzzword. The idea is relatively simple. Do you have a backup QB who fits the scheme designed for your starter?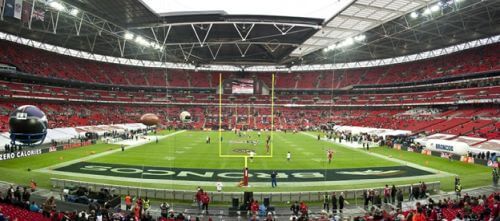 "NFL @ Wembley Oct 2010" by beefy_n1 is licensed under CC BY-NC 2.0
For example, the Baltimore Ravens had it last year with scrambling QBs – Robert Griffin III and Trace McSorley – backing up Lamar Jackson. When Lamar missed time, they filled in and were able to operate the same system.
This year some teams have opted to follow this strategy more than they have in previous seasons. You could argue the Buffalo Bills signing Mitch Tribusky follows this model. Or the Philadelphia Eagles turning for Gardner Minshew – while not as mobile as Hurts, can operate a similar offence.
If you can identify the teams with QB redundancy, you could find the best bets to make if losing their starting QB and shifts from favourite to an underdog.
Do Not Be Fooled by Early Season Underdog Covers 
At the start of the NFL, we thought we knew a lot. The bookmakers think they know a lot. The fact is until we see a few weeks of games, we cannot be confident in all that much. Take Week 1 of the 2021 NFL season. Underdogs went 12-4 against the spread.
Was Week 1 a fluke? Were teams overvalued? We would say it was a combination of both. We also may know less this year coming into the season with one fewer preseason game. However, the lines will adjust over the next few weeks and underdogs will move closer to 50% ATS for the season. So, do not fall too much in love with betting on the dogs – just try to find the undervalued ones early in the season.