Liberty 7s is a 3-reel, 1-line classic slot machine developed by Vegas Technology. You can play the Liberty 7s classic slot game at US-friendly casinos Millionaire Casino and Crazy Slots Casino.
Liberty 7s is a Red, White & Blue themed slot machine, after the colours of the Star-Spangled Banner. Symbols included on the Liberty 7s slot machine are Bar symbols and 7s, one of each in red, one of each in white and one in blue. Due to the multi-coloured nature of the slot machine, there are many winning combinations available on Liberty 7s. Interestingly, you can also get paid if you hit 3 blank symbols. Below is a screenshot of the Liberty 7s slot game: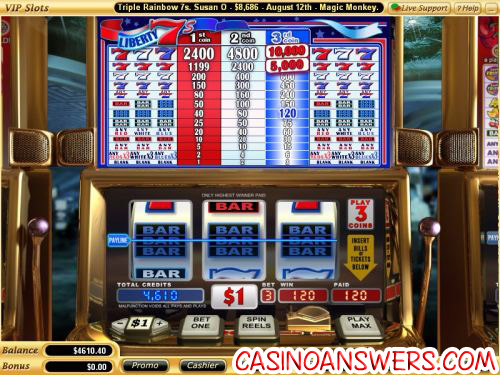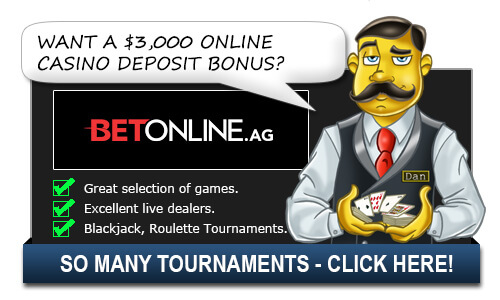 Coin sizes available on the Liberty 7s slot machine are $0.10, $0.25, $0.50, $1, $5 and $10. You can bet 1-3 coins. Liberty 7s is a dime slot, so you can bet anywhere from $0.10 up to $30 per spin. Liberty 7s is great for low or high stakes players. To play all 3 coins on Liberty 7s, use the "Play Max" button. For other bets, use the "Spin" button.
Much like the Sevens and Stripes RTG slot machine, the top jackpot on the Liberty 7s slot machine is the combination of a red, white and blue Seven symbol. On the Liberty 7s classic slot machine, if you hit this winning combination, you will win the top jackpot of 10,000 coins – an excellent top jackpot. Another great payout is 3 Red Seven symbols at 5000 coins. To try for either one of these great payouts, sign up and play Liberty 7s now at Millionaire Casino!
There are 13 winning combinations on the Liberty 7s slot machine. The full payout schedule is as follows (1/2/3 coin payouts in parenthesis): 3 blanks (1/2/3), any 3 red/white/blue symbols (2/4/6), any 3 Bar symbols (5/10/15), 3 Single Bar symbols (10/20/30), any red/any white/any blue symbol (20/40/60), 3 Double Bar symbols (25/50/75), 3 Triple Bar symbols (40/80/120), Single/Double/Triple Bar symbol combo (50/100/150), any 3 Seven symbols (80/160/240), 3 Blue Seven symbols (150/300/450), 3 White Seven symbols (200/400/600), 3 Red Seven symbols (1199/2400/5000) and Red/White/Blue 7s symbol combo (2400/4800/10,000).
The patriotically themed Liberty 7s is a great classic slot machine for USA players. Not only is there a wealth of possible winning combinations to hit, there is also a chance to become wealthy if you hit the 10,000X top jackpot! To play the Liberty 7s slot game, visit Millionaire Casino!
Additional Liberty 7s Questions:
Where can players from the USA play the Liberty 7s online slot machine?
Players who are based in the United States of America are most welcome to play the Liberty 7s slot machine casino game at their choice of Millionaire Casino, Crazy Slots Casino or any other Vegas Tech online casino.
Can I play a free Flash game of the Liberty 7s classic slot game?
Unfortunately, Liberty 7s is not offered at either Millionaire Flash Casino or Crazy Slots Flash Casino. However, they do offer many other slot games such as Double Gold and Triple Gold.
Related Questions:
Alternative Ways To Ask/Incoming Search Traffic:
The answer to the question Liberty 7s Classic Slot Guide & Review is also applicable for the
following questions:
What American based slot machines are there? Are there any USA themed slots? What happened to USA Casino?