Double Gold is a 3-reel, 1-line classic slot machine developed by Vegas Tech, featuring wild symbols and multipliers. You can play the Double Gold classic slot machine at US-friendly online casinos Go Casino and VIP Slots Casino.

Double Gold gets its name from the fact that you can win 2X your total bet when a Double Gold wild symbol appears on the reels on a winning combination. If you get two Double Gold symbols, you will quadruple your winnings. For even bigger winnings, please read our Triple Gold Classic Slot Review. Other symbols on Double Gold include Cherry, Bar and Seven. Here is a screenshot of the Double Gold slot machine: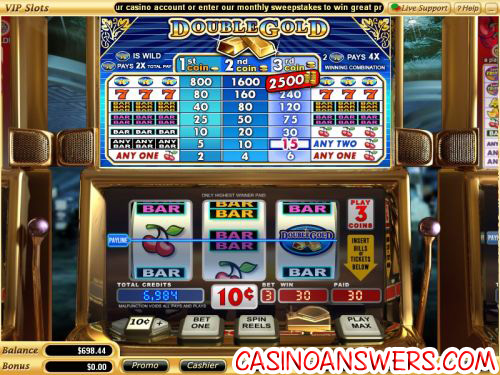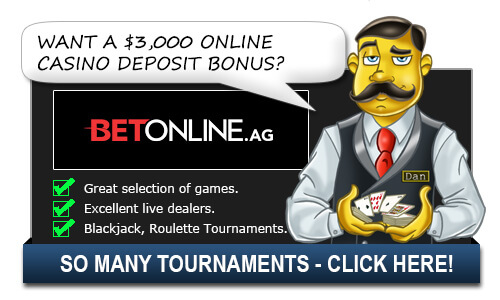 To play the Double Gold classic slot at Vegas Tech casinos, set your coin size at $0.10, $0.25, $0.50, $1, $5 or $10. Use "Bet One" to play from 1-3 coins. Alternatively, you can use the "Play Max" button to play all 3 coins (the maximum bet). The smallest total bet you can make on Double Gold is $0.10 per spin, while the largest total bet is $30 per spin. To spin the reels in Double Gold, use the "Spin Reels" button.
When you hit three Double Gold symbols on the payline in Double Gold, you will win the 2500X top fixed jackpot. The Double Gold symbol is also a wild symbol, so it will substitute for any other symbol in the slot game to complete winning combinations. Not only that, but it can also double or quadruple it! You will win a ton of gold if you hit the Double Gold top jackpot at Go Casino!
Payouts on the Double Gold slot machine are as follows (1/2/3 coin payouts in parenthesis): 1 Cherry symbol (2/4/6), any 3 Bar symbols (5/10/15), 2 Cherry symbols (5/10/15), 3 Single Bar symbols (10/20/30), 3 Cherry symbols (10/20/30), 3 Double Bar symbols (25/50/75), 3 Triple Bar symbols (40/80/120), 3 Seven symbols (80/160/240), 3 Double Gold symbols (800/1600/2500). There are nine winning combinations in Double Gold.
Get a $20,000 signup bonus to play the Double Gold slot machine and well over 100 other casino games at Go Casino!
Additional Double Gold Questions:
Can I play the Double Gold reel slot game in my browser?
Yes, you can play Double Gold in your browser using Flash at Go Casino. This is a perfect solution for Macintosh users who want to play Double Gold and other Vegas Tech casino games. If you experience any issues with the Double Gold flash game, try downloading the latest version of Adobe Flash Player.
Can USA players play the Double Gold slot game for real money?
Yes, Americans can play Double Gold for real money at Go Casino and VIP Slots Casino and any other Vegas Tech online casino.
Are there similar games to Double Gold where I can win more money?
Yes, you can play Triple Gold and Triple Triple Gold at VIP Slots Casino along with Double Gold.
How much money can I win playing the Double Gold slot machine?
If you make a 3-coin maximum bet on the $10 coin value in Double Gold and get lucky enough to have 3 Double Gold wild symbols hit the single center payline, you will win yourself $25,000!
Related Questions:
Alternative Ways to Ask/Incoming Search Traffic:
The answer to the question Double Gold Classic Slot Review, Q&A, Flash Game, Rules is also applicable for the
following questions:
Double Gold Classic Fruit Machine,