Slotris is a 3-reel, 1-line classic slot machine developed by Slotland Entertainment, featuring a sidegame and a progressive jackpot. You can play the Slotris classic slot machine at Slotland Casino.
Slotris Game Description
The Slotris slot game is based on the extremely popular and addictive puzzle game Tetris. The deal with Slotris is that it's not only a classic slot machine but there is also a Slotris area at the left. After each spin, the blocks that appear on the reels will fall into place. Symbols on the Slotris online slot game include Blue, Green, Aqua, Red, Yellow, White, Magenta and Orange Block symbols. Much like Tetris, each of these symbols have a unique shape that plays a part in the Slotris sidegame. For a look at Slotland's Slotris slot machine in action, a screenshot has been provided below: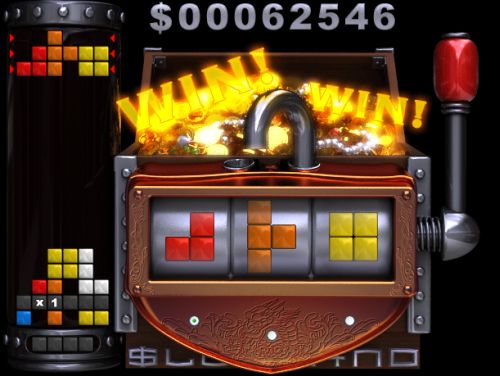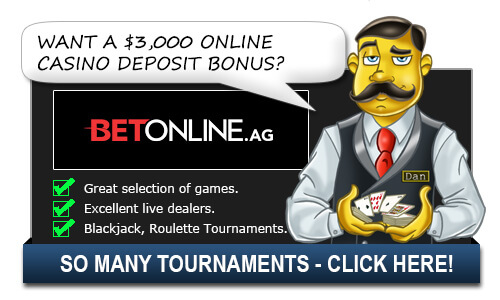 Slotris Betting Options
Bets on the Slotris slot machine are $0.50, $1, $2, $3 or $5 per spin. This is a decent betting range for a classic slot machine, although more options could certainly be available. Casino Answers recommends that you make the maximum bet of $5 per spin if you can afford it in order to be eligible for the progressive jackpot. To play the Slotris classic slot, select your bet and then carefully choose the order you wish the three blocks to appear in. Once you are happy with your selections, pull the lever at the right of the reels to play Slotris.
Slotris Special Feature
Slotris' main feature is the Slotris sidegame. The Slotris game area is located to the left of the reels. As you spin the reels on Slotris, you can choose the order of the three previous blocks that appeared and have them fall into place. If you fill a horizonital line with blocks (with no empty spaces), you will clear a horizontal line and win a payout. The more lines you clear (up to 10), the more you will win! Once you fill the Slotris Area to the top, the game will reset.
Slotris Progressive Jackpot
The Slotris online slot game is linked to the progressive jackpot at Slotland Casino. At present, the Slotland Progressive Jackpot is at a tempting $62,566 and likely to end up much higher (that is, unless you win it first). To win this progressive jackpot, you must make the maximum bet of $5 per spin and clear 10 lines in the Slotris Area at the left. You can win the Slotland Progressive Jackpot by playing Slotris at Slotland Casino!
Slotris Payout Schedule
There are 18 winning combinations on the Slotris classic slot machine. The complete payout schedule is as follows (payouts in parenthesis): 3 Blue Block symbols or 1 Cleared Line (1), 3 Green Block symbols or 2 Cleared Lines (2), 3 Aqua Block symbols or 3 Cleared Lines (3), 3 Red Block symbols or 4 Cleared Lines (4), 3 Yellow Block symbols or 5 Cleared Lines (10), 3 White Block symbols or 6 Cleared Lines (15), 3 Magenta Block symbols or 7 Cleared Lines (20), 3 Orange Block symbols or 8 Cleared Lines (30), 9 Cleared Lines (100) and 10 Cleared Lines (999 or jackpot on max bet). For a look at the payout schedule on the Slotris slot game, a screenshot of the paytable has been provided below: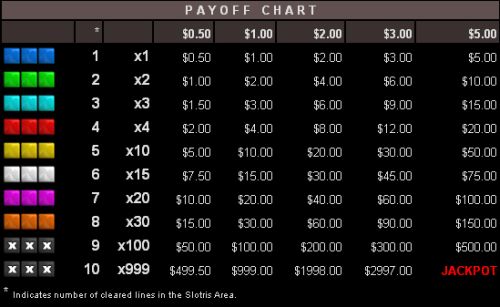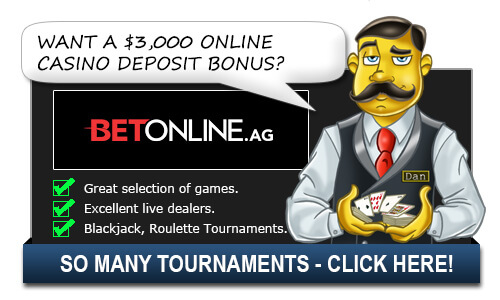 Slotris Summary
Slotris is a very unique slot machine. There's not really too much else like it around. It definitely gets points for that. The slot game can only be played in old school web format – no Flash, just JavaScript, so there are no sound effects and the presentation isn't much. Regardless, it's a fun slot to play with no software required to download and no hefty system requirements. You can play two games in one and win big when you play Slotris at Slotland Casino!
Additional Slotris Questions:
How do I clear a line on the Slotris sidegame?
In order to clear a line in Slotris, you must fill an entire horizontal line on the left side of the screen with blocks. The best way to do this is to look at your blocks and choose the best order for the three blocks to appear in.
Can players from the United States play the Slotris slot machine?
Absolutely! Players who are located in the United States of America can play the Slotris web-based slot machine at Slotland Casino.
Do I need to download any software to play Slotris?
Assuming you already have a web browser, the answer is no! You can play Slotris in your browser without download any online casino software.
Can I play the Slotris slot game for free?
Unfortunately, no. Slotris is only available to real money players at Slotland Casino.
Are there any other puzzle game based slot games that I can play at online casinos?
If a Tetris-based slot machine isn't enough for you, you can also read our Bejeweled Slot Review, Cubis Slot Review and Jenga Slot Review. These casual slot games can be played along with Jewel Quest at Bovada.
Related Questions:
Alternative Ways To Ask/Incoming Search Traffic:
The answer to the question Slotris Classic Slot Review is also applicable for the following questions:
Slotris, Slotris Strategy, How To Play Slottris, Where to Play Slotris, Slottris for Dummies, Slottris, Tetris Slot, Tetris Casino Game,