IRIS 3000 (Interactive Real Intelligence Slot) is a 7-reel, 1-line slot machine with a bonus feature, a progressive jackpot and multipliers. It can be found at online casinos using the Realtime Gaming back-end, including USA-friendly casinos Bovada.
IRIS 3000 is a very unique slot machine. Most slot machines are either 3 or 5 reels; IRIS is 7. While there are also 7-reel slot machines out there, we haven't seen anything like IRIS 3000. There are seven reels. You must select which two you want closed and the five you want open. If you don't choose, IRIS will choose for you. You will require five of any symbol in order to achieve a winning combination. Symbols are essentially scatter symbols, as they do not have to be in a row to win.
To play IRIS 3000, you must first buy coins. The denominations available are $5, $25 and $100. When you click one of these buttons, the amount will be subtracted from your casino balance. You can buy as many coins as you like. You can cash out at any time. Next, you must choose which 5 of the 7 doors you wish to open by clicking on the numbers on the controls or by clicking on the doors themselves. If you have too many or too few doors open, the game will open and close doors at random. Once you have chosen your doors, you can place a bet. Each coin is worth $0.50. With all of the value in the max bet on IRIS 3000, Casino Answers strongly recommends you play using the maximum bet. If you wish to not play all three coins, simply hit "Bet One" once for a 1-coin bet or twice for a 2-coin bet, then "Spin Reel" to start the game. Once the reels finish spinning, if you get a winning combination, an alarm will go off and your winnings will be listed to the right of the reels.
The bonus feature on IRIS is activated on multi-coin bets. If you bet two coins, you will have a laser that will randomly stop on a reel. If that laser stops on a closed door, the game will sound off a warning alert and open the door. This will give you an additional symbol. If you bet all three coins, you will have two lasers, giving you the potential to have all 7 reels open. If you have all 7 reels open, you will also get a multiplier of up to 10X.
Here is what the IRIS 3000 slot machine looks like: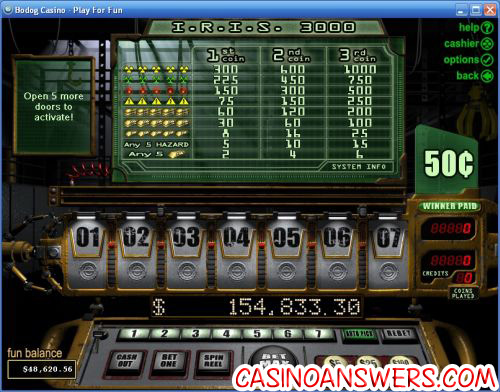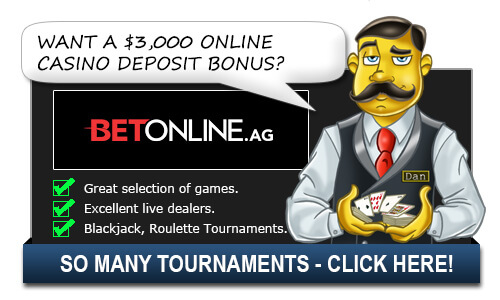 The top jackpot on IRIS 3000 is the radiation hazard symbol. On a 1-coin bet, five radiation symbols are worth 300 coins. On a 2-coin bet, they are worth 600 coins. On a 3-coin max bet, they are worth 1000 coins (or $500). Plus, there is even more value in the 3-coin maximum bet on IRIS. If you have all seven doors open and you hit seven radiation hazard symbols, you will win the $100,000 minimum progressive jackpot!
We appreciate innovation and interactivity in our slot machines and IRIS 3000 delivers both of these in spades. On top of that, it has some cool looking graphics and unique sound effects that add to the already enjoyable gaming experience. If you're interested in trying IRIS 3000 out, players can get a 200% unlimited bonus at Aladdin's Gold Casino.
Additional I.R.I.S. 3000 Slot Questions:
Can US-based players play the IRIS 3000 slot machine for real money?
Yes, most RTG-powered online casinos are accepting players from the United States at the moment. We strongly recommend you play at Bovada.
Does IRIS 3000 have a progressive jackpot?
Yes, it is displayed in between the reels and the game buttons. IRIS 3000's progressive jackpot starts at $100,000, but will almost surely be much higher than that most of the time. To trigger the progressive jackpot, you must play using the maximum bet and open all seven doors for seven radiation hazard symbols to appear in a row.
Related Questions:
Alternative Ways to Ask/Incoming Search Traffic:
The answer to the question I.R.I.S. 3000 Slot Game Review, Q&A, Flash Game, Rules is also applicable for the following questions:
What is the IRIS 3000 Slot Machine Game? What are the rules to the IRIS 3000 Slot Machine? How do I play I.R.I.S. 3000? What is the best I.R.I.S. Betting Strategy?