Diamond Mine is a classic 3-reel, single-line slot machine from Realtime Gaming, featuring a progressive jackpot. You can play Diamond Mine at RTG casinos like Bovada.
We've reviewed so many video slots here on Casino Answers that we thought it might be nice to take a step back and review something old school – something with charm. We decided on having a look at the Diamond Mine classic slot machine.
As you would expect from a classic slot machine, Diamond Mine's game buttons are across the bottom, the button at the very left is the "Cash Out" button. You can press this button at any time to cash out your coins. They will be converted into cash immediately. The next button to the right is "Bet One." Press this to bet a credit. You may bet up to 3 coins. If 3 coins are bet, this button will dim. The next button over says "Spin Reel." This is the spin button. This will be only be lit up if coins have been inserted into the slot machine. Finally, there is final button says "Play 3 Credits." This will always remain lit. If you press this button, you will automatically spin the reels with 3 coins.
Above the game buttons is the face of slot machine. At the very top of the face is the progressive jackpot. As you play Diamond Mine, you will see the progressive jackpot slowly increasing. Below it, it will say that the machine only pays up to 1000 coins and that malfunction will void pays and plays. Don't worry about these notices; they're there for aesthetic purposes only. If you look to the right of the reels, you can see how many coins (or credits) you have, how many coins you have on the last spin and how many coins.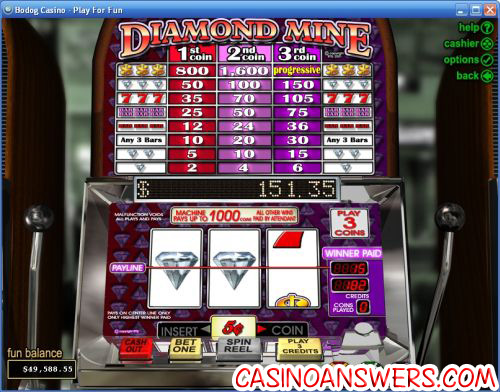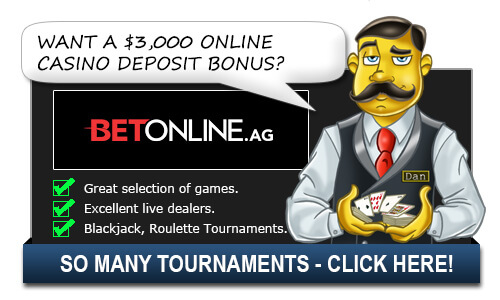 To get started on Diamond Mine, you must first put in a chip. You have denominations of $5, $25 and $100 available. The machine costs $0.05. Therefore, $5 will buy you 100 coins, $25 will buy you 500 credits and $100 will buy you 2000 coins. You can buy more coins at any time.
Once you've bought your coins, you have the choice of betting one, two or three coins. You must bet three coins to be eligible for the progressive jackpot. Once you have selected your bet, hit "Spin Reel." As the slot machine is played, you will hear sound effects, finishing with clicking noises once the reels finish spinning. Any winning combinations across the single center payline will be paid.
Payouts are determined by the paytable. The paytable can be found at the top of the Diamond Mine slot machine. Look at the column that corresponds to the bet you have made. For instance, if the Diamond Mine slot machine turns up three dollar signs on a 2 coin bet, you will win 1,600 coins (or $80 in cash). If you manage to hit three dollar signs on a 3 coin bet, you will win the progressive jackpot.
Diamond Mine is a no-frills classic slot machine. There isn't much to it, nor should much be expected of it. However, if you're looking for something simple – something without 100 lines to have to deal with (and bet on), Diamond Mine is an extremely cheap nickel slot to play at Bovada.
Additional Diamond Mine Slot Questions:
Are the casinos that host the Diamond Mine slot machine US-friendly?
Most casinos on the Realtime Gaming (or RTG) platform are US-friendly, including Bovada.
What's the difference between this and Diamond Mine Deluxe?
Both slot machines are nickel slots with similar paytables. Diamond Mine Deluxe has a greater progressive jackpot. The big difference is Diamond Mine Deluxe has a nudge feature and wild symbols. You can also play Diamond Mine Deluxe at Bovada.
Related Questions:
Alternative Ways to Ask/Incoming Search Traffic:
The answer to the question Diamond Mine Slot Info, Review, Q&A, Flash Game, Rules is also applicable for the following questions:
Where can I play the Diamond Mine Slot Machine? What classic slot machines are there? What is Diamond Mine Deluxe?