Diamond Deal is a 3-reel, 1-line classic slot machine developed by Microgaming, featuring wild symbols and a bonus game. You can play the Diamond Deal classic slot game at Ladbrokes Casino and Lucky Emperor Casino.

Like many slot machines, Diamond Deal gets its name from the top symbol in the game, the diamond. In addition to that, you can find Seven symbols, Bar symbols and Cherry symbols on the Diamond Deal classic slot machine. The background is all blue with a touch of purple to represent the colour of a diamond. Here is a screenshot of the Diamond Deal Microgaming slot: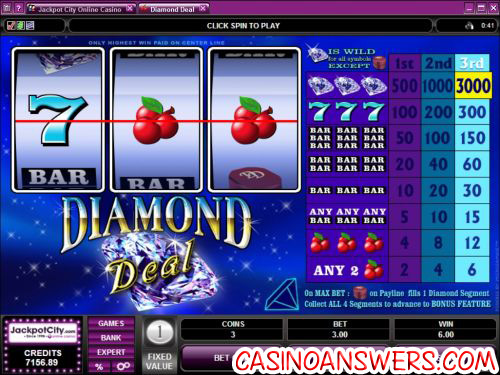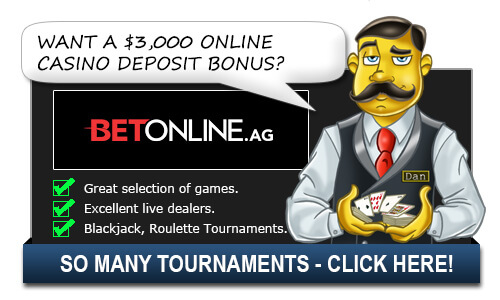 Diamond Deal is a fixed coin value slot machine, so the only coin available is $1. You can bet up to three coins by using the "Bet One" and "Bet Max" buttons. We strongly recommend you play the $3 maximum bet when playing the Diamond Deal slot machine, not only because the top jackpot is much higher on the maximum bet, but also due to the fact that the bonus feature is only available on max bet spins. Use the "Spin" button to spin the reels on Diamond Deal.
If you hit three Diamond symbols on the center payline on the Diamond Deal slot machine, you will win 3000 coins on a maximum bet spin (which not so coincidentally converts to $3000 in casino credits as well). The second highest paying symbol in Diamond Deal is only one-tenth of the value of the Diamond symbol. However, there is another way to win big on the Diamond Deal slot…
Diamond Deal is a rare reel slot machine with a bonus game. On 3-coin maximum bet spins, you will activate the Jewelry Box bonus symbol. You will have to collect four of these symbols before you will be able to trigger the Diamond Deal bonus game. The slot will have a graphic at the bottom-left of the paytable that will keep track of how many of these symbols you have collected. Once you have collected all four, you will be taken to a screen with five jewelry boxes to choose from. You will be able to choose whichever one you want. There will be a prize inside once you open it. Here is what the Diamond Deal bonus game looks like: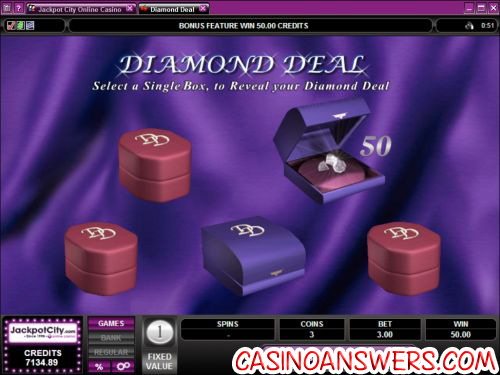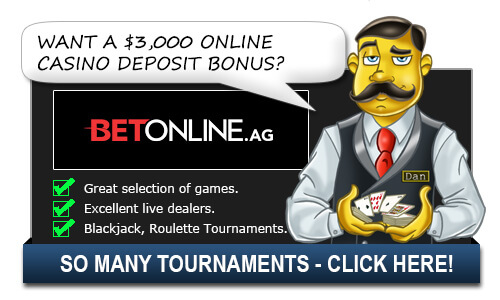 Payouts on the Diamond Deal slot machine are as follows (1/2/3 coin payouts in parenthesis): any 2 Cherry symbols (2/4/6), 3 Cherry symbols (4/8/12), any 3 Bar symbols (5/10/15), 3 Single Bar symbols (10/20/30), 3 Double Bar symbols (20/40/60), 3 Triple Bar symbols (50/100/150), 3 Seven symbols (100/200/300), 3 Diamond Symbols (500/1000/3000).
Use the "Expert" button to access the autoplay feature on Diamond Deal. Here you can set the spin settings including the number of spins (5, 10, 25, 50, 100, 250 or 500) and number of seconds between spins (0, 0.25, 0.50, 0.80 or 1.50). You can also set the stop settings, which are: stop once all spins are complete, stop when jackpot is won, stop if a win exceeds or equals (up to $2500), stop on any win, stop on bonus feature and stop if credits increase/decrease by (up to $2500). You can cancel autoplay at any time.
Diamond Deal is a real gem of a classic slot. Not only do you get the simplicity of a reel slot machine, but you get a bonus feature to go along with it. If you're looking for an online casino to play Diamond Deal at, you can get a 100% up to £100 signup bonus at Ladbrokes Casino!
Additional Diamond Deal Questions:
Are USA players able to play the Diamond Deal slot for real money?
Unfortunately, USA players are out of luck when it comes to playing for real money at Microgaming online casinos. If you're looking for a USA-friendly diamond-themed slot, try reading our Diamond Mine Slot Machine Review, Diamond Mine Deluxe Slot Machine Review and Super Diamond Mine Video Slot Review.
How do I activate the bonus game in Diamond Deal?
To trigger Diamond Deal's bonus feature, you must make sure you are making the 3-coin maximum bet on each spin in the game. Then, you must collect four jewellery box symbols before you will be able to play the Diamond Deal bonus game.
How come I can't change the coin size in the Diamond Deal slot game?
Diamond Deal is a fixed value slot machine, meaning all spins must cost $1, $2 or $3 per spin (or 1, 2 and 3 units of your selected currency). If you would rather play a slot machine where you can choose the coin value, please read our Cash Crazy Slot Machine Review.
Related Questions:
Alternative Ways to Ask/Incoming Search Traffic:
The answer to the question Diamond Deal Classic Slot Review, Q&A, Flash Game, Rules is also applicable for the
following questions:
Where can I play the Diamond Deal classic slot machine?