Gold in Bars is a 3-reel, 1-line progressive jackpot slot machine from the casino game software developer CTXM. The best online casino to play Gold in Bars at is Bovada.
Gold in Bars is a very simple slot machine. Each coin is worth $1. You may bet up to $5 per spin. To play, either hit "Bet One" for each dollar you wish to bet and then hit "Spin," or hit "Bet Max" to play for the progressive jackpot. Any wins along the center payline will be listed at the right of the reels and paid out. Casino Answers recommends that you play for the maximum bet, as this is a progressive jackpot slot. Otherwise, you may be best served to play another slot machine such as Pirate Slots.
Here is screenshot of the Gold in Bars progressive slot machine from Bovada: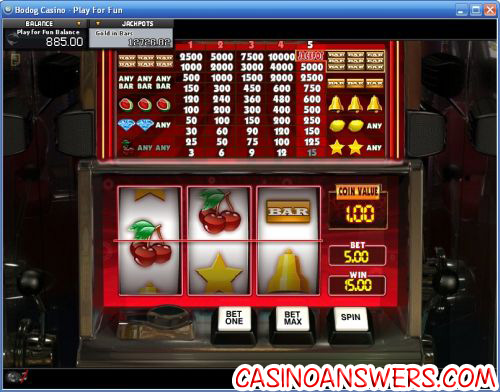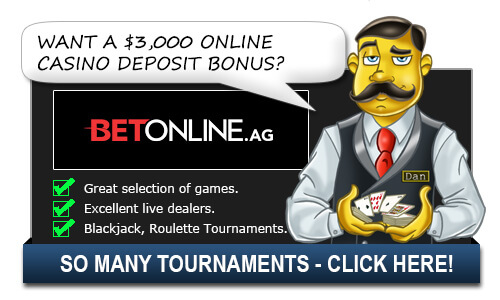 The paytable in Gold in Bars is a little hard to understand. Luckily, we have done the legwork in listing all of the payouts. Each one is listed by how many of the symbol you need from left to right with the prizes per coin in brackets. 1 cherry (3, 6, 9, 12, 15), 2 stars (25, 50, 75, 100, 125), 2 diamonds (30, 60, 90, 120, 150), 2 lemons (50, 100, 150, 200, 250), 3 watermelons (100, 200, 300, 400, 500), 3 bells (120, 240, 360, 480, 600), 3 of any bar (150, 300, 450, 600, 750), 3 single bar symbols (500, 1000, 1500, 2000, 2500), 3 double bars (1000, 2000, 3000, 4000, 5000) and 3 triple bars (2500, 5000, 7500, 10000, jackpot).
As of this writing, the Gold in Bars progressive jackpot is at approximately $12,750. 2% of each wager made on Gold in Bars contributes to the progressive jackpot. With the number of players playing Gold in Bars simultaneously, this jackpot will grow very fast. It only takes one spin to win!
Gold in Bars is an excellent progressive jackpot slot machine for all online casino players. The prizes are such that if you don't want to play for the progressive jackpot, while we still believe that you should only play a progressive jackpot slot with the goal of hitting the big one, you can still manage to get yourself some decent wins just playing with a dollar or two per spin.
If you're going for all of the marbles playing the Gold in Bars progressive slot, maybe you'll be the next big progressive jackpot winner. There's only one way to find out, and that's to start playing now at Bovada!
Additional Gold In Bars Slots Questions:
Is Gold in Bars available to players from the United States?
Yes, Bovada Casino is US-friendly. American players can play Gold in Bars for real money and are eligible to win the progressive jackpot.
How do I win the progressive jackpot on Gold in Bars?
Bet $5 (five coins) on every spin you make on Gold in Bars. If you hit three triple bar symbols in a row, you will be the lucky progressive jackpot winner!
How come I can't find Gold in Bars at any other Realtime Gaming online casino?
Gold in Bars is a CTXM slot, not an RTG slot. Bovada has added the CTXM games package to add to its already impressive arsenal of games.
Related Questions:
Alternative Ways to Ask/Incoming Search Traffic:
The answer to the question Gold In Bars Slot Game, Review, Q&A, Flash Game, Rules is also applicable for the following questions:
Where can I play CTXM Casino Games?