Pirate Slots is a 3-reel, 1-line multi-coin classic slot machine from casino software provider CTXM. You can play Pirate Slots at US-friendly Bovada.
Pirate Slots' theme is evident by its name. The background image is on a tropical beach with a ship in the distance. Symbols on Pirate Slots are: a skull and crossbones flag, a parrot, a compass, a cannon, a map, a bag of gold coins, a ship, a treasure chest and a pirate.
Coin values on Pirate Slots are $0.10, $0.20, $0.50, $1, $2, $3, $4 and $5. At its lowest value, Pirate Slots makes for a great dime slot for low stakes slots players. If you're more of a high roller, you will appreciate being able to bet up to $10 on a spin on Pirate Slots.
The top jackpot on Pirate Slots is 2000 coins when you get three pirates in a row. If you only bet one coin, you will only win 500 coins if you hit three pirates. Because of this extra value, Casino Answers recommends you bet two coins at all times.
For a look at Pirate Slots, here's a screenshot from
: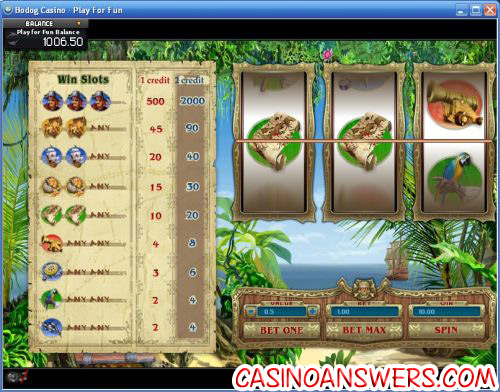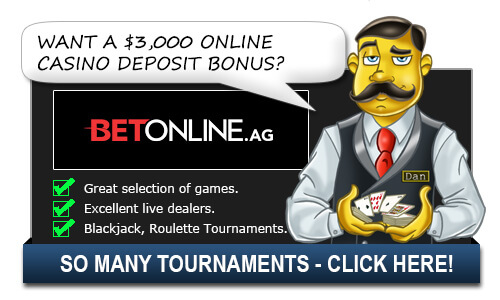 To play Pirate Slots, first you must set your coin value. You have the choice of setting it at $0.10, 0.20, $0.50, $1, $2, $3, $4 or $5. Then, you must choose whether you want to bet one or two coins. If you want to bet one coin, hit "Bet One" and then hit the "Spin" button. If you want to bet two coins, hit "Bet Max" and you will spin the reels automatically. Music will play as your spin plays. When there is a win across the single payline in the center, you will hear a pirate's evil laugh and your winnings will be added to your online casino balance.
The paytable on Pirate Slots is at the left of the screen. Here is a breakdown of the paytable with the payouts (for two credits) listed next to them. For the skull and crossbones (4X), parrot (4X), compass (6X) and cannon (8X), all you need is one symbol on the first reel to make a winning combination. For the map (20X), gold coins (30X), pirate ship (40X) and treasure chest (90X), you need the symbols to be on the first and second reels. For the pirate (2000X), you need him on all three reels. The single coin payouts for all symbols are half of the two-coin payouts, except for the pirate (which is 500X).
The pros to Pirate Slots are that wins are easy to come across, with most of the combinations only requiring one symbol and that the top jackpot is rather substantial for a classic slot machine. The main con to Pirate Slots is that it is rather barebones, offering no special features to separate it from the other classic slots out there. Pirate Slots gets a mild recommendation for players who are looking for a meat and potatoes classic slot machine. If you'd like to play Pirate Slots, crack open a bottle of Captain Morgan and visit Bovada.
Additional Pirate Slots Questions:
Arrr, I love me some Pirate Slots. Where can I find another?
If you're looking for another pirate-themed slot machine, Playtech has two video slots – Captain's Treasure and Captain's Treasure Pro. You can play these at Titan Casino.
Where can I find a free Pirates Flash game?
If you are looking for a Flash game of Pirate Slots, look no further than Bodog Flash Casino and Juicy Stakes Flash Casino. You can play for free or for real money. If you experience issues with the Flash slot game, try installing the latest version of Adobe Flash Player.
Related Questions:
Alternative Ways to Ask/Incoming Search Traffic:
The answer to the question Pirates Slot Machine Game Review, Q&A, Flash Game, Rules is also applicable for the following questions:
Are there any slot machine games based on Pirates? Is there any pirate casino games?