If you're new to playing Roulette online then one thing you need to know first is that there is a TON of variations to it.
Ever walked into your casino to play Roulette? You'll see two versions: American Roulette and European Roulette. MAYBE you'll be lucky and have seem the 3rd variation, French Roulette.
Online, there are over 50 variations of Roulette!
There's games like Roulette 5, which is 5 wheels at once. Or Card Roulette where instead of 36 numbers on the wheel you have 54 cards. Double Bonus Spin Roulette which has bonus features. Yeah – there's a lot. If you're looking for all of the different variations, be sure to check out all of the Roulette Games over at PlayRoulette.org.
For this article, I'm going to focus on the basics which is American Roulette and European Roulette. We'll use a European Roulette table to show you how to play online.
The best casino to get started playing Roulette online is
. This is because they have the two most common variations of Roulette – American and European – and that's it. You might think "Man, I want a good selection!" but you really don't – if you're playing online roulette for the first time, you want to keep it simple. That's why
is the best bet.
So here's a look at the European Roulette table: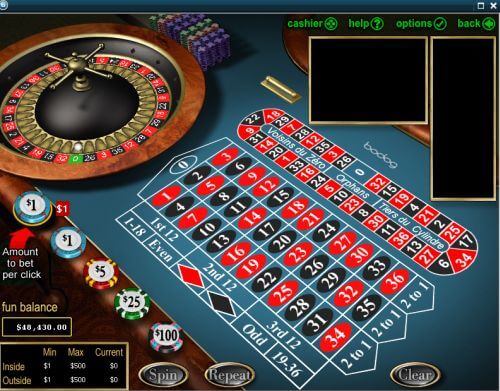 As you can see – it's very simple to use. First of all you choose the chip amount you want to bet. The limits for this particular one are $1-$500. Then you choose what you want to bet. You simply click wherever you want and can do multiple bets just like in actual Roulette.
Just keep clicking until you are happy. Oh and there are no time limits. You can take your time – not like a live casino where you are rushed. Keep placing bets till you are ready – then hit "Spin" and simply sit back and relax.
In this example I've placed bets on the following:
7, 13, 17, 23, 26, 32.
2nd 12.
1-18.
Red.
Odd.
1st Column.
Here's the screenshot: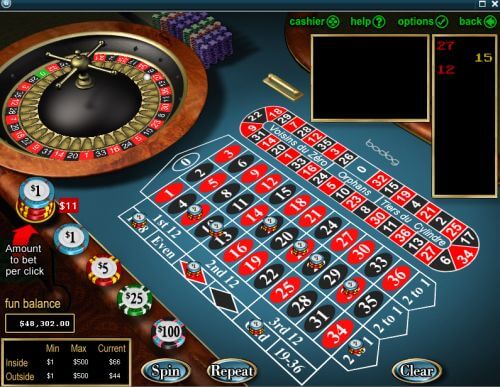 As you see – it shows on the board where you have placed your chips so you know what bets you have. And at the top right is the history – it lists the previous numbers that came up.
So when I am ready I click "Spin":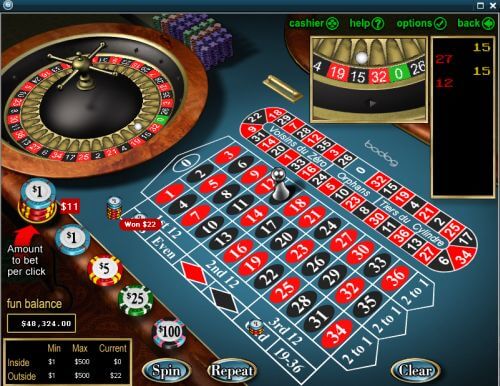 And at the top it shows what number it was in a zoomed in view above the wheel. The wheel also spins and all that – then it shows a marker on what number it landed on. Then it tells you how much you won or lost.
Depending on how you won it will also leave the chips on the table too. I won on "Odd" and "1st 18" so it left those chips on the table just to let me know how I won.
And that's how you play Roulette online. Very easy to do, so head over to
to check it out.
Additional How To Play Roulette Questions:
None Yet
Related Questions:
Alternative Ways to Ask/Incoming Search Traffic:
The answer to the question How To Play Roulette Online is also applicable for the following questions:
How do you play Roulette online? Online Roulette for Dummies guide, how to play American Roulette online