To start with, here's the dictionary definition of "fallacy":
1. a deceptive, misleading, or false notion, belief
2. a misleading or unsound argument.
3. deceptive, misleading, or false nature; erroneousness.
4. Logic. any of various types of erroneous reasoning that render arguments logically unsound.
So, in short, a "fallacy" is simply an incorrect idea or belief.
While not strictly a gambling term, "gambler's fallacy" is a vital thing in casino gambling, especially when it comes to betting systems, as nearly all of them are based around this idea.
If you've ever flipped a coin a few times, or watched a roulette wheel spin a few times, you'll no doubt have experienced the idea behind it. Simply put, if you've spun heads on a coin 5 times, you might have thought it is more likely to come up tails on the next spin simply because of previous events. The same applies for roulette, where you might have seen it spin red 5 times in a row and you bet on black just because you think it's more likely to come up black because it hasn't been black for 5 spins.
It's called a "fallacy" because it simply isn't true. The chances of it coming up black, or tails, is exactly the same as it was the time before and the time before that and the time before that and so on. Well, unless there is an inherent bias in the roulette wheel or the coin, but that's a different matter!
Have you ever been that guy in the casino that's said, "Oh, it's due to come up red now, it's been 6 blacks in a row," bet on red and it's come up black? I'm friends with a few of those guys. I never listen to their advice because they believe in this fallacy. It can lead to a horrible run of losses.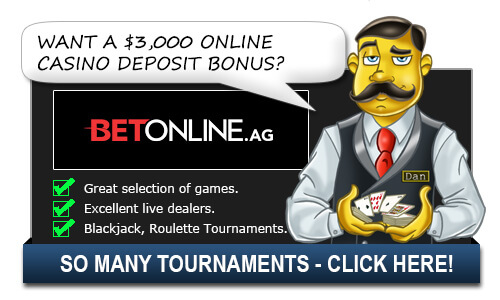 Betting systems like the Martingale System and the Fibonacci System rely on this fallacy for their foundations and it's for that very reason that they don't work in the long run. Both systems believe in making bigger bets every time you lose because the assumption is that you're more likely to win an 50-50 bet the next time round and if you lose another, the chances of winning are even greater.
There are other ways to bet that don't rely on "gambler's fallacy" and allow you to bet however you want without worrying that something is "due".
Top Casinos for Americans

Additional Gamblers Fallacy Questions:
Does the Law of Large Numbers factor into Gambler's Fallacy at all?
Not really. The probability is still the same. The only thing the Law of Large numbers has to do with Gamblers Fallacy is that after playing x amount of roulette wheel spins etc, that the number will average out to what the mathematical expectation is.
Related Questions:
Alternative Ways to Ask/Incoming Search Traffic:
The answer to the question What Is Gambler's Fallacy? is also applicable for the following questions:
What does gambler's fallacy mean? Why is it just as likely to come up red on roulette after a sequence of reds? What is the concept behind the Martingale System? What is the concept behind the Fibonacci Betting System?
Top Casinos for Americans