There is a reason why progressive slot machines are increasingly becoming popular, and it has to do with the sheer amount of money you can win. So, what exactly are the progressive slot machines?

Progressive slots are a fairly recent invention. It is only in the 1980s that innovators added a microchip to the slot machine so as to make it possible to bet with them progressively. That was a technological novelty that permitted the linking of many slot machines in multiple sites. In 1986, the first progressive slot machine, Megabucks, was invented by IGT.
These slot machines owe their popularity to the fact that they build up very quickly and, therefore, can become very large in a very short span of time. The progressive jackpots can emanate from a whole lot of slot machines. A certain portion of the money is skimmed off each slot machine to contribute to the jackpot.
Now, if a casino down the road has eight versions of a slot machine, each player putting money into the slot game inadvertently contributes to the progressive jackpot for the particular game. For example, casinos in Las Vegas mostly feature Wheel of Fortune slots. If a particular casino has six wheel of fortune casinos, every player who puts their money into the wheels of fortune slots in that casino will be contributing towards the progressive jackpot.
This means that all the Wheel of Fortune slots game are linked. There are cases where games across the entire state are linked. And that is how progressive jackpots can snowball and become incredibly huge.
After the progressive jackpot is won, the game is reset to a determined amount, and that is why many participants are especially desirous of keeping tabs with progressive jackpots and only play when the amount it is reset to is huge.
So, how exactly does a progressive jackpot build up?
You might be wondering how a progressive jackpot builds up. As already mentioned, the amount of money each gambler spends on the game is skimmed off so as to contribute towards the progressive jackpot. That explains why the amount of non-progressive wins is considerably lower.
Suppose you were playing a game at the Megabucks casino that is linked to a progressive slot machine having a fixed $5 bet per spin. The money gets divided: 25 cents goes to the progressive jackpot, 3.50 is paid out to non-jackpot wins, and 1.25 is meant to go to the casino.
There have been cases of gamblers who won astounding sums of money. For example, on May 13, 2009, a certain guy won a whopping $8.6 million at the renowned River Belle online casino on a progressive slot machine there. And in March 2013, a certain young man ambled into the Excalibur Casino, wagered a paltry $3 and walked out a whopping $38.7 million richer.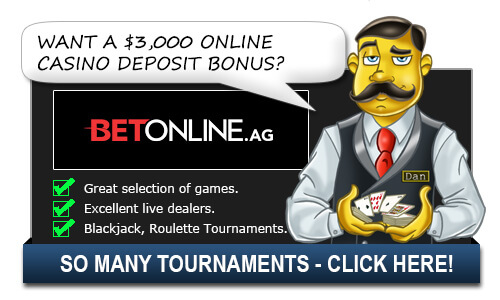 Since people knew how much one could possibly win when playing the progressive slot machines, they've found the progressive slot machines quite irresistible. Those who tried them understand that they do not have many small payouts like other slot machines. You may also need to bet with maximum coins. However, it is worth a try as the progressive jackpot can be really life changing.
Now, there are different slot machines- for example, video slots, classic slots, and bonus game slots. You'll know if a slot is progressive or not by checking if it has a progressive ticker on the top of the reels.
Top Casinos for Americans

Additional Progressive Slots Questions:
None Yet
Related Questions:
Alternative Ways to Ask/Incoming Search Traffic:
The answer to the question What are Progressive Slots? is also applicable for the following questions:
What are Progressive Jackpot Slots?
Top Casinos for Americans