This is a very interesting question and the short answer is yes – you can use the Martingale System with Texas Holdem. You can use the Martingale System for actually any poker game available online like Omaha or Seven Card Stud. However please be sure to read this full article to understand how exactly to do it.
Also note that to do the online poker martingale system, you will have to play at an online poker room with enough different buyins to be able to support the martingale system. We have tested this whole process out at Full Tilt Poker, and highly recommend utilizing the martingale system at Full Tilt Poker. This is due to the wide variety of poker games in different cash increments, no matter whether it is tournament or cash game format.
So first let's briefly explain exactly what the Martingale Betting System is. The Martingale Betting System is a popular betting system used at casino games like Roulette and Blackjack. It's like "double or nothing" – when you win a hand or round of betting you continue to bet the same amount – however when you lose, you double your bet the next hand.
So for example if you bet $1 at Blackjack and lose, your next bet will be $2. If you lose that one, your next bet is $4. And $8, $16 and so on. When you win a hand and recoup your losses, you go back to the initial bet of $1.
Now in online poker you can't really do this during hands – where you would implement the martingale betting system is when it comes to buyins for either cash games or tournaments. Again, we have to recommend Full Tilt Poker to take full advantage of the Martingale Betting System.
Tournaments, or rather sit & gos, are the obvious choice to do this in. I wouldn't advise this in multi-table tournaments due to the amount of variance, and how common it is to go many tournaments without cashing, plus how difficult it can be to even double your money.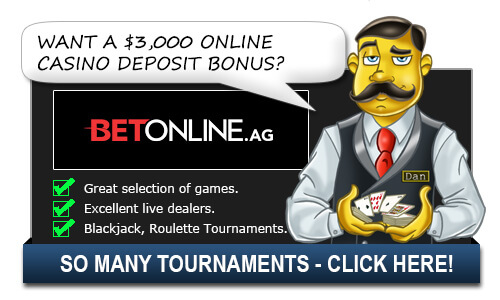 You would join a $1 tournament. If you cash in that then you continue to play $1 tournaments until you don't cash. At that point you would enter a $2 buy-in tournament. If you cash in that and thus at least double your money, you have recouped your losses and go back to the $1 buy-in tournament. If you don't, then you continue to enter higher buy-in tournaments until you cash, and take back your losses.
Tournaments however actually aren't the ideal way to do this despite it being the obvious choice – the reason is it is hard to find tournaments at buyins like $4 and $8. To fully take advantage of the martingale system in poker tournaments you'd need to start with a $5 single table tournament, and work your way up accordingly.
So while not the obvious choice, cash games are a lot easier to do this because you choose how much you bring to the table, and it doesn't really matter the buy-in. If you bring $1 to a $1 max buy-in cash game and lose it, then you can take $2 to a $5 maximum buy-in game, or $8 to a NL10.
What if you win? If you start initially doing the martingale system in poker with $1, as soon as you hit $2 you would then leave the table, and then buy back in again with exactly $1 at another table. At no point do you ever add-on to your cash buy-in either.
So that's how you use the martingale system at poker. It can be a fun little variant to really spice up your game. On top of that just by playing you'll be earning points and rewards and free cash in bonus – all at Bovada.
Top Casinos for Americans

Additional Martingale Texas Holdem Questions:
(None Yet)
Related Questions:
Top Casinos for Americans