Every online casino offers a bonus plan to its players, although not all of the offer bonus plans specific to poker players. One of the best bonus plans available online specifically for poker players is at Bovada. It is set up to encourage logging hours at the virtual poker table, and makes taking risks early on popular because some of the money the player is risking is not their own.
However, many players prefer a tight aggressive style when getting their bonus in order to clear it without losing too much of their own money. They then take the money they make from the bonus and are able to play for a long time with virtually double the money. This is a great way to build a bankroll and has been employed by many online poker players.

Bovada offers a 110% bonus on initial deposits up to $500. 10% is credited immediately to all new players, and the player has thirty days to earn enough poker points to claim the remainder of the 100% bonus. For every poker point earned the player earns back $1 of the bonus. Bonus monies cannot be cashed out until they are played through a predetermined number of times.
Other bonuses are offered; at this time there is a reload bonus on additional deposits of 100% up to $500. The bonus is paid in the same way as the new player bonus is paid, at a rate of $1 for every poker point earned. Points are earned through time spent at the virtual tables, when playing poker for money. Practice play doesn't count. Accrued points will also count toward purchasing merchandise or additional chips. The points can also be converted into cash.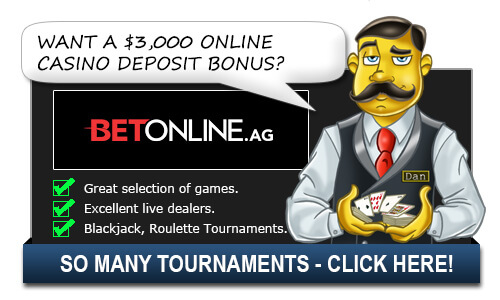 With a bonus, you have to play a certain amount of hands to "clear" the bonus so that the money becomes yours and you are able to withdraw it. Some poker rooms set this number extremely high with a very large bonus amount while others set it extremely low, but with a small amount to clear. We've found that Bovada is the best in that they offer the highest amount while having the lowest threshold to clear the bonus.
Other rooms do offer great sign-up bonuses though so be sure to check out some of the links on this page. Free money is free money so be sure to investigate what sites offer sign-up bonuses.
Poker rooms are always competing with each other for your business so you can often play for the bonus at multiple poker sites and when you clear the bonus move on to the next one. The sites that you have visited also offer reload bonuses, however, these aren't as lucrative as the initial sign-up bonus. The bonuses, while not as big, are still free money though and working them off can add significantly to your bankroll. Signing up for the promotional emails from poker rooms can really benefit you so make sure you always check yes when signing up for a new poker room.
Top Casinos for Americans

Additional Online Poker Bonus Questions:
(None Yet)
Related Questions:
Top Casinos for Americans