Slots Oasis Casino Support & Security Review:
Slots Oasis offer live chat support if you are having any problems. The live chat support is 24/7. They also offer customer service over the telephone, and this is also 24 hours, 7 days a week, with various toll free numbers depending on the country you are calling from.
You can contact Slots Oasis over e-mail too, and will get a timely response. What I like is that there isn't one generic e-mail – if you're having technical problems there's an e-mail for that, or issues with depositing then there's a special e-mail address for that and so on.
Slots Oasis Casino also have a very detailed Frequently Asked Questions page which will assist with any problems you may be having.
Review Score: 5/5
Slots Oasis Casino Bonus Review:
Slots Oasis Casino offer a huge casino signup bonus – it is 400% up to $4,000, which you instantly receive in your account. So if you deposit the maximum available amount for the bonus – $1000 – you will then have $5,000 to play through. The wagering requirement isn't too bad at 30x. Unfortunately the biggest negative to the slots oasis casino bonus is that you can only play slots, keno and scratch cards.
However Slots Oasis offer a separate casino bonus entitled the "blackjack special" deposit bonus where you can play almost every game you want and it will count towards the wagering requirements. This is a 200% matching bonus up to $1000 however it has a 50x wagering requirement.
Review Score: 3/5
Slots Oasis Casino Software Review:
The Real Time Gaming Software that Slots Oasis use is great. Although they only have a downloadable client for Windows users, Macintosh users can utilize their flash casino software which is a great product, and very easy to use.
The games list and lobby area of Slots Oasis is structured very well, and very easy to navigate with drop-down menus that will easily help you find the game you are looking for.
Review Score: 3/5
Slots Oasis Casino Games Review:
Slots Oasis offers an impressive variety of games, with over 20 table games and over 100 slot machines. All games are great, easy to use and have a very nice feel to them. When it comes to classic slot machines, that's where I find Slots Oasis really shines. Games like Bank On It and Sevens & Stripes are great classic slot machine games.
Slots Oasis also offers a nice variety of speciality games, including Keno, Sic Bo and four different scratch cards.
Review Score: 4/5
Slots Oasis Casino Promotions Review:
Slots Oasis are a bit weak in the promotions department, with the majority of their promotions focusing on signup bonuses, weekly bonuses and weekend bonuses. They do have a nice variety of bonuses however that should accomodate all players, and having a special Blackjack bonus is a nice touch.
Slots Oasis also has their own VIP Club, which is better than a lot of casinos. There's a special VIP Lounge Weekday Bonus, even higher comp point ratio, and huge table limits that non VIPs can't get.
Slots Oasis also offers a nice variety of progressive jackpot games, like the Let Em Ride Progressive Jackpot game.
Review Score: 3/5
Overall Slots Oasis Casino Score: 3.6/5



cubsfan328 wrote on Oct 26 2010 @ 3:32pm

Dealer Dan wrote on Aug 3 2010 @ 12:00pm

What is a Sit & Go Casino Tournament?
Just like it sounds – sit and go. As soon as the tournament has enough players(ie: 5) then it will start. No waiting around for a set time or anything like that.
Slots Oasis Casino is available in the following currencies: US Dollar.
The cashier options available at Slots Oasis Casino are:

Click2Pay
Credit Cards
Diners Club International
EcoCard
EuroCard
ewalletxpress
JCB
Mastercard
Moneybookers
Neteller
UseMyWallet
Visa

Slots Oasis Casino uses the RTG software, which means lots of top-notch games that you can choose from. Even though it is Slots Oasis, the casino is a fully featured online casino with all sorts of online casino games, but we felt it would be best to give the slots player what they are most likely looking for and that's a sample of some of the tremendous online slots available at Slots Oasis Casino.
White Rhino Video Slot: White Rhino is a newer addition to the Real-Series Video Slot library. It's a stunning 25-line video slot visually. The gorilla, lion, rhino and elephant symbols look beautiful. The top fixed payout is 10,000, but it can be tripled with the White Rhino wild multiplier symbol. There is also a re-spin feature and two free spins features (win up to 10 free spins with tripled winnings!). There are two progressive jackpots; both are randomly won.
Triple 7 Inferno Classic Slot Machine: Triple 7 Inferno (or "777 Inferno") is a 3-reel, 1-line classic slot game found at most Realtime Gaming casinos, of which Slots Oasis Casino is one of. Bets on the Triple 7 Inferno slot game are $0.05, $0.25, $0.50, $1 and $5. You can bet up to 3 coins per spin on Triple 7 Inferno. You can win up to 1000 coins by hitting 3 7 Inferno symbols on the single center payline. For more on this three-reel classic slot machine, please read our Triple 7 Inferno Classic Slot Review.
Triple Twister Video Slot: Since we like triples here at Casino Answers, we thought we'd give you a taste of this 50-line video slot, Triple Twister. It's a farm-themed slot where the animals are all fearing the bad oncoming weather. The main symbol is the Twister, which only appears on reel 3, but is a 3X wild multiplier (Triple Twister – get it?). You can win 9 free spins with the Triple Twister feature. There are two randomly triggered jackpots that you can win at any time. You must play all 50 lines at all times on Triple Twister. For more on this fun Real-Series Video Slot, please read our Triple Twister Video Slot Review.
Slots Oasis Casino Games List
Below is a list of all casino games Slots Oasis Casino offers:

Slots Oasis Casino has the following Progressive Jackpots:
Slots Progressive Jackpots:
Aztecs Million
Crazy Dragon
Jackpot Cleopatras Gold
Jackpot Pinatas
Midlife Crisis
Shopping Spree
Shopping Spree II
Table Progressive Jackpots:
Caribbean Draw
Caribbean Stud
Caribbean Holdem
Let Em Ride

Slots Oasis Casino offers a wide variety of online blackjack tournaments for both real money and free, with the latter tournaments offering VIP points for the winner. Slots Oasis have really went to town when it comes to being THE place for online blackjack tournament players. They offer high stakes blackjack tournaments and low stakes blackjack tournaments with entry fees ranging from $5 to $500.
Slots Oasis also offers sit and go blackjack tournaments with a variety of single table tournaments and multi table tournaments. You can also play head to head against players too. There is no juice or rake on the tournaments, so you earn 100% of all entry fees if you are the blackjack tournament winner.

Alright, let's cover all the Slots Oasis Casino bonuses:
Welcome Bonus:
This is a great 400% to $4000 bonus. What this means is that you will get a $400 bonus if you deposit $100, and you get to instantly play with this money. It has a 30x wagering requirement, although you can only clear the bonus on Slots, Real Video Slots, Keno and Scratch Cards.
Blackjack Bonus:
Slots Oasis offer a 200% to $1000 Blackjack Bonus. You can clear this bonus at Blackjack, and it has a playthrough requirement of just 20x. However this is a play bonus – what that means is you cannot actually withdraw the bonus money, just any money that you actually win from it. So when the bonus is cleared, the bonus amount will be removed from your existing balance.
High Roller Bonus:
Slots Oasis offer two initial High Roller bonuses, which will automatically enroll you in the VIP Program. Both of these bonuses are a $1500 bonus for a deposit of $1000.
On top of that, Slots Oasis also offer weekly and weekend bonuses.

Welcome to the third online casino blog. We didn't do too well at Gaming Club, but hopefully we can end up in the green after my Slots Oasis Casino Blog. With a lower wagering requirement and more money to play with, our chances are a lot better!
Slots Oasis Casino uses my much preferred RTG software, and offers a 400% to $4,000 signup bonus, which we can use to play on Slots, Real Video Slots, Keno and Scratch Cards. A bit limited – but hey, I'm a slots fan so no real problem for me!
The website is very easy to navigate as seen below: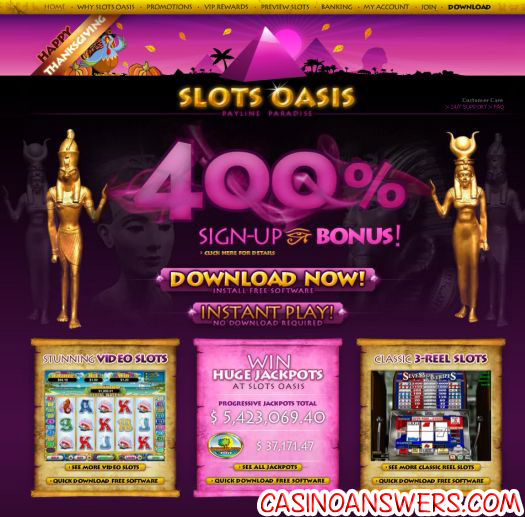 Nice big download button, and all that information I need is handy. Plus instant play if required – sorry apple users – only way you guys can play is in your web browser.
Installation is standard, although I must admit I laugh every time when I install a casino and it offers a checkbox "run casino every time you start your computer". For things like MSN I can understand wanting to run it every time you start your computer, but an online casino? Ha!
Upon running the software you get prompted to create a new account, which takes you to a simple web form to fill in: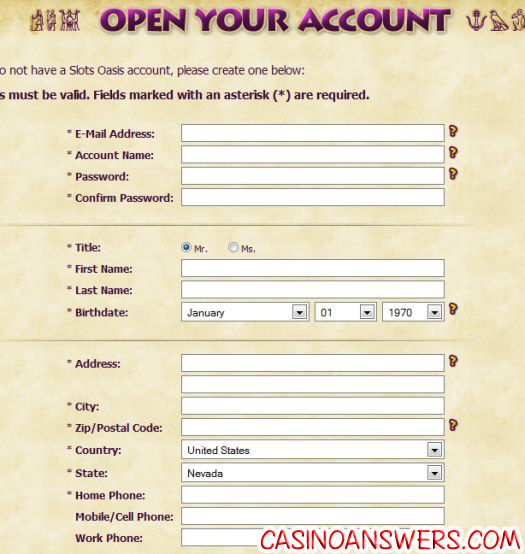 Unfortunately, the bonus offer is only valid for deposits using credit card, gift card, ewalletxpress, usemywallet and Click2Pay. That's okay though as I have a Click2Pay account, so can deposit via that. The bonus is a 20x playthrough bonus, and boy do I enjoy those wagering requirements.
You need a coupon code to take advantage of the bonus. The following coupon codes are for Slots Oasis:
Credit Card: 4000FREE
UseMyWallet: 4000FREEUMW
eWalletXpress: 4000FREEEX
Click2Pay: 4000FREECP
And you can sign up at Slots Oasis Casino via this link: Slots Oasis Casino
I've deposited $100 with ease, and got my $400 free bonus. Now all that is left is for me to play: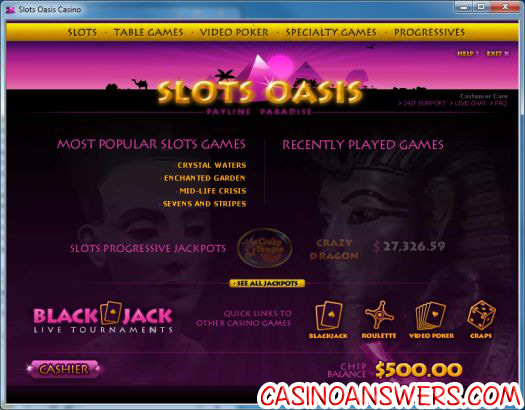 See ya tomorrow!
Well it's time for my first day at Slots Oasis Casino, and I'm looking forward to it. Although I don't get to play any table games – limited to Slots, Keno and Scratch cards I believe, I do get $500 to play with, which I'm going to need with a $10,000 playthrough requirement.
With this being a 5 day blog, I'll most likely quit whenever I lose up to $100 per day – although obviously the plan is to not lose any of that! Let's get lucky, at Slots Oasis Casino.
If you read my King Solomons Casino blog, you'll know that I am a fan of the Crazy Dragon slot machine. It's a nice classic slot machine, and I won a fair bit last time when I played there – so let's see if lighting strikes twice. This is how the slot machine looks: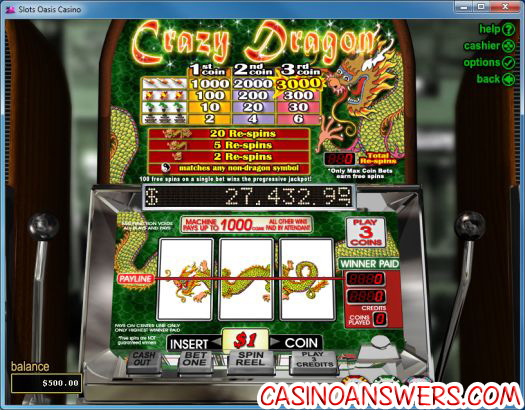 We will have of course be betting $1, and playing all 3 credits.
And…..ouch! This session does not start off well at all. I spent $48 and all I got was a dragon for two free respins twice in a row, and nothing else!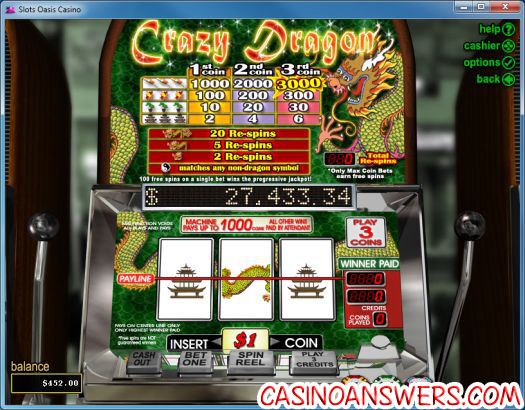 Not a great start to the day, and time to hit up something else. I go with the Lucky 8's scratch cards next: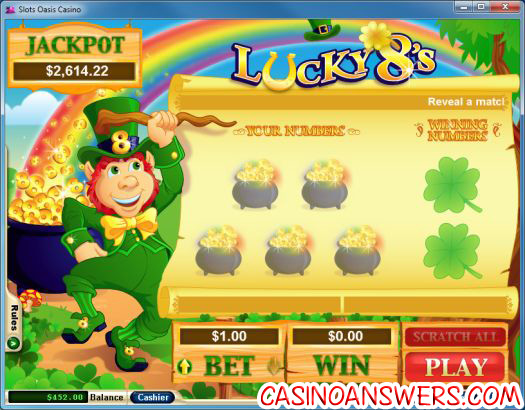 Pretty simple rules – match the numbers on the right, and win the prize showing. Reveal a Lucky 8 and win all the prizes. The jackpot can be won with each card purchased, and is triggered randomly.
I win immediately – with a free game: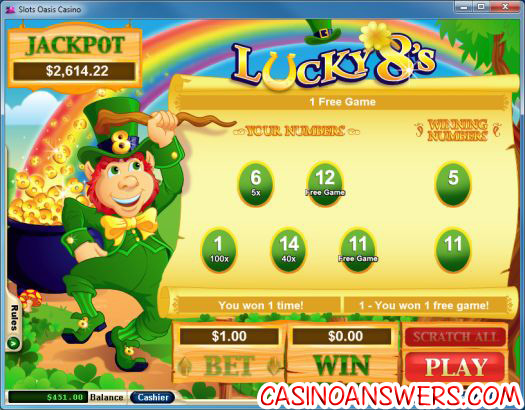 Which is basically one of those booby prizes to try and keep you playing. I won, woo hoo! Well technically I broke even, but semantics and all that. I win another free game, then a couple of losses, then I manage to win twice! A whole $1 and a free game to boot, wheeeee: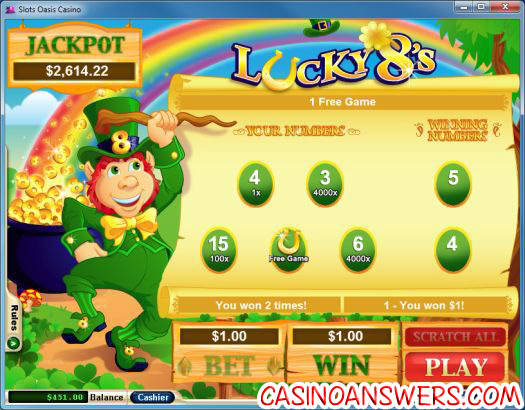 I play a ton more scratch cards, and have a couple of wins. Mostly free games, although I did get a 2x win. Then I manage to hit a fairly big win: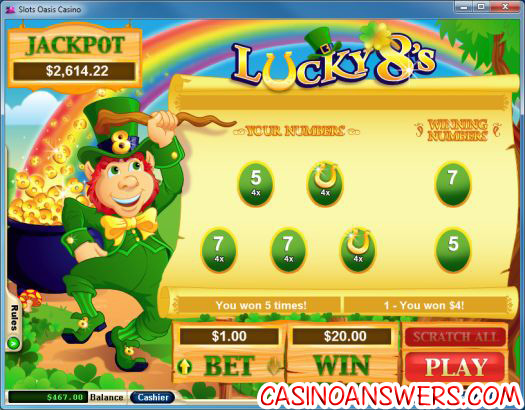 Winning $20, to bring my balance up to $467. I like this game!
I hover around the $465 mark for awhile, and manage to win 6 straight – mostly free plays and $1-$2. Once my balance drops to $460 I decide to switch games. BTW – if you enjoy scratch cards be sure to check out my friend Kairens Scratch Cards Online website – a great resource with a lot of details on online scratchcards.
I should note that you can check your playthrough requirement in the cashier which is great – and something that I can't remember King Solomons Casino having. Maybe the software has updated since then. I'll show a screenshot later – but I have to play through $2,000 per day on average to clear the bonus – as of right now, I've played through a whopping $76! Time to start betting more methinks.
I decided to hit up the Shopping Spree slot machine. This was another one I enjoyed at King Solomons Casino and I got a fair amount of luck out of it. This is how it looks: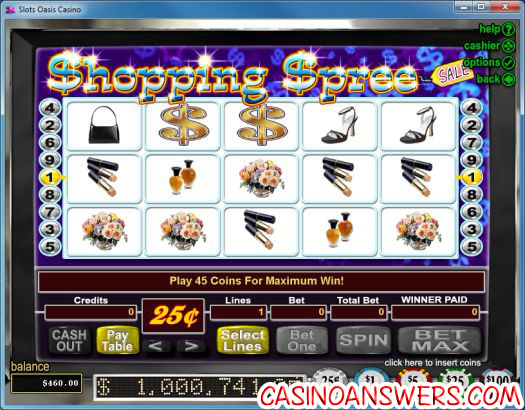 And as you can see, you can play 45 coins for maximum win. $1 is 4 credits, so that will be $11.25 a spin if I select all lines and bet max – which obviously I'm going to do. Couldn't miss out at that beautiful progressive jackpot.
The good thing about betting so many lines is you generally always win something, although it takes me 4 spins to do just that: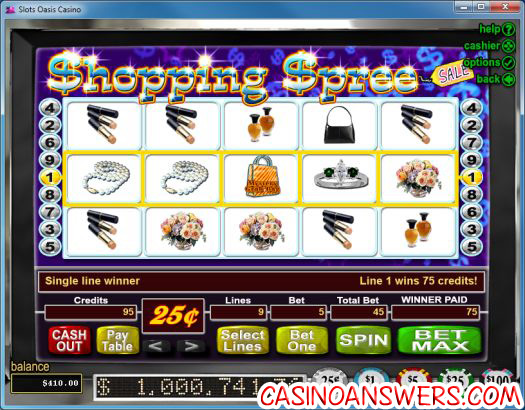 And only a single line winner too – ugh. 3 spins later I hit another single line winner for 50 credits, then I win a couple of other times – 10 credits and 50 credits.
Alas I don't have any more luck, falling into that trap of "IF I KEEP SPINNING EVENTUALLY I'LL WIN BIG", although I was very close on this spin: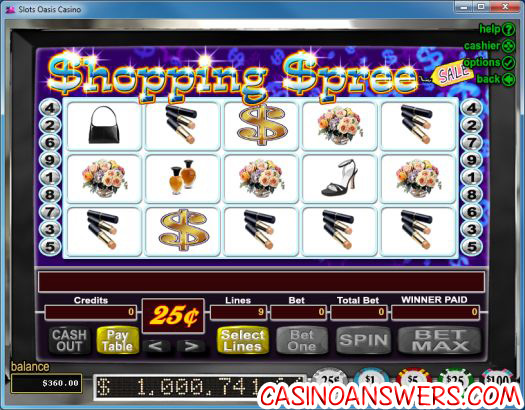 And I cash out, with $360 left of my original $500. Not a great start to the week, lets hope it gets better tomorrow!
As I mentioned earlier, you can see the playthrough requirements in the cashier, as shown below:
So all in all, an awful start and let's hope I can get some luck tomorrow. If you are interested in playing at Slots Oasis Casino be sure to read my previous article where I provide Slots Oasis Coupon Codes.
Have a good day.
Welcome to day 2 of the Slots Oasis Casino Blog. We didn't do too well yesterday, losing $140 of the $500 balance while clearing just $222.25 of the $10,000 playthrough requirement.
So that means we lost about 65% of the amount we wagered. Not fun. Let's hope for some better luck in day 2!
BTW in case you somehow missed it, you can read the first blog here: Slots Oasis Casino Blog Day 1.
I mentioned that I am only able to play Slots, Keno and Scratch Card due to the bonus – that's actually NOT the case. I'm able to play the other games, they just don't count towards the wagering requirements. It was different at King Solomons Casino, which at the time blocked you from playing the other games. If our luck continues to dwindle, maybe we'll have to use the old Martingale Strategy and hit up Roulette.
It's the 1st of December, not too long for Christmas – so I think it only fitting that we hit up the slot machine Santa Strikes Back. Like any online casino these days it doesn't install the games when you install the casino – it downloads them when you choose to play one, as shown below: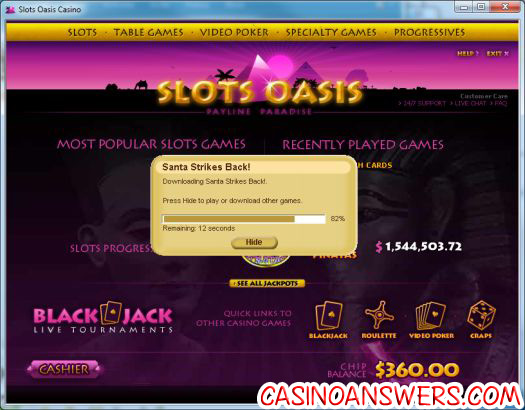 Took about 45 seconds to download. I gotta say – Santa Strikes Back looks a bit crazy – it's a 25-line slot, as shown below: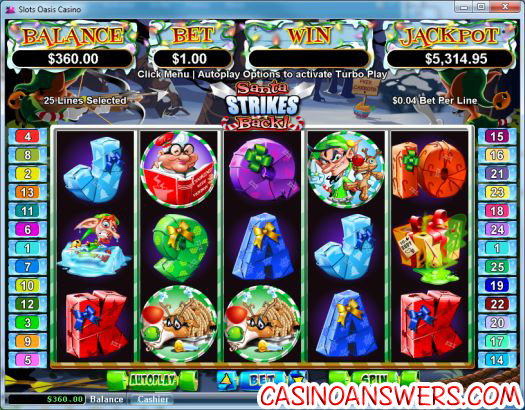 It's also got an autoplay feature, which means you can set it to play for you, so you don't have to do that strenuous task of clicking the mouse button over and over. Autoplay has the following options:
Turbo Play
Number of Spins to Autoplay(5-1000)
Stop When Jackpot is Won
Stop if a Win Exceeds or Equals a Certain Amount
Stop on Any Win
Stop if Balance increases by a certain amount
Stop if balance decreases by a certain amount
Stop once feature is triggered
Start Autoplay without showing this dialog
Neat to see how detailed it is these days. I decide not to do autoplay for now, because this isn't Dan's Autplay a Casino then go make a cup of tea Blog. Of course despite 25 lines, I manage to lose on my first spin. I win $0.20 on my second spin, although remember I am betting $1 so I actually lost $0.80. And I'm also a bit disturbed as santa appears to be waving a sword at me: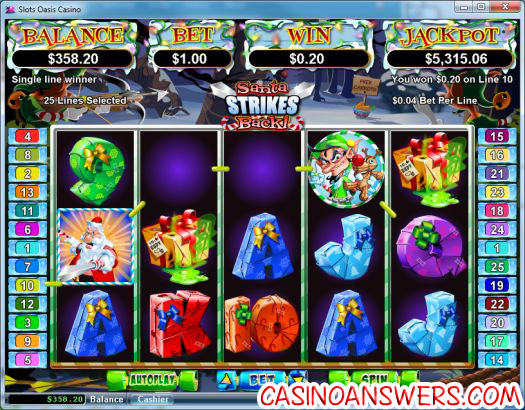 Not exactly the greatest Christmas spirit Mr Claus.
3rd spin I hit nothing, 4th spin I win $0.36. I then manage to go 9 spins without winning anything – on a 25 line slot! Unreal. The next spin I win a whopping $0.20, woohoo.
11 more spins and I finally hit my first profit, as I win $2.20. There's some icons that come up where it is Santa and Rudolph, then they "fight" and if Santa wins you win money. Well Santa won this battle: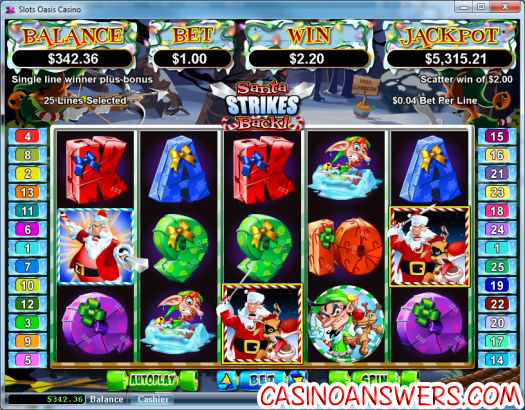 Although he still seems to be weilding that sword at me!
I decide to give up on this slot the next time I actually profit. It looks bleak for awhile, and then wheee – I hit an actual decent win: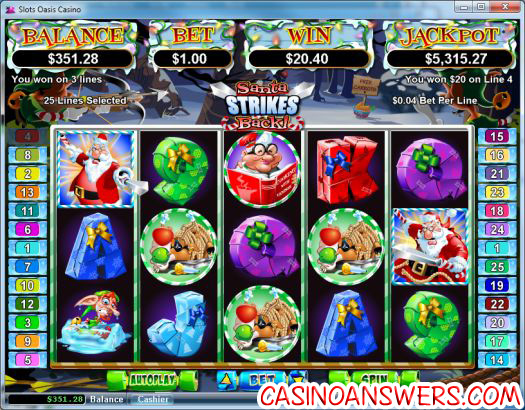 Not too bad. I'll stick to my "2 wins and I leave" rule, and decide to hit up the scratchcards. I decide to go with the 5 Diamond Blackjack this time around. This is how it looks unscratched: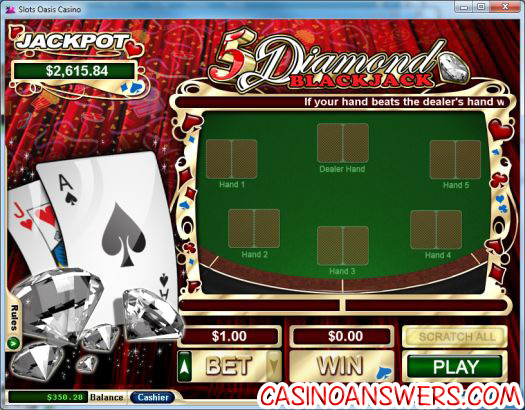 And this is how it looks scratched: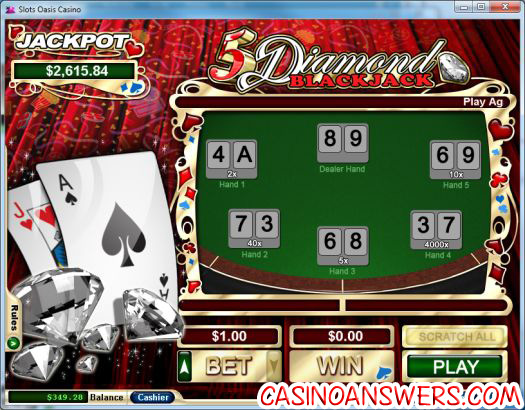 Can't believe I didn't even beat a 17!
If I get Blackjack, I get double the prize. If I reveal a Diamond I win all the prizes. The progressive jackpot is triggered randomly. I play for awhile, and I mostly slowly lose my money, picking up a few free cards in the process, and a couple of $1 wins. I eventually hit a Blackjack though wheeeee: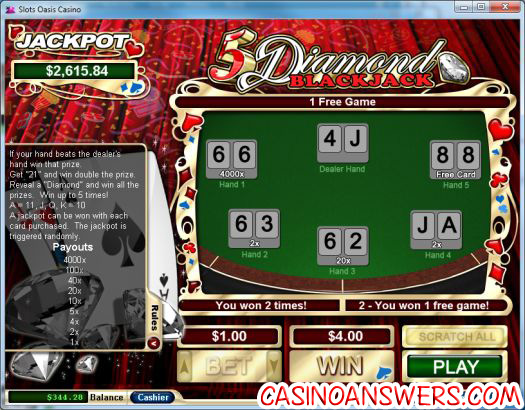 I decide to up the ante – my balance is $345.28 right now. I'll bet $5 and till I either get to $300 or $400, then quit for the night. Alas I then go on a horrible run, and am down to $300.28 within 10 hands.
So yeah – time to quit for the night, having cleared just $321.25 of the $10,000 needed for the bonus haha. Pretty brutal.
Back tomorrow and we'll maybe try out some Keno! If you want to suggest any numbers to pick for Keno, leave them in the comments below.
Day 3 of our Slots Oasis Casino blog, as we bypass the halfway mark. Our status right now is $300.28 left of the initial $500, and a HELL of a way to go to clear the wagering requirements.
Only one thing for it: to use a progressive betting system.
While playing Keno!
I wrote an article on why The Martingale System Sucks last week – and the reason is that it is boring as all hell. There's a lot more fun progressive betting systems out there, so we're going to go with one! We'll go with the base five progressive betting system for this one, and we'll go with the more "aggressive" version.
It's a pretty simple betting system. We'll bet $10. Then $20. Then $30. Then $50. Then $10. Then we start the cycle all over again. So $10-$20-$30-$50-$10, comprende? Nice and simple.
Of course, I may be the first person to use it on a game like Keno!
Oh wait – actually we can't use that exact system. The Keno game only has the following options for betting: 1 cent, 25 cents, $1, $5, $10. Okay no problem – we'll come up with our own system! Regardless of winning or losing, we'll do $1-$5-$5-$10-$10-$1. Then repeat the cycle. Nice simple system.
Slots Oasis Casino has just the one Keno game – this is it below: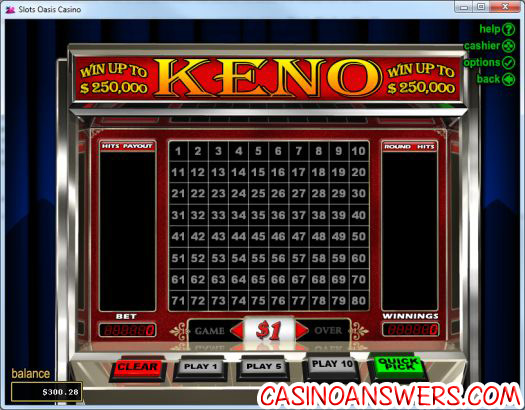 Nice simple system. The buttons "Play 1", "Play 5" and "Play 10" allow you to play x amount of games in a row. So if you want to play 10 games of Keno in a row simply hit "Play 10" and it'll auto play them for you.
In yesterdays blog, reader StevieXXX suggested we go with numbers 6,12, 18, 24 and 30. So we'll start off with that, although change at random. If it hits 3, payout is 1. If it hits 4, payouts are 10. And if it hits 5, payout is 800.
Out of curiousity I googled "Keno Strategy" and found this Play Keno Online website. They have an online keno strategy section, but it's basically summed up in two words: GET LUCKY! Well, I'm due for some after the last two days.
Well I played the first one, and we didn't win. But ouch – this software really sucks: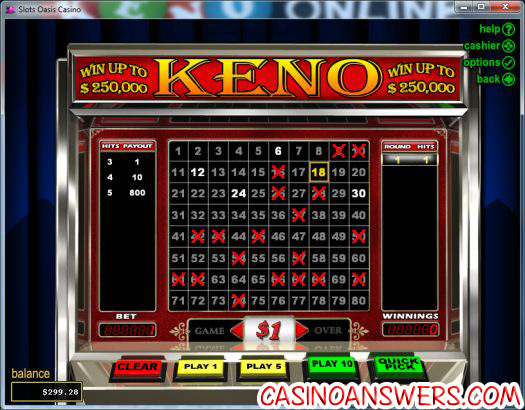 Here's what happens – you click "Play 1". There's then a pause. Then it fills up the grid with the Red X's SUPER FAST. No fun in it whatsoever. For comparison, here's a screenshot from Gaming Club Casino: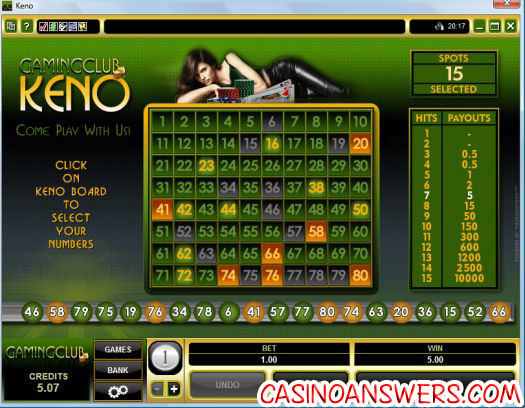 In that one, the balls slowly appear at the bottom, and there's actually suspense and fun involved in it. This one just really sucks to be honest haha. So yeah – if you're a Keno fan, avoid Slots Oasis or any RNG casinos(assuming they're all the same).
I bet $5 and lose it, hitting 0 numbers. I then have the bright idea to try and capture an animated gif of the Keno game, so you can see just how poor it is. Unfortunately in attempting to do that, I got distracted and chose "Play 5" instead of "Play 1", and proceeded to lose $25 WHEEEE: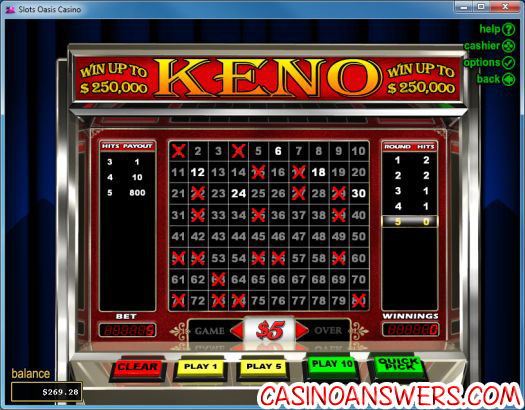 Long story short, the Keno really sucks here and I don't want to play it anymore!
So after the horribleness that was Keno, I'm going to go back to the Crazy Dragon slot which served me so well at King Solomons Casino – even if I did lose almost $50 on it in day one of this blog. You can bet $1 at a time, and can play up to 3 credits, so we'll do $3 a spin with $60 in there, and see how it goes.
Here's the information on how you actually win at this game: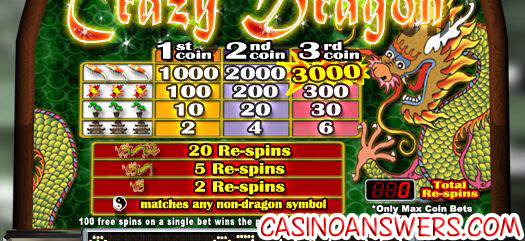 And I'll blog the spins below. If it's a blank, I'll note it with the

sign:
1.



– profit of $3, woo-hoo!
2.




3.



– another $3 win.
4.




5.




6.




7.




8.




9.




10.




11.




12.




13.




14.




15.




16.




17.




18.




19.




20.




21.




22.




23.




24.




25.




26.




27.




28. Got the first crazy dragon

here, to get me a free spin which won me $6. The next free spin won nothing however.
29.




30. With my last $3, I click to spin the reels, and would you believe it? I get



, which gives me $30, and gets me back in the game for at least 10 more spins yay!
31.




32.




33. My luck continues, as I pick up



for another nice win: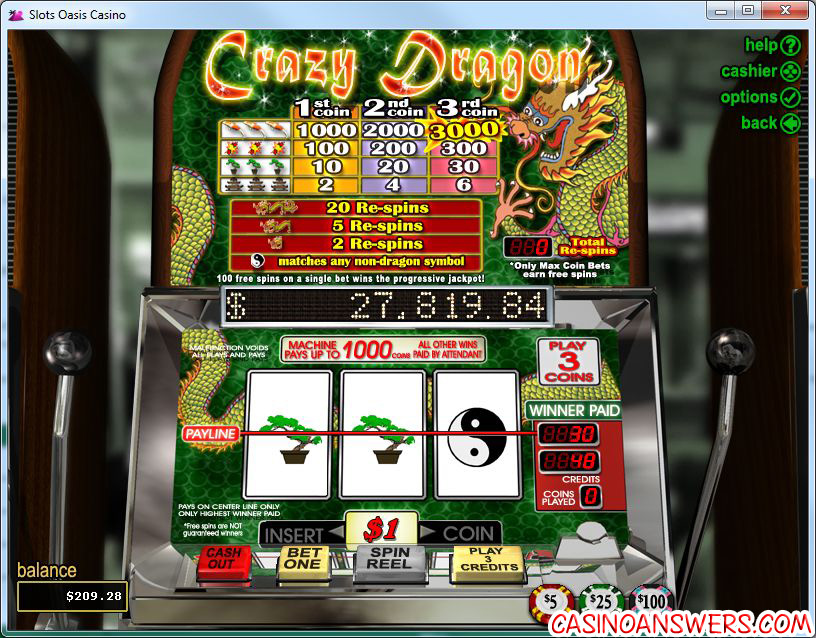 34. I then hit


unfortunately the 5 re-spins gives me nothing.
35.




36.




37.




38.




39.




40.




41.




42.




43.




44.




45.




46.




47.




48.




49.




50.




51.




52.




53.



And with that, we are down with Crazy Dragon. $60 at $3 a pop lasted 53 spins, not including the free re-spins. And we had two $30 wins which wasn't too bad.
Our casino balance is sitting at $209.28. Time to do a $10 scratch card and call it a night. We will try out the Magic 7's scratch card. This is what it looks like unscratched: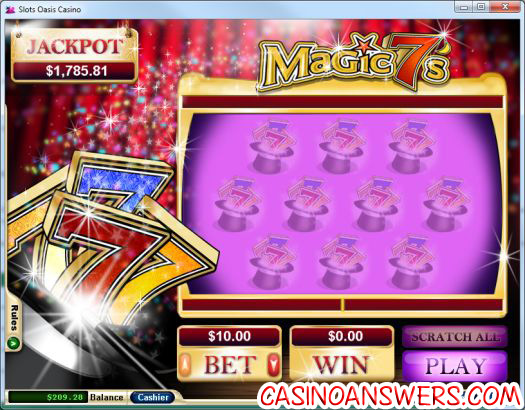 The rules are rather simple – reveal a "7" under any hat and win the prize shown. Reveal a magic hat, win double the prize. This is what it looks like scratched: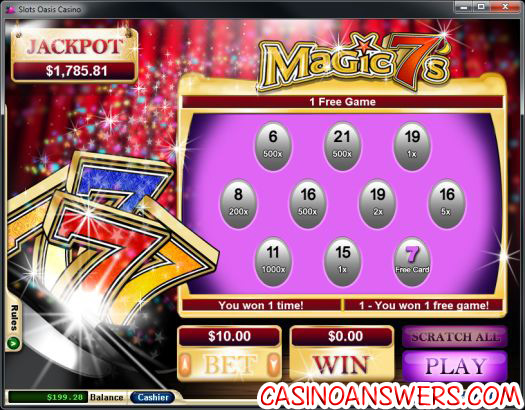 Woo-hoo, we win a free scratch card! We scratch one more time and……….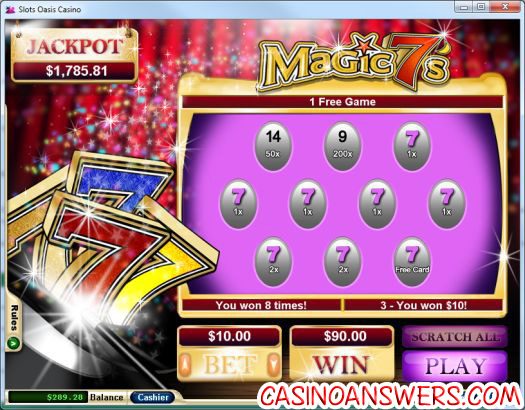 JACKPOT! Well, not JACKPOT – but a $90 one to pretty much erase our losses for the night. Not too shabby at all. We won a free card too so let's try that….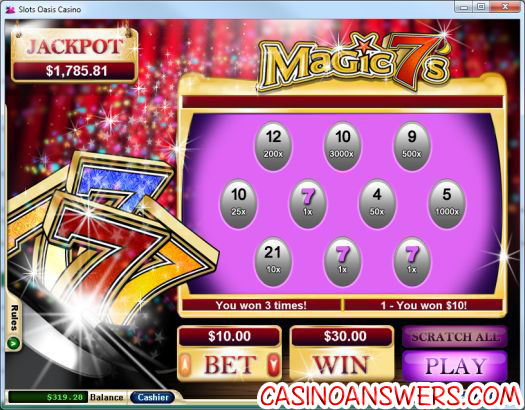 Oh yes! Another winner, as we win $30 to take our balance to $319. Can we keep the luck going?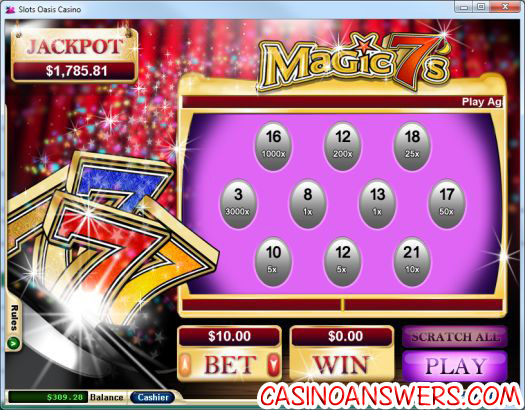 Unfortunately not. With $309.28 in the balance we scratch one more time, but don't hit anything, and with that it's time to call it a night.
Current Casino balance is $299.28, and the wagering requirement is at a pitiful $544.25 cleared, meaning $9455.75 is left.
See you tomorrow!
Two days left of the Slots Oasis Casino Blog. Our current balance is $299.28 and we went out on a nice high note yesterday, winning $90 on a scratch card followed by $30 on the very next scratch card.
Of course the casino is called Slots Oasis, so I think it only fair that we spend the next two days playing nothing but slots.
And let me tell you – this edition of the blog is a definite must-read.
Slots Oasis has a variety of slot machines, and all different types. You have Three Reel Classics; Bonus Three Reel; Video Slots and Real Series Video Slots first. We'll hit up the Real Series Video Slots first. They have an absolute ton of slot machines with names like Achilles, Big Shot, Bunko Bonanza, Crazy Vegas and Diamond Dozen. In total they have over 70 Real Series Video Slots.
I've chosen a random one to start – that being Texas Tycoon. Graphically it looks pretty ugly actually: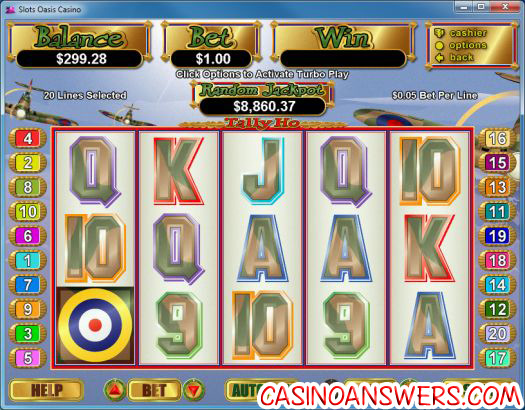 The rules seem to be pretty simple – that bullseye type object you see is called a Roundel. If you get 3 or more Roundels scaterred, you win up to 25 free games. There's also a pilot icon which is a substitute for all other symbols. I actually prefer slots with bonus games – so much more fun, but we'll give this a go.
This is a 20 line slot, and we will bet $0.10 a line, or $2 total. The progressive jackpot is currently at $8,860.37. I'll take that please.
First spin sees me win $1, and therefore losing $1. There's more icons out there now so you can see what some of them are: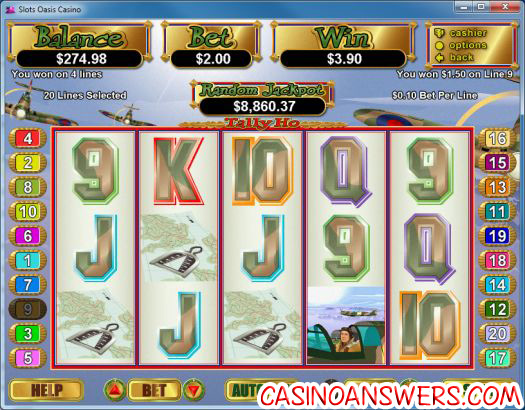 Also if you get two Roundels, I guess the last reel spins around and you get to stop it yourself. I won $2.60 with that spin – unfortunately I didn't manage to get a screenshot in time but if I get the opportunity to again I will. I so more spins and I win trivial amounts – $0.60, $0.90, $1.50 etc – but I actually like that. I mean sure I am losing money at the same time – but it's still a lot more fun than spinning and not winning a thing 30 times in a row.
I get my biggest slot win of a whopping $3.90 – so $1.90 profit, about 20-30 spins in: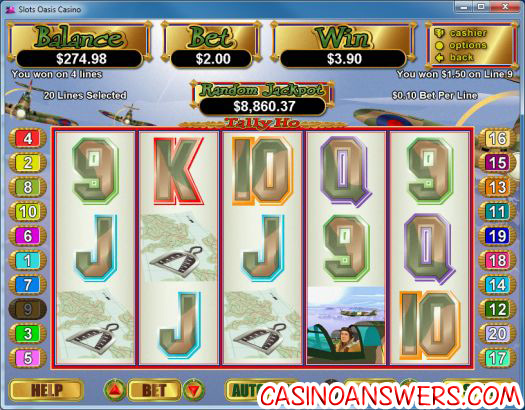 3 spins later and I hit an actual decent slots win of $11.10: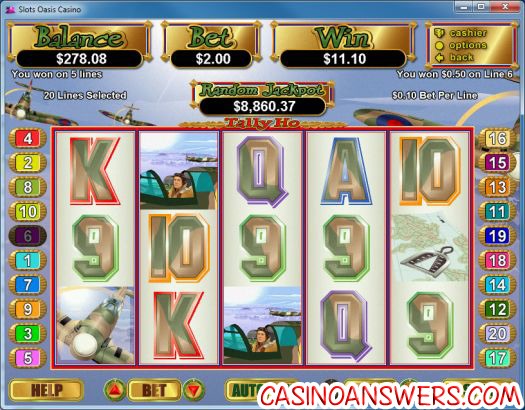 Also one good thing about this slot machine is you can actually STOP the spinning whenever you want – see screenshot below: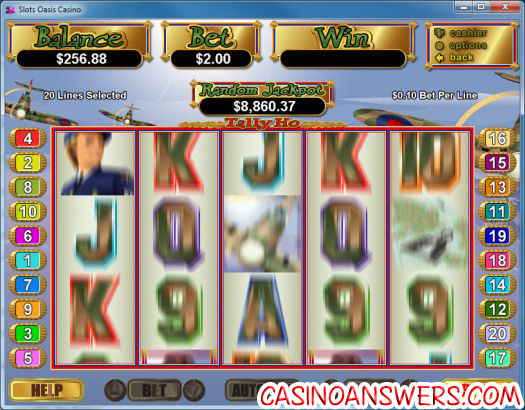 Funnily enough, I did this for the next 10 spins, and managed to win about 7 of those 10 spins, including a couple of $11+ wins. That's something I hate about casinos – is something like that happens, and you can't get it out of the back of your head that you've discovered a "trick" or something to win.
Still it could be worse – I know one friend who went to Las Vegas with only one outfit to wear – for a week – because it was his "lucky" outfit, and he "never lost" when wearing it.
He lost. A lot.
Anyway the balance drops to $248.38, and it's time to try out a new slot.
We'll go with the three reel slot Bank On It, which looks very similar to Crazy Dragon: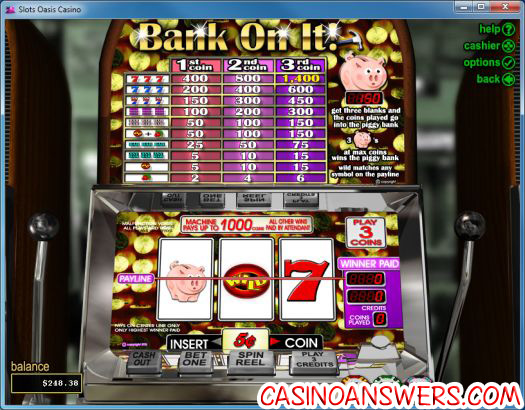 Except instead of a Crazy Dragon it has a cute piggy wiggy!
Something I find a bit weird is when you change the bet increment it brings up a loading screen for a brief second: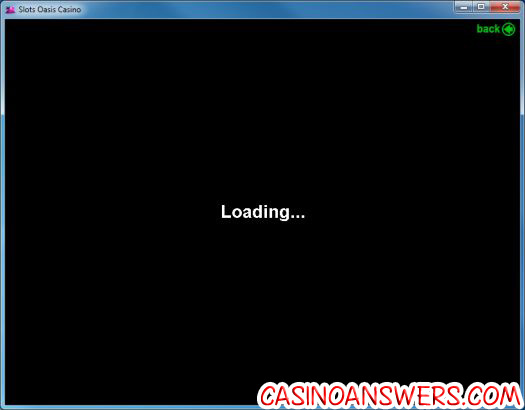 No idea why that is. Anyway we will be betting $1 and covering all 3 lines. This also has a fun rule where if you get three blanks, the coins played go into the piggy bank which is a pretty neat idea.
Takes us about 12 spins to get our first win: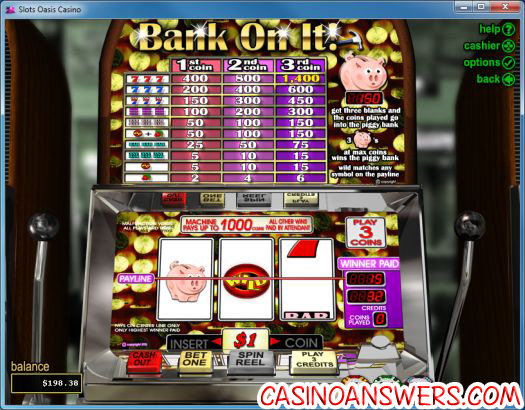 Then we have a "close but no cigar":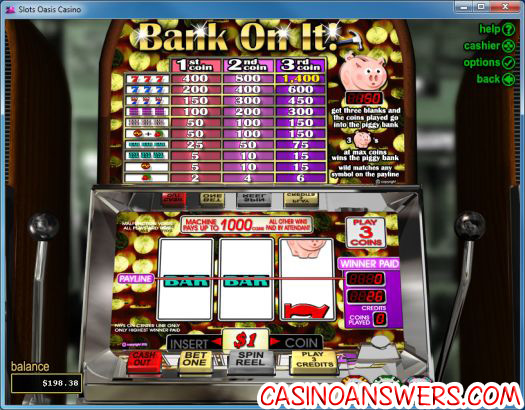 Sigh. One more bar for a $75 payout – is that so much to ask?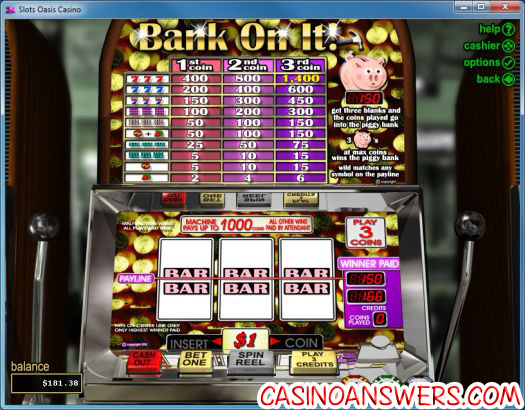 Apparently it is not! A nice $150 payout there, thank you very much!
We have $166 in there, and I decide to spin and spin until it gets to $100 and then cash out. Well would you believe it – on that very last spin before I hit cash out: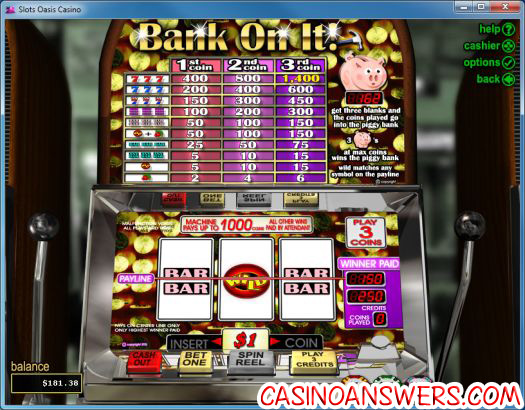 Hell yes, another $150 win!
This one made me cry just a little bit: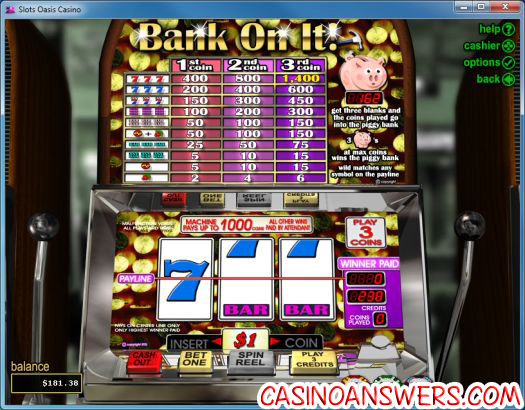 That would've been a pretty sweet $600 payout.
The run continues as I get two bars and a wild: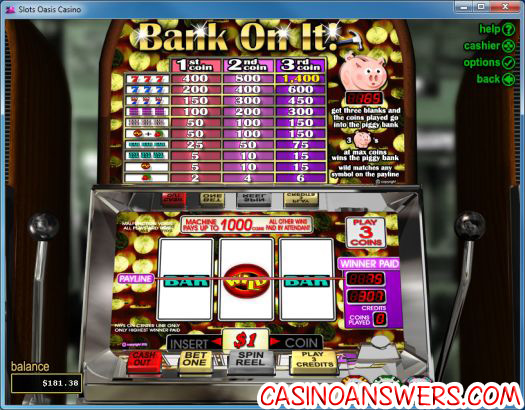 At this point I decide to just keep betting and betting until everything in the slot machine is gone, and call it quits for the day. I mean I have to eat up those wagering requirements SOMEHOW – and this hsa been my lucky calling so far – why not keep at this bad boy?
Well the money drops. And drops. And drops. A few tiny wins. And nothing.
Until: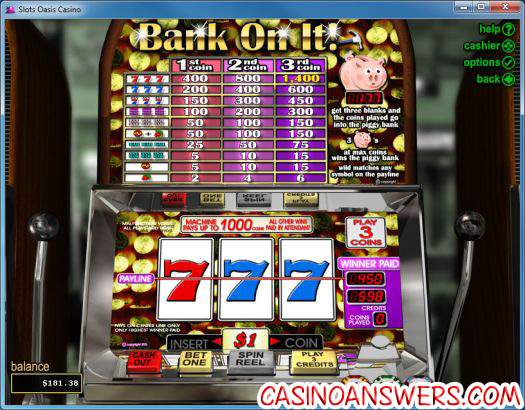 BOOM! A sweet $450 profit.
Oh yeah to explain the piggy bank thing more clearly – what happens is the piggy bank starts at $150. If you then hit 3 blanks, rather than the casino getting the wager, it goes into the piggy bank. Then you can win that amount during gametime. Pretty neat idea, and something which I am sure keeps players playing.
With such a strong wagering requirement, I really have no choice to keep playing. Bank On It has been very lucky so far so I decide to keep at it. Unfortunately it is rather uneventful – I win $6 and $15 a few times but that's it.
I don't even get close to the three piggy banks to empty the bank – which would have given me a total of $288. Oh well.
We DID make a decent dent in the playthrough requirements, clearing a total of $1935.25 now. Unfortunately that means there is still $8,064.75 to clear. Oh well.
If you want to play at Slots Oasis Casino, you can visit them via this link. I'll be back tomorrow to attempt to clear an $8,000 bonus with just $182.38!
Welcome to the final day of the Slots Oasis Casino blog. We have just $182.38 left, and an $8,064.75 playthrough requirement so the objective for this blog is pretty straightforward – we're going to have to bet big, and either clear the requirement or go bust trying.
Odds are? We'll go bust trying. But who knows – we had some huge wins in Thursdays blog, so if that luck carries over we'll be good.
(Apologies for the delay in this blog being posted. I had some website problems and was unable to post it. I wrote everything on Friday.)
I decide to just pick a random slot – and the slot happens to be the Video Slot London Inspector. Here's how it looks: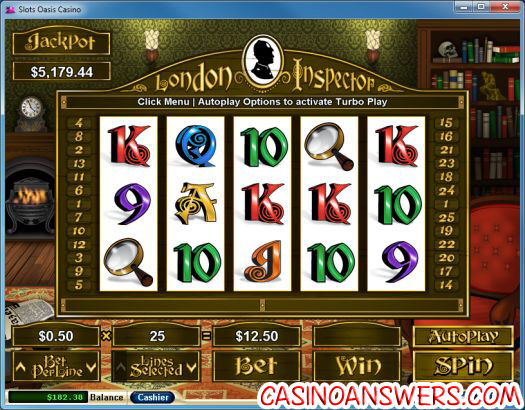 And it's got a bonus game if you get the actual Inspector scatter icons to show up. It is a 25 line slot, and we shall be betting $0.50 on 25 lines, for $12.50 per spin. This means we have basically 14 spins to either win big or go bust.
Let's play!
First spin, I win nothing.
Second spin, I win $10: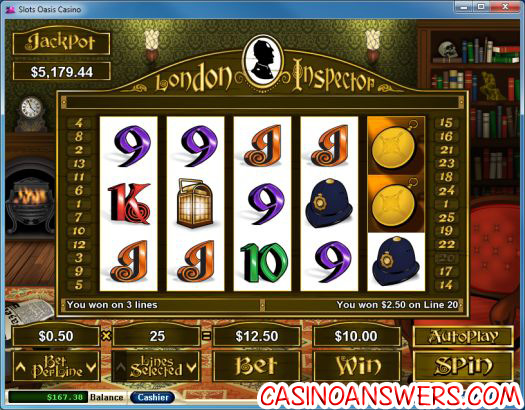 Third spin nothing. Fourth spin $2.50 when I get 3 queens in a row. Fifth spin of London Inspector gets nothing, as my balance drops to $132.38. 6 more spins follow, and still not one win. $69.88 left – this isn't looking good.
My next spin wins nothing, then I get just $2.50. The balance drops to just $34.88 when…………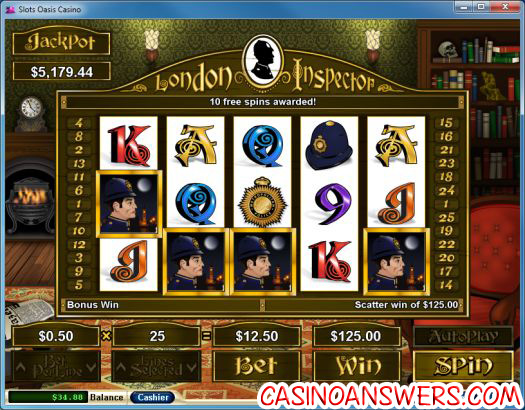 YES! I win $125 and 10 free spins. Hell yes. I go through the spins and I win more free spins, and various actual money wins which all add to the balance. Here's a couple screenshots of the spins: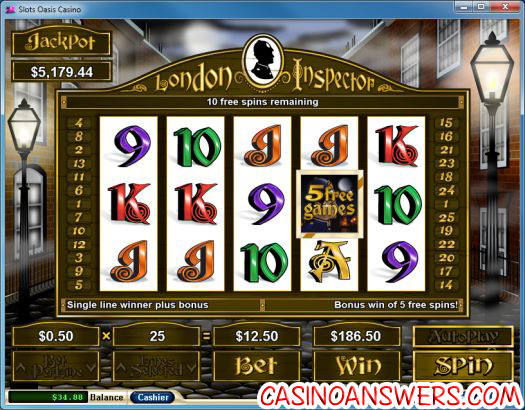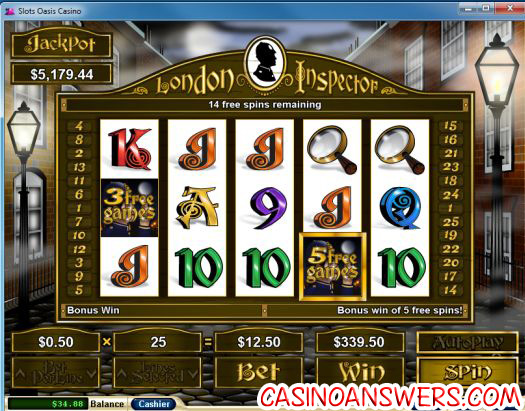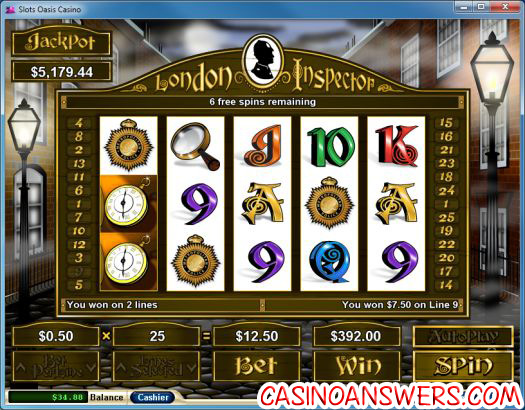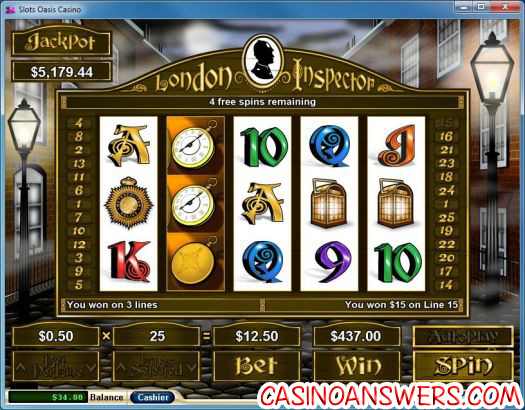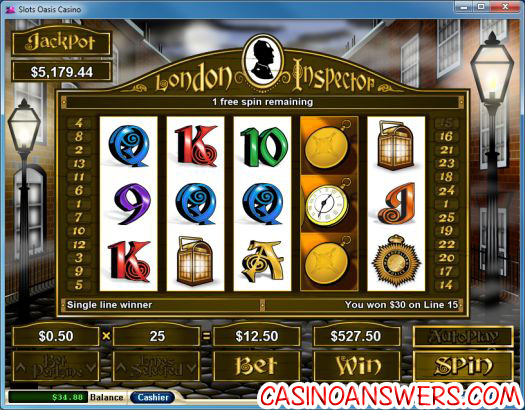 W-O-W. And just like that – I am actually UP at this casino after the week, as I win a total of $531.50 on my second last spin and am now sitting at $566.38.
So at this point I have a tough decision to make: with this only being my 3rd online casino blog, I haven't got all the time/money management down yet, so that I split all my playing requirements over the period of 5 days.
When I started the Slots Oasis blog, I started with a balance of $500 and a $10,000 wagering requirement. Now on day 5, technically the final Slots Oasis Casino blog, I'm sitting with a balance of $566.38, and I still have a hefty wagering requirement of $7,902.25, which is a hell of a lot of playthrough.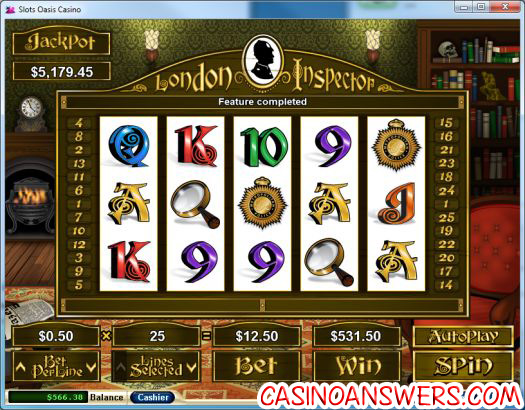 Really there's no way I can continue to play and blog about it today, because unless I bet $125 a spin or something ridiculous like that, I'm going to be playing for a good couple of hours.
Therefore to paraphrase Gorilla Monsoon after the Bret Hart/Shawn Michaels Iron Man Match:
"THIS BLOG MUST CONTINUE!!!"
That's right – I will continue this blog from Monday December 7th through Friday December 11th, as it becomes a two week blog, for the first time in my casino blogs history.
Hopefully over the coming weeks, I manage to get the whole casino blogging thing "down" and figure out how to best split it up over 5 days. In the meantime enjoy your weekend, and I'll be back Monday for Day 6 of the Slots Oasis Casino Blog.
You can check out Slots Oasis Casino for yourself at this link: >>Visit Slots Oasis Casino<<
Well if you missed day 1-5 of my Slots Oasis Casino blog let me briefly sum it up – I started with $500. I lost a lot of it. Then I won some back. Then I lost more. And with just $30 left in my account, I put $12.50 in the London Inspector slot machine and ended up with a balance of $566.38.
Quite the roller coaster.
So I've decided to continue the blog for a second week, so sit back and enjoy days 6 through 10 of the Slots Oasis Casino blog.
My wagering requirement is just under $8,000 now. Just to remind people – the only games that count for the bonus wagering requirements are slots, keno and scratch cards. Although I can play the likes of Blackjack etc, I'd much rather focus on just trying to clear the bonus.
I decide to hit up some Slots Oasis Video Slots. They only have two – Food Fight and Jazz Time. These slots look the same as the rest of the slots really – not that that is a bad thing. This is how Jazz Time looks: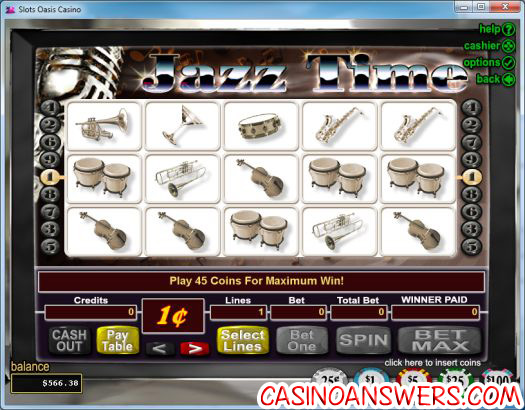 We will be playing all 9 lines, and betting the maximum 45 coins. We'll start off with 25 cents per line, which is a total of $11.25 a spin. Sure we don't exactly have the bankroll for it, but let's hope that variance will continue to be our friend on this one.
One nice feature of this slot machine is that when you spin the slot, it actually plays jazz music. A nice change from the usual slot machine sounds you hear. I've uploaded a video of it below:
Betting 45 credits a time, the first spin I win nothing, then I win 10 credits, followed by 20 credits and then 60 credits. A few small wins and losses, then I get a nice 85 credit win with this spin: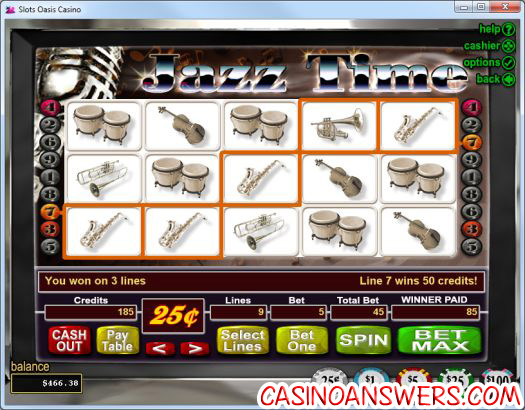 With my last spin of the $100 I inserted, I manage to win the bonus game yay: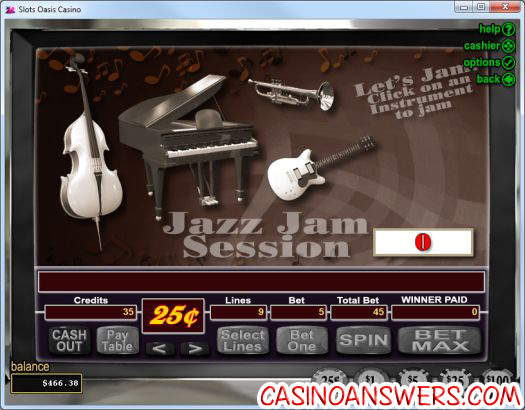 This bonus game is won by getting three pianos anywhere on the screen, and is called the Jazz Jam Session. Basically you select an instrument you want to play, and if they "create a solid groove" you win money. You keep playing until you play a bad note. It's all random of course, but a fun little game nonetheless.
Seeing how the piano won us this Jazz Jam Session Bonus Game, we'll go with that first: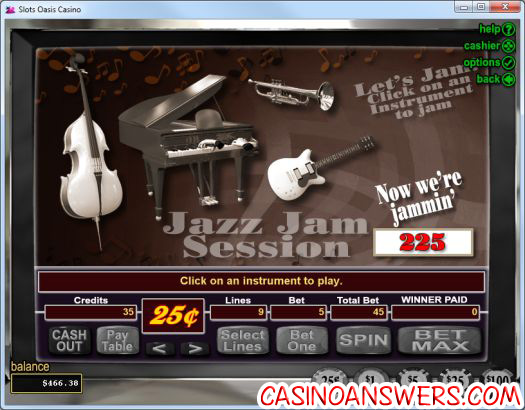 And we win 225 credits, nice. Next we'll go with the instrument to the very left – is that a harp? Sorry – not a very musically inclined person. However being musically inclined doesn't matter, as I pick up another win: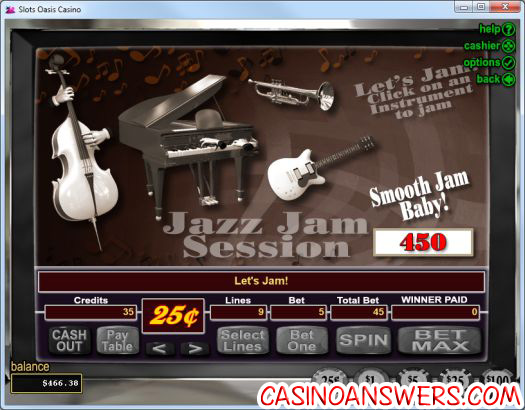 To take me to 450 credits. I go with the guitar next, alas that results in a bad note: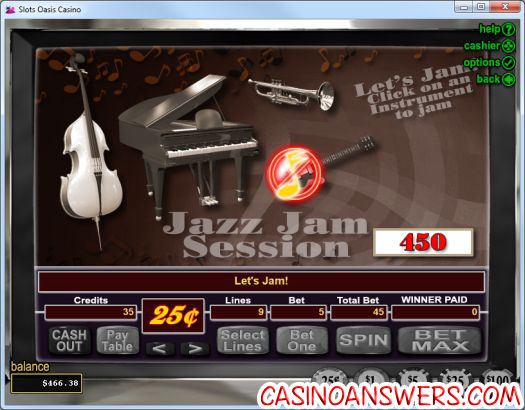 And I leave the slots bonus game with 450 credits. Oh well – the maximum you can win is 1000 credits so that isn't too bad. I deposited $100 which was 400 credits, and I now have 485 credits which is a pretty sweet deal. I decide not to push my luck, cashing out from this video slot with $587.63.
We'll hit p that other video slot now. This one is called Food Fight and it's a rather visually appealing one as seen below: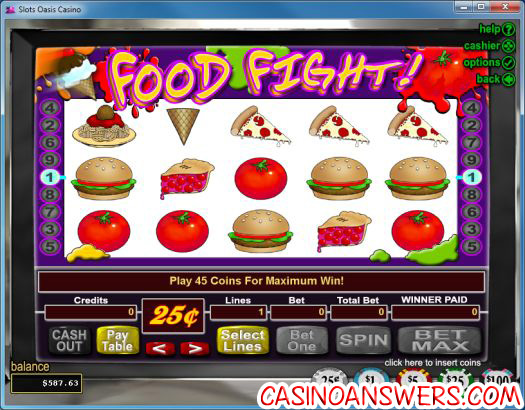 Although I have to confess that after loading this one up….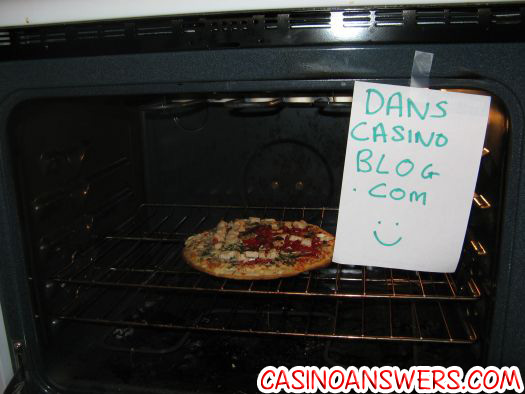 I couldn't help but throw a pizza in the oven. Why yes – I DO stick my website URL on the oven whenever I use it. Doesn't everyone? For those wondering the toppings on that pizza are chicken, goat cheese, red peppers and spinach. Cover it in Franks Hot Sauce, and you have yourself one yummy pizza.
Okay, back to slots.
We go with the same bets as above – A 9 line slot, $0.25 per line, with a total bet of 45 credits, so $11.25 per line.
Unfortunately we don't get much luck on this slot – one of our only wins: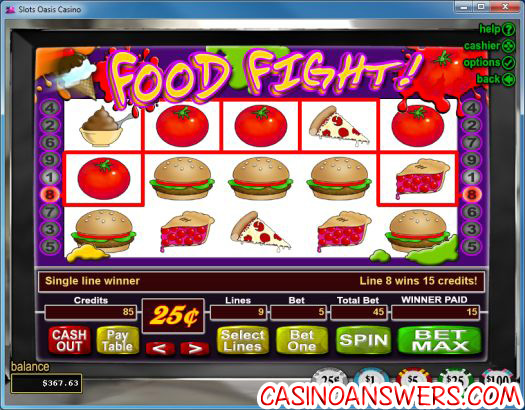 And then just as I am about to leave the slot, I spin one more time:
Sweet deal!
We follow that up with another pretty win a few slots spins later: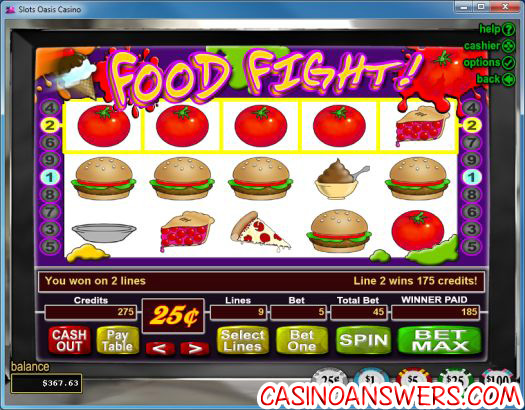 And with 2 solid wins, I cash out of that one with $425.13 left. I decide to go with the Hot Dice Scratchcard to end the night. We'll bet $10 5 times, and see how it goes. This is how the scratch card looks unscratched: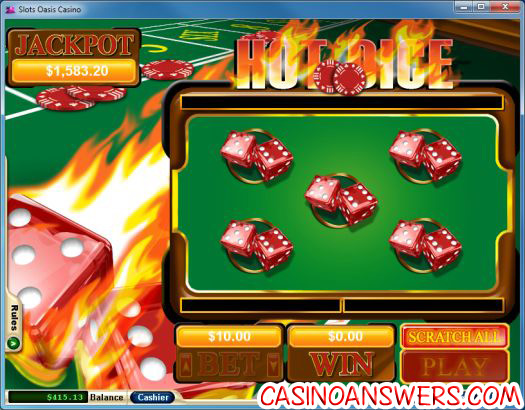 To win at this scratch card, you have to reveal two dices with a total of 7 or 11, then you will win the prize shown. The progressive jackpot is triggered randomly, and the payouts are as high as 2000x. Oh boy wouldn't that be nice.
The first scratch I win nothing – on the second scratch I decide to hit "Scratch All" just to make it easier, and bizarrely the game freezes: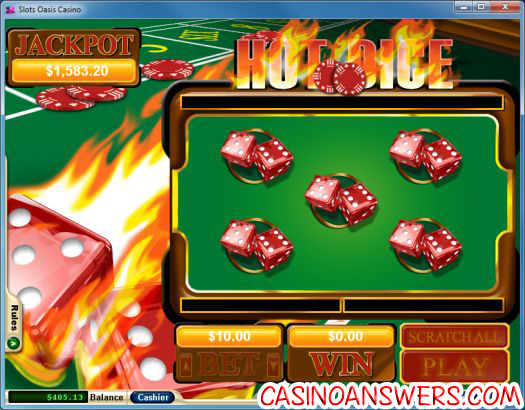 I then get the error "Unable to communicate with server". I quickly discover that the reason for this is because my internet is down. Oh yay, thank you so much Cogeco freaking Cable!
I guess this is as good a time as any to end todays blog – a sign from the online casino gods. I'll be back with Day 7 blog soon – internet services permitting of course!
Play at Slots Oasis Casino – click here.
In yesterdays casino blog, it ended on a rather abrupt note when my internet died during the Hot Dice Scratch card game. I had just purchased a $10 scratch card, clicked "Scratch All" and it froze.
Initially I thought it was the software, however it ended up being my sucky internet. So, what happens when you are in the middle of a casino game and your internet dies?
A lot of casinos do it differently. I know some casinos play out the hand or game that you are in. At Slots Oasis, it simply resumes where it left off. So I load it back up and I have my purchased scratch card directly in front of me, which is really handy.
And guess what – it was worth the wait!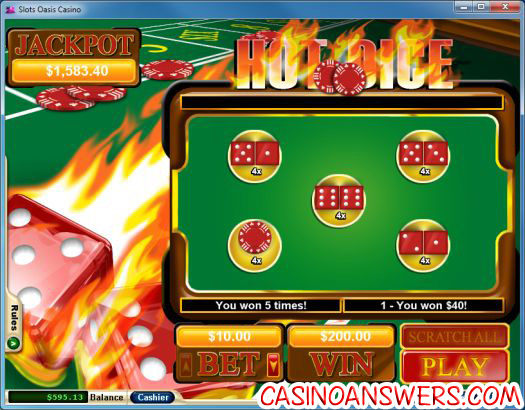 See that? Off that $10 scratch, I won $200. If you scratch off the poker chip, you win all the prizes listed.
Man, if I go busto at this casino after all these big wins I will be pretty damn disappointed.
I scratch a few more times, but unfortunately don't pick up any wins. I think my wore my luck out on that poker chip scratch. With $495.13 left in the balance, it's time to head back to slots!
As I go back to the lobby, I accidently click on a slot called Enchanted Garden. Is it a sign of destiny? It's a more a sign of ugly – seriously look at this thing: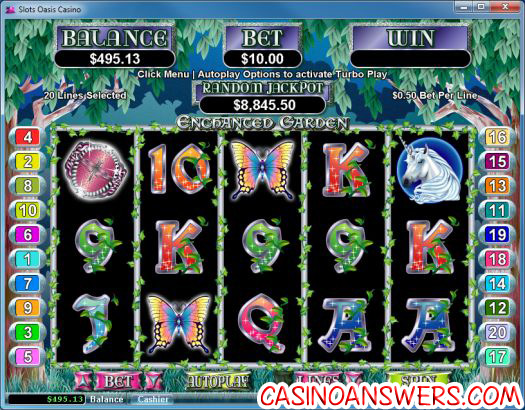 Yikes. Oh well – I'll burn through some money at this. It's a 20 line slot and of course you know the drill – we're playing all 20 lines. It also has a progressive jackpot – the jackpot currently stands at $8,845.56. Oh boy wouldn't it be nice to win that – then I would leave as a winner for sure.
I bet $0.50 per line, which is $10 per spin. Hey, gotta live dangerously otherwise we'll be at this casino all freaking month! First spin I win a whopping $1, then $2.50 on the 3rd spin as I get 3 9s in a row. The 6th spin sees a $9.50 win – which seems okay, until you realize I actually lost $0.50: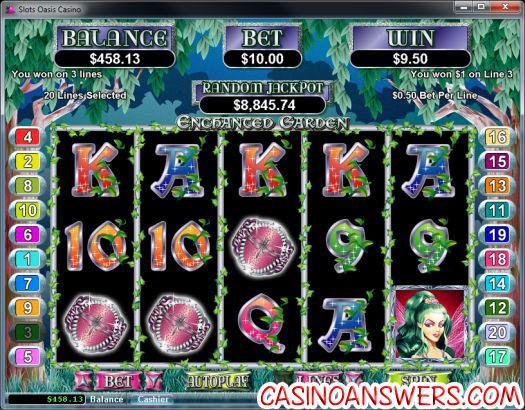 I then get a scatter win of $10: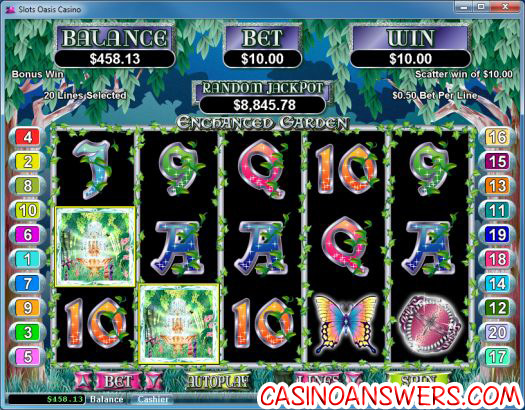 If you get 5 scatters you actually get 200 times your total bet which um yeah – would have been really nice. Still I will take what I can get. Also if you get a garden on reel 1 and a fairy princess on reel 5, you get 7 free games.
A few more spins later, I hit a nice big win of $132.50: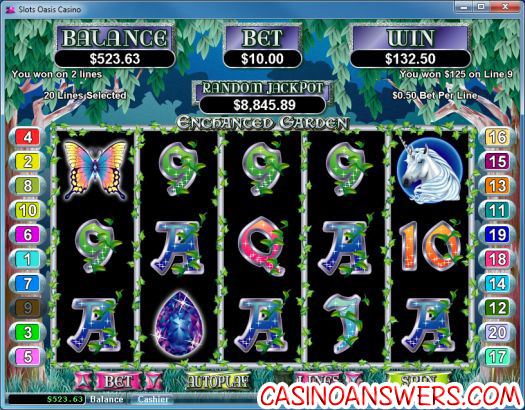 That's thanks to all those aces. Only a couple of spins later, and it's SCATTER TIME: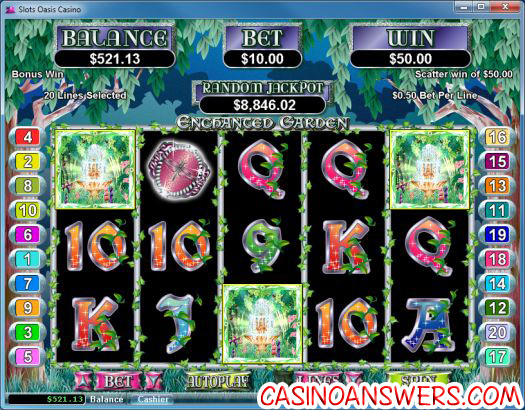 I'll stick with my "two decent wins and we leave" rule, and we head off to another game with a $521.13 balance.
I decide to hit up that godawful Keno game that I ranted about in the Slots Oasis Casino Blog Day 3. Boy did I ever hate this game. However with luck on my side, I decide what the hell – maybe if I win $250,000 I shall grow to love this game!
I go with a quick pick option where it picks 10 numbers automatically for me. I then choose to "Play 10" at $1 – what this will do is go through 10 Keno games in a row with the numbers you chose.
The results?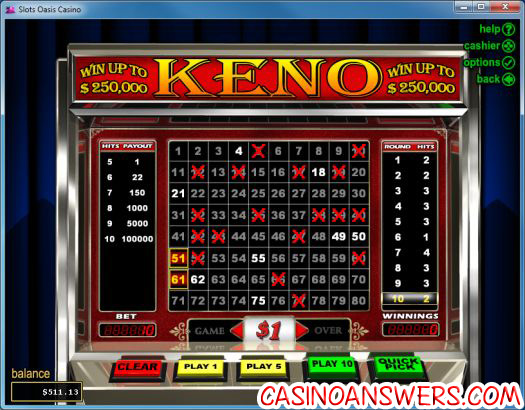 Ouch, not pretty. I didn't even win a $1! Screw it – I'm staying at this game and playing with the quick pick/play 10 combo until I win. Stupid Keno.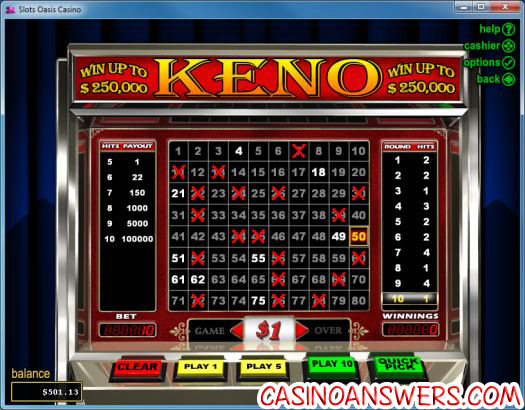 Dear lord – are you serious? Still not a win? YOU WILL NOT BEAT ME KENO.
Next go around: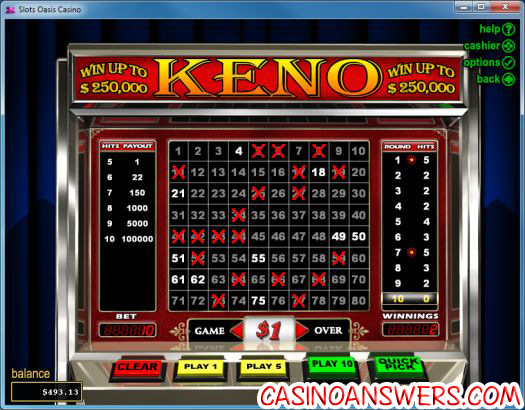 WOOHOO, I WIN $2. So the score is Dan 2, Keno 28.
That kinda sucks.
I'm stubborn so I play again, and win back some of my money as I hit 6 numbers:
I play a few more times until my balance drops below $450($442.13 to be exact) and I head off to slots.
Boy I hate keno.
As I go back to the lobby I just notice that Slots Oasis actually has Free Blackjack Tournaments. And you even get to play for free cash which is pretty cool, here's the info: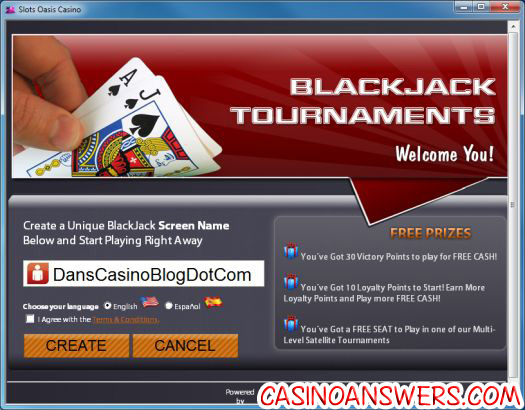 That's pretty cool, and maybe we will play a Blackjack tournament tomorrow. If you are interested in playing against me my username is above – sign up at Slots Oasis, then let me know when is a good time and I will play against you in a heads up tournament or something, and we'll even video tape it. Sign up here, and just post in the comments or e-mail me at dan@casinoanswers.com. We'll play Wednesday or Thursday!
With my $442.13 I decide to hit up a slots game till our balance drops to $300. Boy am I pessimistic or what? In the lobby it actually lists the most popular slots games – there is one called Sevens & Stripes which is apparently popular. Here's what it looks like: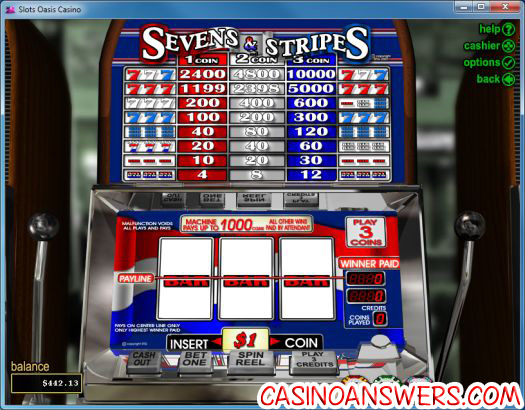 And boy does it ever look similar to Bank On It: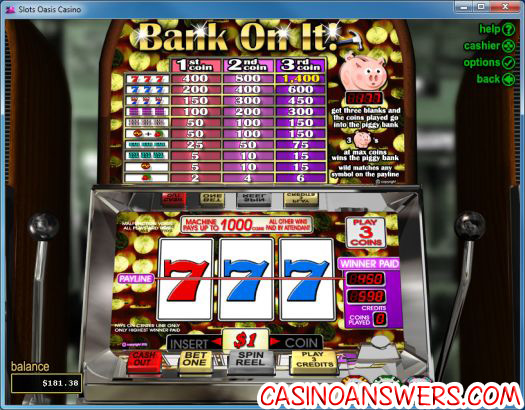 I gotta say that despite the amount of slots at Slots Oasis Casino, most of them are so freaking similar it is crazy, with only a few graphics being different. Oh well. We'll be playing 3 coins in this bad boy of $1 each, so that is $3 a spin. No piggy bank on this game which is unfortunate.
Anyway for this game all I can say is OUCH – I inserted $150, and I did not win a thing. 50 spins of nothing! Being a sucker, I put in some more money with that whole "I'm due" concept in mind that one just cannot shake, and within the space of a few minutes: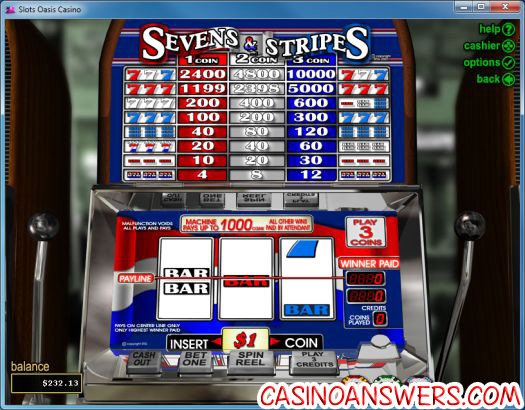 I'm down to just $232.13. That's not fun. I check the playthrough/wagering requirement and amazingly I'm not even at the halfway point yet. I have $6,703.25 in wagering to go, yikes. I have 341 comp points, and I decide to redeem them just for the hell of it, which gives me $3.41. Yay!
I'm done for the night. Remember – come play in the free Blackjack tournaments with me, or deposit and play against me. Click here to sign up.
Day 8 of the Slots Oasis Casino Blog, and the stats are as follows: A casino balance of $235.54, with $6,703.25 of the bonus left to clear.
Just like the last few days, it's going to be bet big and pray.
Let's hope the gambling gods are on our side.
We had some luck on the video slots over the last couple of days, so we'll go back to those. There is quite a selection of slots, but we'll go with the Shopping Spree Video Slot. This is a 9 line slot, and we'll be doing $0.25 a spin, with the maximum 45 coins, so $11.25 a spin. This is how the Shopping Spree video slot looks: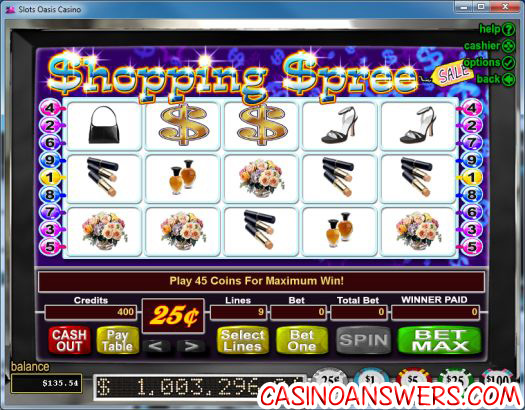 And the Video Slot Progressive Jackpot is just over one million dollars. Yowza! Wouldn't mind winning that, that's for sure.
To win the progressive jackpot, you have to get five diamond rings on any maximum bet line. The next biggest winners are for shoes, pearl necklaces, handbags and perfume.
Slots Oasis also has a pretty cool promo where if you get five diamond rings you also win the $100,000 Shopping Spree Super Jackpot, where you get taken to New York on a $100,000 Shopping Spree. Pretty sweet deal.
This jackpot starts at $25,000. The last payout of it was $588,103 so I think we can all agree – we're DUE! Right? Right? Well maybe not – but boy would this be a nice Christmas gift.
The Diamond Rings are actually a rarity to see on this slot, so almost as a tease we see two of them immediately after our first video slot spin: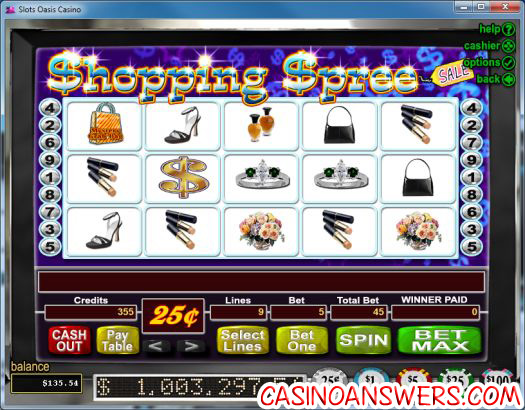 Our next spin gets us a 50 credit winner – betting 45 credits per spin means it's 5 credit profit!
You know what I would really hate? As I play this game, to see the progressive jackpot hit $25,000, meaning someone else just won it. Can you imagine that? If I'd been a second earlier at clicking – if I'd not stopped to take that screenshot, then the jackpot could've been mine. That would not be fun!
Next spin wins us 35 credits, then a few spins without nothing before we win 50 credits here: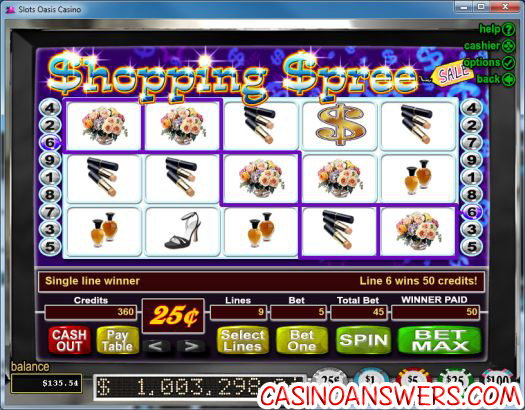 Pity we didn't get 5 flower pots – we would've won 500 credits which would have been none too shabby. Next spin sees our biggest win of the session at 200 credits: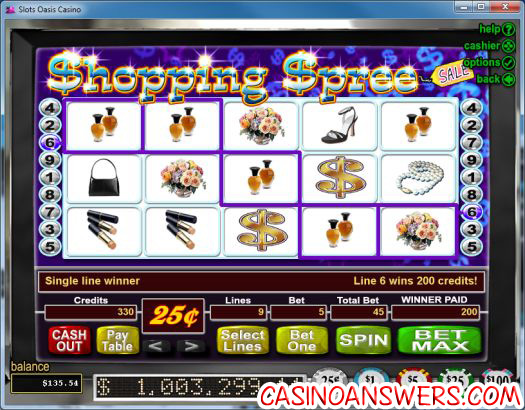 If we managed to get a 5th one, that would've been 1000 credits. Oh well.
Next spin is 50 credits, then nothing, then 10 credits. Oh BTW – the dollar signs you see during the slot – you get 3 of those on the screen, they will assemble and pay out a big money scatter bonus up to 350 credits. The shopping bags are what unlock the bonus game – you have to collect three of those, and you unlock the bonus game where you can win up to 4000 credits, which is $1000.
Unfortunately I don't pick up any more wins, and with just $105.54 left in the balance, it's time to quit for the day.
Two days left, busto is imminent!
Welcome to Day 9 of the Slots Oasis Casino Blog. In case you can't remember, we've got just $105.54 left in the balance, with a wagering requirement of $6433.25.
We'll start with losing most of that balance in a minute, but first let's hit up a blackjack tournament!
Slots Oasis has a variety of Blackjack tournaments available. There's a link on the home screen of the casino that you click, and it takes you to the Blackjack Tournament Lobby. This is what it looks like: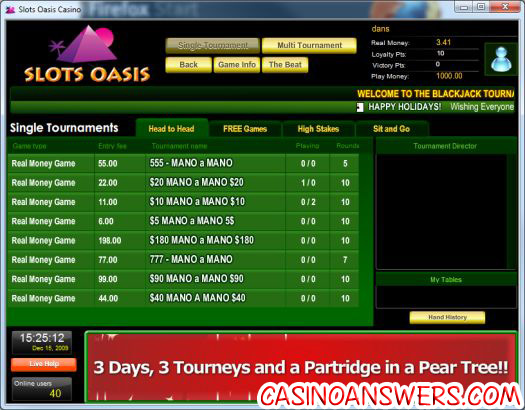 There is a variety of options to choose from for what you want to play. They offer real money games from as low as $5 up to as high as $500 an entry. You can play head to head with one player, or play in sit and go tournaments with a variety of other players which is really cool.
They also have Free Blackjack Tournaments– you don't have to pay any money to play. You can win VIP points for playing – and they also have multi-table tournaments where you can earn loyalty points, free cash etc. They really do have a nice Blackjack Tournament setup.
Unfortunately I was unable to play for real money, as the rest of the money in my balance is in the "bonus" section – meaning I can't withdraw it, or use it in tournaments. However I did play for play money. I've embedded a video of me playing a free blackjack tournament at Slots Oasis below – unfortunately I don't have audio in this one, as I forgot that my microphone was hooked up, and you could hear my daughter yelling about "Elmo" and "Mickey Mouse" in the background:
That was a lot of fun, and I hope to play in more blackjack tournaments in the future. Seriously they are a lot of fun, especially the sit and go tournaments – try them yourself.
Okay so let's see – in the Slots Oasis Casino Blog Day 7, we had a brutal time at the Sevens and Stripes Classic Slot machine – putting in $150, spinning 50 times and winning nothing.
Let's revisit our arch-nemesis, and see if we can reclaim some of the money we put in!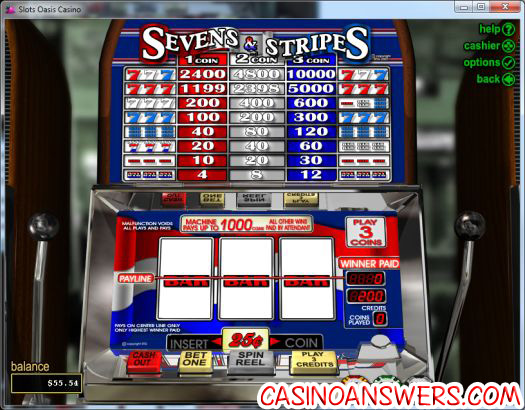 I've put in $50, which gives me 200 credits. At $0.25 a spin, and using the maximum 3 credits, we'll be betting $0.75 per spin, which will give us a minimum of 66 spins.
Time to win back some money!
Takes us 8 spins before we hit our first win, a 12 credit victory: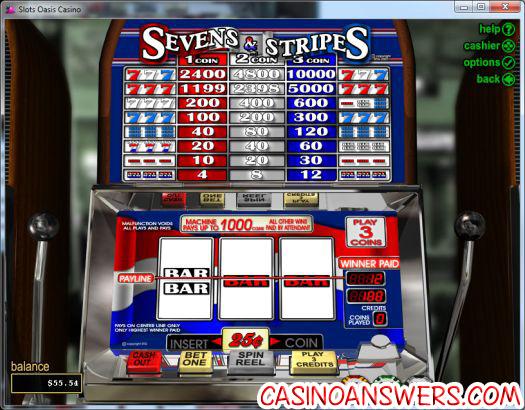 4 spins later we come close but no cigar: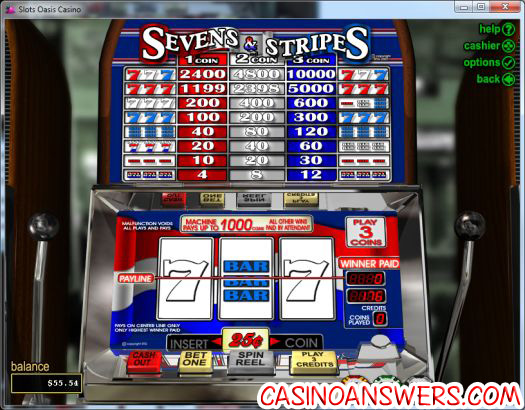 That would've been a nice $150 win which would've allowed us to up the bet amount. Oh well. We pick up another small 12 credit win soon after: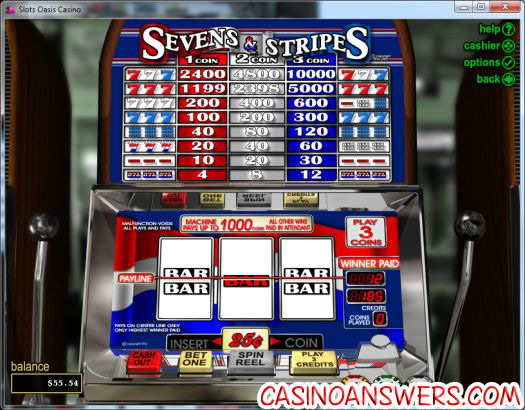 And 5 spins later our luck is in, with a 60 credit victory!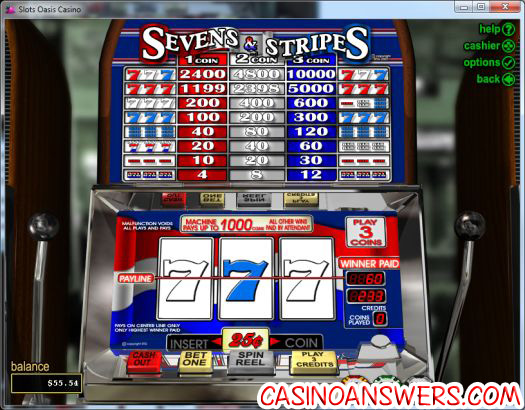 Then we spin.
And we spin.
And we spin.
And I am just sitting here, all ready to type "unfortunately we don't have any more big wins", when: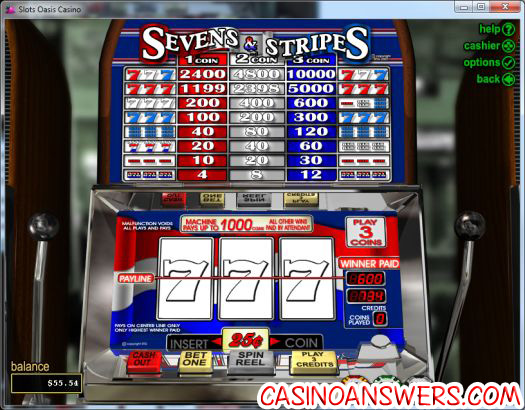 Woohoo! That's a nice $150 win, which brings our balance to $239.04. I decide to up the ante, switching to $0.50 per credit, and inserting $150. This will give us 300 credits to play with.
First spin sees us win 12 credits, and the second spin is another 12 credit win: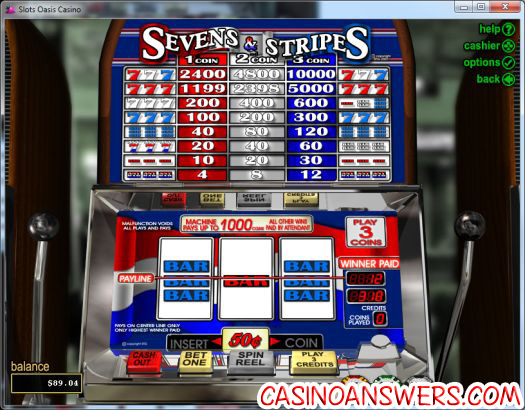 I'm feeling lucky! Clearly those wins were just a reaffirmation that this was the best slot to play today right?
Right?
We pick up a few small slots wins, then a 30 credit here: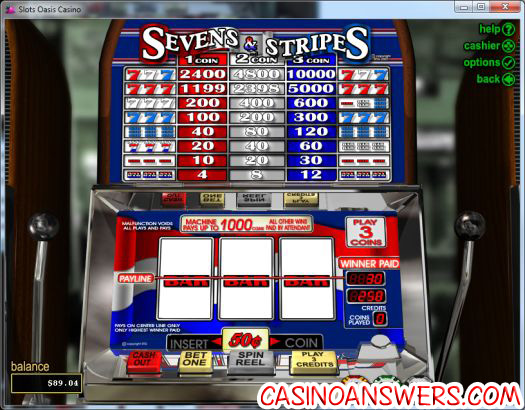 And a 60 credit win shortly after that: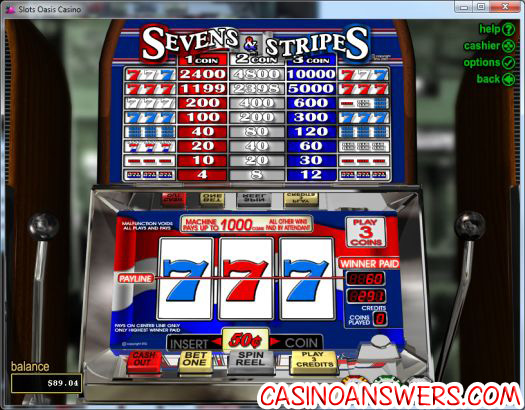 Unfortunately we end up with a lot of close calls after that – things like this: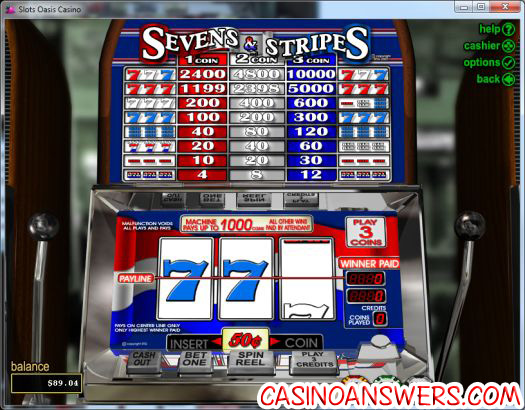 There was one evil one that I unfortunately didn't get a picture of, where it was a red 7, a white 7 and then a blue 7…….except the blue 7 was one slot up. That $5,000 WOULD have been nice I must say.
So we lose everything there. With $89.04 left I up the ante to $1 per credit and put in enough to give us exactly 10 spins…..
….and as quick as you read that sentence, it was all gone.
$59.04 left, back tomorrow in the last day of the Slots Oasis Casino Blog.
And remember – try out the free Blackjack Tournaments at Slots Oasis Casino. Click here.
And we are back, with the final Slots Oasis Casino Blog. Without a shadow of a doubt it has been a wild ride, especially compared to the other casino blogs.
The King Solomons Casino Blog was one where we basically hit the ground running from the start when it came to winning, and never looked back. The Gaming Club Casino Blog was one big downfall from the beginnng. In the Slots Oasis Blog it's been all over the place – we looked dead and buried on Day 5, until to hit a miracle and put ourselves in better shape than when we actually began.
Can lightning strike twice?
We have exactly $59.04 left in our account, with a playthrough requirement of $6029.75, meaning we haven't even come close to the half-way point yet.
Let's gamble!
I was tempted to play the bonus slot entitled High Rollers Slot however one look at the slot machine and I don't think I'll be playing:
Seriously – slot machines should not look like my six year old son designed it! I'll avoid the obvious joke of this clearly being made by someone that was high.
I instead decide to go with the slot machine Paradise Dreams, if only because it has a really nice name to it. Paradise Dreams – I like that.
This is how it looks: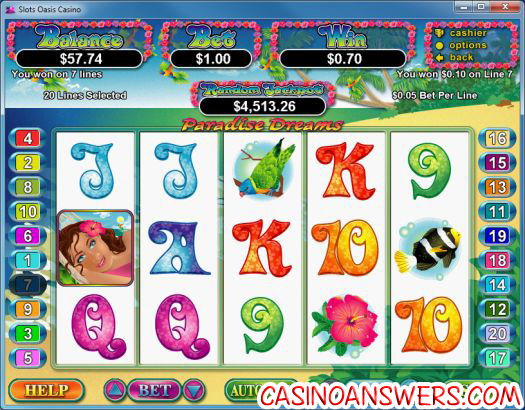 Quite ugly – but hey, if we won that jackpot then I won't hold its looks against it. Here are the slot rules, ways to win and paylines:
So as you can see – the uh..icon on the top left is a good one to get, with the highest win. What the hell is that anyway? Looks a bit like a parrot, a bit like a tree. The girl is a substitute but only appears on certain lines, and there is the Paradise Pick feature, as well as the Scattered Islands for free games and oh – let's just spin and get the inevitable losses over with.
We'll start with $0.05 per line. This is a 20 line slot, meaning we are betting $1 per spin.
First spin wins nothing – but here's that icon again so we can get a closer look at it: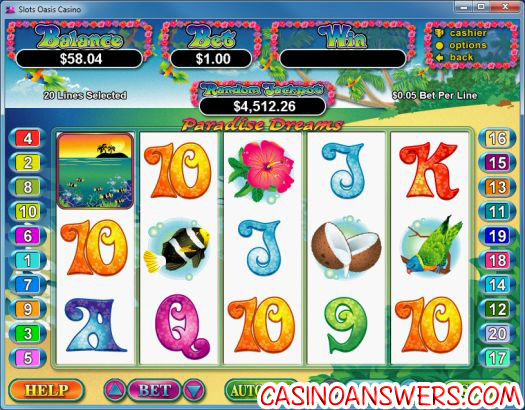 AH – it's a bird. I actually had to zoom in on it – I was focusing on the green part of it and the branch. Quite the optical illusion! Here is is zoomed in: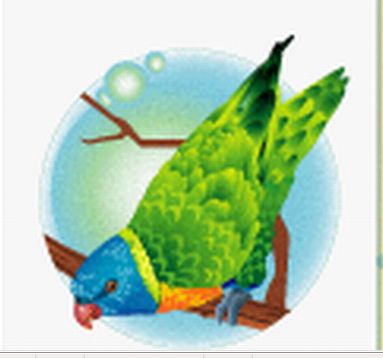 Alright – good to know.
Second spin is a win of $0.70, then $0.45, followed by a win of $0.25. Another win of $0.75 hits following that – meaning we have win 4 times in a row and none of them are a profit. Woohoo!
A $0.30 win is followed by a 75 cent win. Then a wicked 10 cent win. A few other small ones, when we hit our big win of $1.70: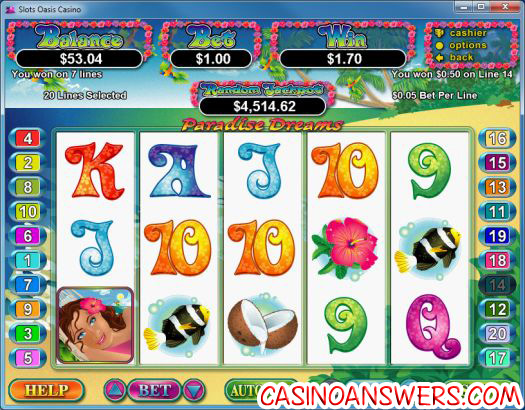 Hilariously that $1.70 is split over SEVEN different lines. Yikes.
This slot has autoplay BTW – here's the options for it: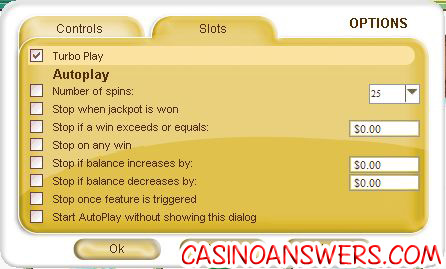 I decide to test it out. I will choose:
Turbo Play: Yes
Number of Spins: 25
Stop When A Jackpot is Won: HELL YES
Stop Once Feature is Trigged: Yes
The rest I just ignore.
I've recorded the autoplay of this so you can see how it actually works:
And here is a screenshot below demonstrating it: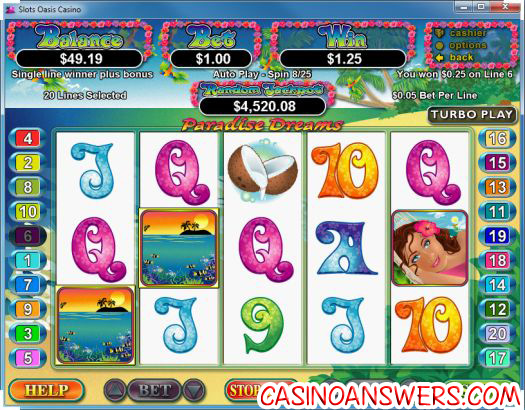 As you can see – it lists what spin you are on at the top. There is the option to stop auto play below, and if you watched the video it basically takes about one second total between every spin – that's becaues of turbo play.
Also something I should note – if you have turbo play selected in autoplay, that actually means every spin you do manually will ALSO be turbo play.
Alright – time to spin spin spin and hope that this slot machine pays out. I basically spin a lot and have a few small $2.50 wins before the biggest win thus far of $10.40: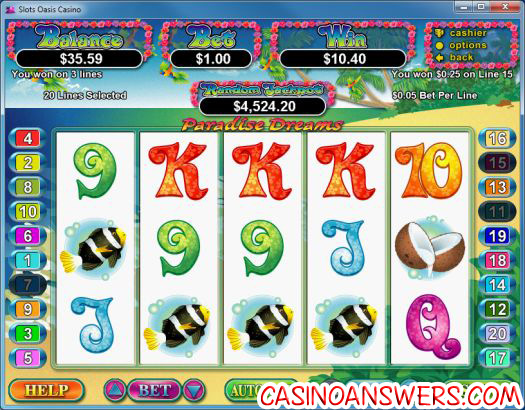 I'm about to type "unfortunately the rest of this is uneventful" when I happen to get a bonus round woohoo: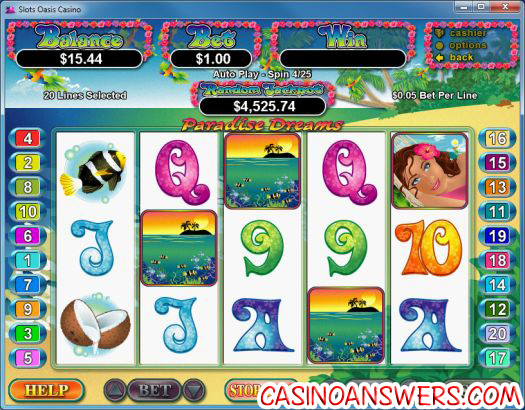 Here's what it looks like: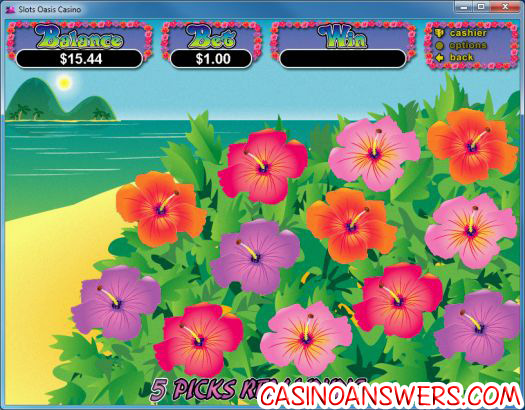 Of the 12 flowers you get to pick 5 of the 12 flowers, all of which have money items, except there is a butterfly which will give you an additional 5 picks. Lets get to picking – here's a video of the Paradise Slots Dreams Bonus Round:
We won $25 total, as you can see below:
With a balance of $40.44 this is going to take all night! I increase the bet to $0.50 per line. At 20 lines, this is $10 per spin – meaning we could spin 4 times and be bust.
Let's do it!
First spin: we win $7.50.
Second spin: we win $14.00.
Third spin: We win nothing.
Fourth Spin: We win $3.50.
Fifth Spin: We win $0. With a balance of $15.44 we do what could be our final spin…and win $2.50, bringing our balance to $7.94. A popup immediately appears informing me I don't have enough funds to play the slots(at these stakes) and would I like to visit the cashier – that's convenient I guess, but man give me a break here! I just blew through $500 stop with the pressure.
With $7.94 left I hit up the Lucky 8s $5 scratch card and lose, to take the balance to $2.94. I buy a $2 scratch card….and lose again. I try to redeem the 84 comp points I have however I am told "Requested amount is less than the minimum amount for this transaction type". I believe I need to trade in 100 comp points minimum – but really, why? It pays out in cents anyway(like when I traded 341 comp points for $3.41) so what's the big deal with a minimum?
I decide to blow the rest of my money playing $0.20 slots and hit up a random slot – Boy Kings Treasure. And 3 spins in, I manage to win $1 plus a bonus win of 15 free spins!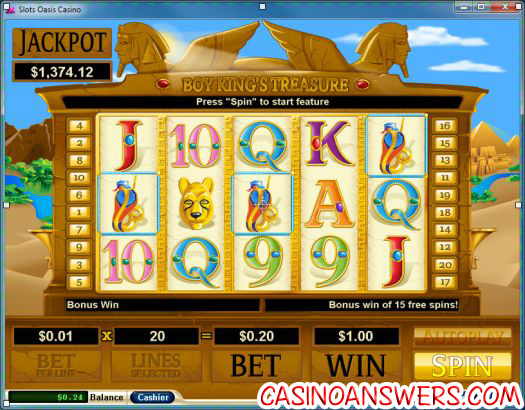 I end up winning $10.65: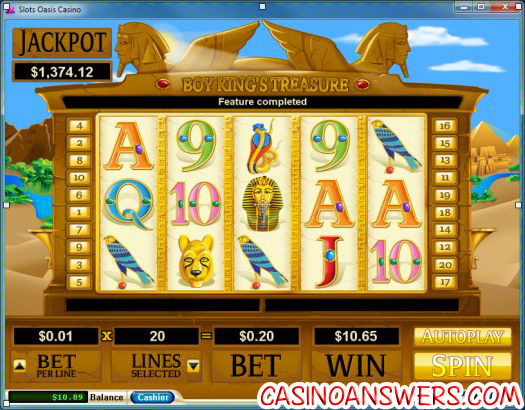 WILL THIS BLOG NEVER END?
I go to the slot machine I.R.I.S. 3000 to finish off this game – and boy this slot looks COOL: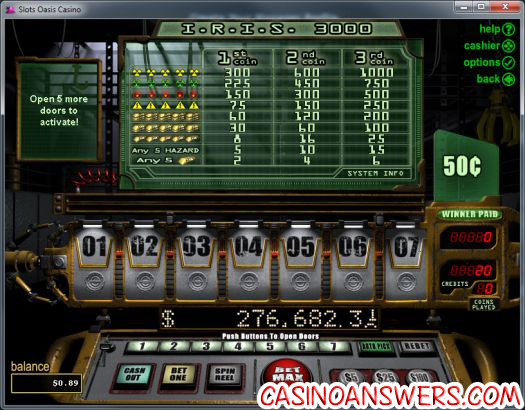 Remind me to do this one the next time I play at an RTG Casino. It takes awhile but we finally go busto, to end my journey at Slots Oasis Casino.
Well, this was quite the time. We ended up going busto before clearing the bonus. What is good about Slots Oasis though is that the bonus is now cleared – meaning if I deposit again I don't have to keep attempting to clear the bonus. Some casinos require that, which is obviously rather frustrating and puts you off ever depositing.
I'll have a review up soon, in the meantime thanks for reading and thanks to Slots Oasis Casino for two weeks of fun.
Well it was my birthday a few days ago – Saturday January 23rd to be exact. Now usually when it's your birthday you get e-mailed special bonus offers from online casinos. Nothing usually too special, but better than their regular reload bonuses.
Slots Oasis Casino went a step further, as they gave me $20 free of charge in my account! Thank you Slots Oasis, and now your free birthday cash gains you an additional blog!
If you don't remember my initial Slots Oasis Casino blog it was a BLAST – it went ten days, and I was all over the place with my balance. The highlight was when I was down to my last few bets then won a big $500 and change win, to move me back up above my starting balance. Click here to read: Slots Oasis Casino Blog.
I ultimately lost, but I did have a lot of fun, so let's revisit Slots Oasis Casino as a thank you for the birthday bonus. If any other online casinos want to throw me some free cash, I'll be sure to blog about it too!
Oh and if you have a birthday coming up – get registered at Slots Oasis Casino in case they want to give you some free cash!
We had $0.89 left from our original blog at Slots Oasis: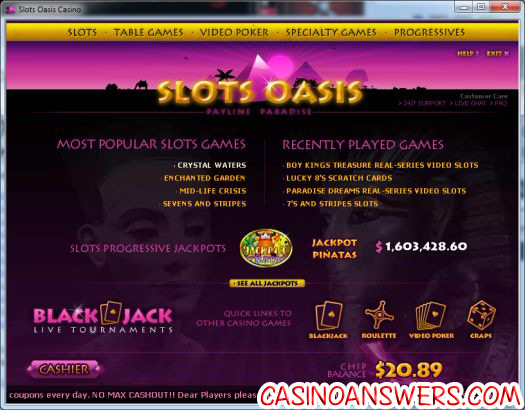 So our balance is $20.89. I decide to hit up a $5 MANO a MANO Blackjack Tournament. Oops actually no I won't – I need real money to enter these, and I only have the $20 bonus money. Oh well.
I'll go with the Bonkers slot machine. It's a classic three reel slot. Here's how it looks: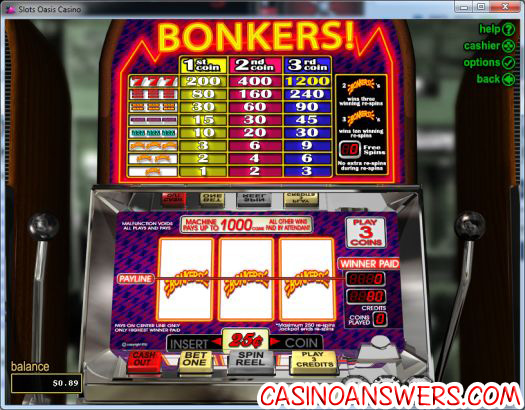 And we'll bet $0.25 a credit, the max 3 coins so $0.75 per spin. Also for fun, every time I win anything – even if it's just my money back, we'll bump that up to $0.50 for the next 3 spins. Nothing like using a progressive betting system on a slot machine!
First spin is a win, as we get our money back by getting a Bonkers on the payline: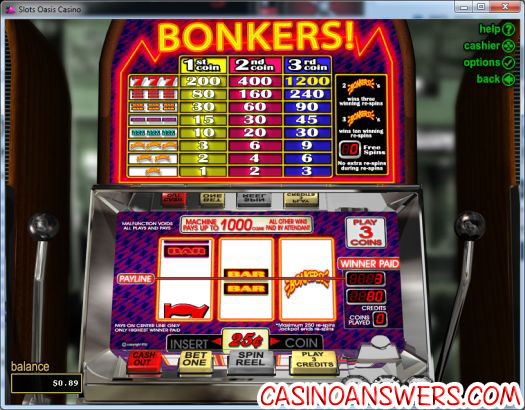 So as promised, up to $0.50 for the next 3 spins, or $1.50 total per spin. So I click spin, and then…..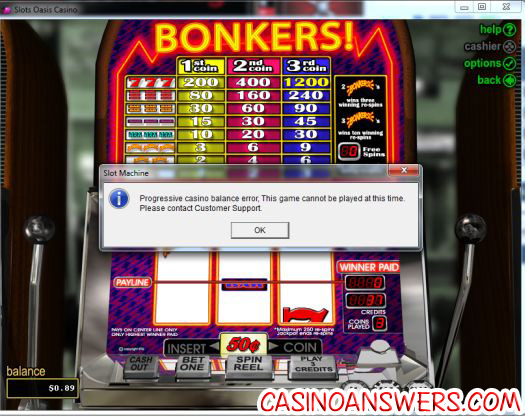 "Progressive Casino balance error. This game cannot be played at this time. Please contact Customer Support." Um, what? It did refund my money though and that spin didn't take place – but yeah, time to talk to support!
To talk to support all you do is click live chat and a popup opens with a chat person to talk to. I get someone within seconds.
> Please wait for a site operator to respond.
> You are now chatting with 'Lucy'
Lucy: Hi and welcome. How can I help you?
DansCasinoBlog: Hi Lucy. I was playing the Bonkers slot machine. On my 2nd spin it said: "Progressive Casino balance error. This game cannot be played at this time. Please contact Customer Support."
Lucy: One moment please, I'm just checking your account.
DansCasinoBlog: Thanks
Lucy: Well, Graeme. I'm going to look like an idiot here 🙂 I'm going to have to ask the manager to contact our technical guys to have a look at the game to see if there is a problem There is not local problem on your account.
Lucy: My manager is not in at the moment – she's on a break – but will be back in 10~15 mins
Lucy: So I can only ask her to have a look then
DansCasinoBlog: Haha, no worries its no big deal. Plenty of other games to play. As long as its not an issue with my acct thats all that matters. Thank you very much 🙂
So there we go. Seems like some sort of server wide issue with the progressive jackpot or something.
I have to go pack anyway, as I'm actually heading to London, England in just a few hours. I come back and play and it all seems to work fine again. Alright we're back. So $0.50 for next 3 spins, which is $1.50 per spin. First spin is a return of my $1.50. Second spin another return of $1.50. Then nothing the next spin.
Time to drop to $0.25 till we win again. my very next spin I get two bonkers symbols which actually unlocks free spins – and I end up winning 15 credits overall: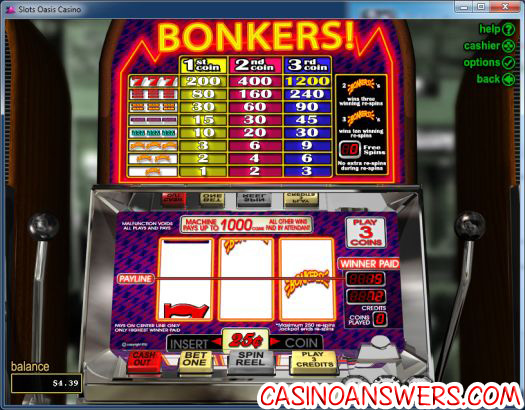 Time to go back to $0.50 for 3 spins and we get an instant return of 3 credits. And another return of 3 credits. Then nothing. Deja vu. Back to $0.25 where we hit another bonkers symbol, to allow us to move up to $0.50 again.
However you know what – I'm feeling lucky. Well, not really. But I do have to fly soon, so I better wrap this blog up haha. $20.14 left, let's do $1 per credit, for $3 per spin of this Bonkers Slot Machine.
First spin is the bonkers symbol for a return of $3. Then the bonkers symbol again. And again. And again for 4 in a row. Then we hit a nice big win of $30: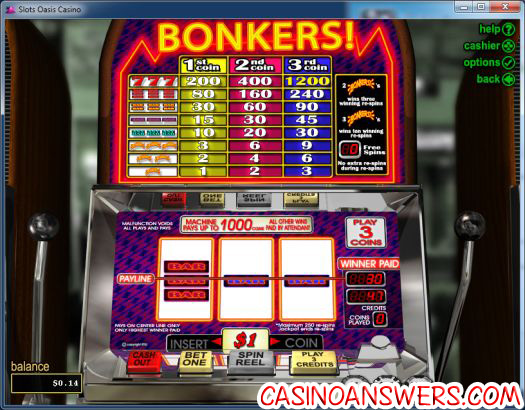 I actually have no clue how much the wagering requriement is. I go off to check, and our playthrough requirement remaining is $1473. With $47.14 in the kitty, we'll ride this Bonkers slot into the sunset. A few spins in, we get another 2 bonkers symbol for free slots spins woohoo. During that we hit a nice $30 win: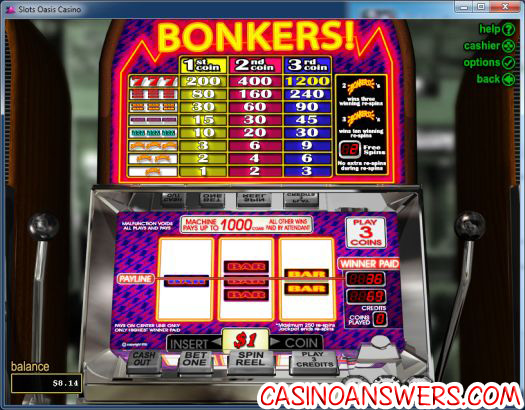 And overall we win $42 on that. Sweet deal, and our balance is at $77 now.
Nothing else to do but keep spinning, and hope we get those lucky red 7s for a $1200 payout. Oh boy wouldn't that be nice. We'd finish up a winner FOR SURE if we hit that.
A few spins in we AGAIN hit two bonkers symbols for the free spins, and end up with $15 there.
We come agonizingly close to a $240 win here: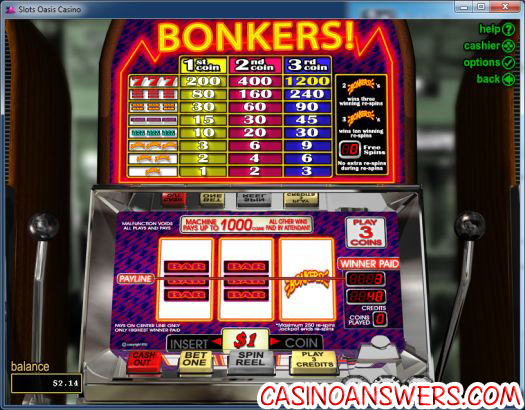 Then a few spins later we get free spins, where we get a total of $105 return, thanks in part to this: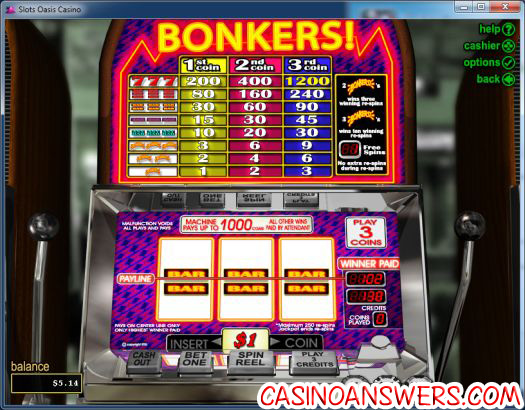 Man, this is tough. Part of you thinks "I've ridden my luck on this slot, time to move on" while the other part thinks "It's paying out, I should keep playing". Of course both theories are complete crap – but hey it's human nature!
I play and play for a while, we hit a high of $210 for awhile – and OH BOY was this one close: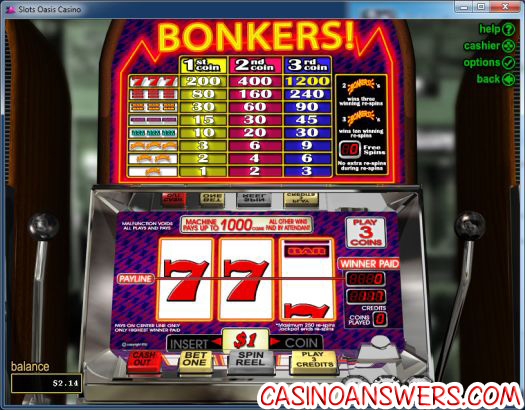 And ultimately – I CLEAR THE BONUS. I clear the bonus, and get to withdraw. Oh man. I forgot what winning felt like haha – THIS is what it feels like, and it feels good. I end up with $68.14 off the original $20 – sweet deal, thank you Slots Oasis!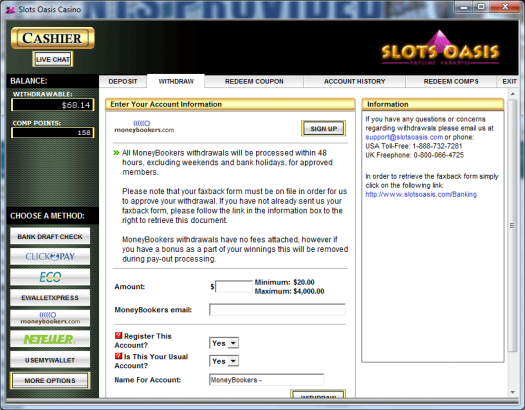 I have to say – the Bonkers Slot is great for clearing a bonus. You get a LOT of those bonkers symbols which return your initial bet – and every time you get one, you've wagered that amount. So yeah that was really sweet. I didn't hit any big prize, but I just kept grinding and managed to clear the bonus.
So thank you Slots Oasis for the Birthday Bonus. Be sure to register and get your birthday bonus at Slots Oasis Casino.
For more information on Slots Oasis Casino, read my Slots Oasis Casino Review.