Triple 7 Inferno is a 3-reel, 1-line classic slot machine developed by Realtime Gaming. You can play Triple 7 Inferno at US-friendly RTG casinos Lucky Red Casino and Bovada.

Triple 7 Inferno (or "777 Inferno") is laid out like a classic slot machine like you would find in a real casino. To go with the "Inferno" part of its name, Triple 7 Inferno, it's covered in flames, which is a cool look. A nice touch is how you can see a reflection of the game buttons above the reels.
To play the Triple 7 Inferno slot machine, you must first buy credits. To do this, pick the $5, $25 or $100 chips. The chips will be removed from your casino account balance, but you can always cash out and the remaining cash will be re-added to your balance. Once you have purchased credits, hit "Bet One" to insert credits followed by the "Spin Reel" button. If you want to make the maximum bet of 3 credits, you can also use the "Play 3 Credits" button next to it.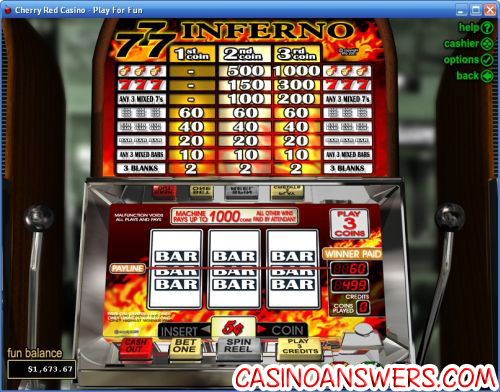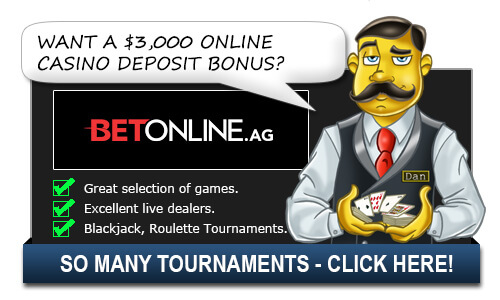 Triple 7 Inferno is a fixed value nickel slot. The minimum bet is $0.05 per spin and the maximum bet is $0.15 per spin. The difference between betting one credit, two credits or three credits is different from many classic slots. Whereas many classic slots such as Diamond Mine Deluxe offers higher payouts when you play more coins, the Triple 7 Inferno classic slot reserves the top three payouts for multi-coin players. This means that you have to bet 2 or 3 coins to win the 1000 coin top jackpot when playing Triple 7 Inferno at Lucky Red Casino.
Symbols on Triple 7 Inferno are: blank (no symbol technically qualifies as a symbol), single bar, double bar, triple bar, red 7, flaming 7. There are eight winning combinations in Triple 7 Inferno.
Payouts on the Triple 7 Inferno classic slot machine are (1/2/3 coin payouts in parenthesis when applicable): 3 blanks (2), any 3 mixed bars (10), 3 single bars (20), 3 double bars (40), 3 triple bars (60), any 3 mixed 7's (-/100/200), 3 red 7's (-/150/300), 3 flaming 7's (-/500/1000). The hyphen indicates that symbol won't appear on single coin bets.
Triple 7 Inferno pays out on the center payline only. Only the highest winning combination per spin will be paid out. Malfunction voids all plays and pays.
For a 400% up to $4000 signup bonus to play Triple 7 Inferno and dozens of other great slot machines, sign up and make your first deposit today at Lucky Red Casino!
Additional 777 Inferno Questions:
Can Americans play the Triple 7 Inferno slot game?
Yes, most Realtime Gaming (or RTG) online casinos are US-friendly. Both Lucky Red Casino and Bovada Casino are currently accepting players from the United States. For more on these casinos, you can read our Lucky Red Casino Review and Bodog Casino Review.
Does Triple 7 Inferno have a progressive jackpot?
No, all Triple 7 Inferno has is a 1000 coin top fixed jackpot. There are many other RTG classic slots that do feature progressive jackpots. To read about one, please see our Diamond Mine Deluxe Review.
Is there any value in 3-coin bets on the Triple 7 Inferno slot machine?
Yes, playing the multi-coin bets on Triple 7 Inferno is the only way to win the top three jackpots on the slot. However, for the lower payouts, you will be betting off playing with only one coin.
Related Questions:
Alternative Ways to Ask/Incoming Search Traffic:
The answer to the question Triple 7 Inferno Classic Slot (RTG) is also applicable for the following questions:
Where can I find a guide to the 777 Inferno Slot Machine? 777 Inferno Classic Slot Review?