One of my favourite games to play in a live casino and online is Let It Ride. I think it's because of the simplicity of the game – it's the type of game you can play after a few rum and cokes, and it's very easy to play. You also won't have people yelling at you like you would at Blackjack if you make a mistake!
Most online casinos offer Let It Ride, and one of my favourite casinos to play Let It Ride online at is
. They offer a Let It Ride game called Let Em Ride and it's a great place to play Let It Ride at.
Furthermore,
also offers a play money version so you can try the game out for free. Like any good Let It Ride game, it also offers a massive progressive jackpot that you can choose to enter and play – and of course due to the odds, you usually should.
Let's show you how to play Let It Ride online. So here is the table: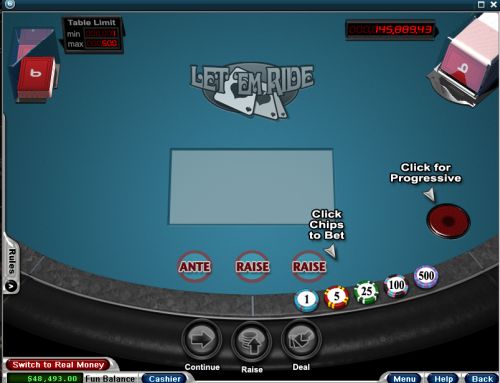 The first thing you want to do, is place your bets. We'll place the $5 chip. The table has a minimum of $1 and a maximum of $100. So you click the $5 and it will put it in the Ante spot. If you bet too much you simply click on the chips in the Ante spot and it will take one away. You also click on the progressive spot and it will put the amount there which is usually a set amount of $1.
On the left side you can click "Rules" and it will expand to show you the payouts. Standard payouts usually – you will need a pair of 10s or better to qualify, and the progressive payouts start at $75 for a flush, all the way up to the Royal Flush.
When you have your bets placed, you click "Deal":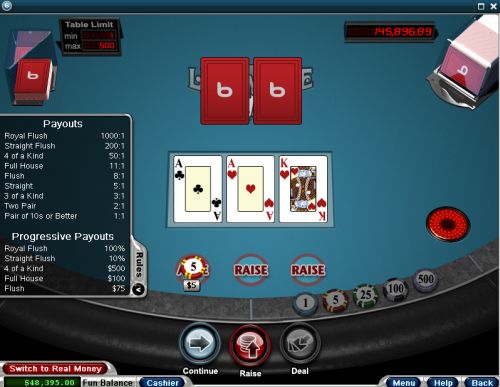 In this screenshot, I have shown the payouts at the left side for you.
Now depending on your hand you have two options. One is to "Continue" which means you will not be placing a bet – which means your hand sucks usually. This is the same as "Pulling" the bet back which you will usually do in a live casinos.
The next is to "Raise" which is essentially keeping your bet there. As I have a pair of aces, I'm of course going to keep my bets on, or in this case keep raising throughout the rest of the hand. So I would click "Raise" and the first community card is shown: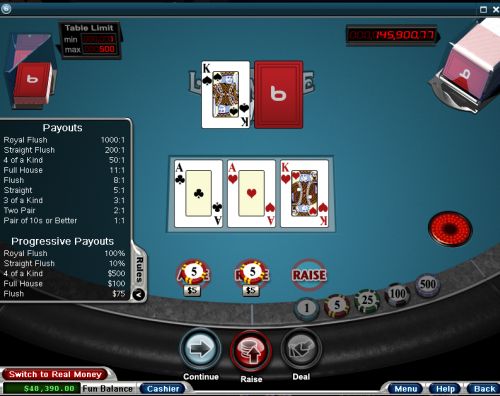 Sweet, a King came up. I will continue to raise.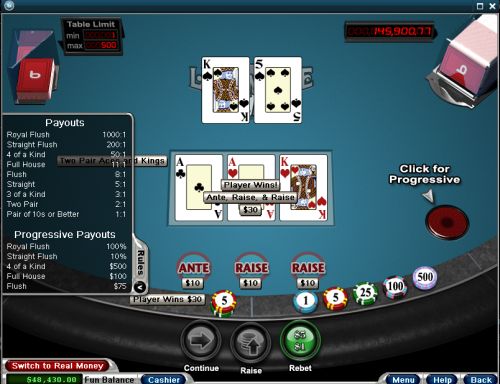 And that's it – once you are done with the hand all of the chips you won will be added to your balance. What's good is it tells you everything too – what exactly you won, and with what hand. It keeps it all displayed for you so you know exactly what happened within the hand.
Head on over to
and try out the practise tables now.
Additional Play Let It Ride Online Questions:
None Yet
Related Questions:
Alternative Ways to Ask/Incoming Search Traffic:
The answer to the question How To Play Let It Ride Online is also applicable for the following questions:
Where to play let it ride online, how do you play let it ride online