It's always interesting watching the evolution of – well, everything – due to the internet. Online casinos for example. When they initially launched they only had a few games in their most basic variations. Many years on, and now you have all these exclusive slots with the likes of Marvel and video games such as Hitman or movies such as Rambo all featured in slot format.
One of the most popular variations is "live dealer games" where you have an actual live dealer. This is a very popular variation of the traditional casino game and it brings in that "live" factor that obviously, online casinos are missing. There is live dealer blackjack, live dealer roulette and various other live dealer games.
Unfortunately at this time, there is no live dealer keno online.(Get 20 free spins on the Mariachi 5 slot, win real cash. Click here and use code DANSPINS20 during signup.)
It's something that is actually feasible too, which is disappointing. It wouldn't be too hard to implement. Obviously the idea of you filling in your Keno numbers by hand, and having them process it would be crazy. But all you need is a number caller to actually call out the numbers.
The idea is people like "Speed Keno" – and that's why it's preferred online to be automatic. Because people can play a variety of cards at once. However as everyone knows Keno is usually enjoyed more at a slow pace. You can take your time with it, carefully looking at and checking your numbers etc. Have the chance to chat to people and so on.
While there is no such thing as Live Dealer Keno at this time, online Keno HAS seen an evolution of some sorts. Initially, and for many years, the only evolution of Keno was games with different graphics. However that has changed over the years all thanks to WinADay Casino.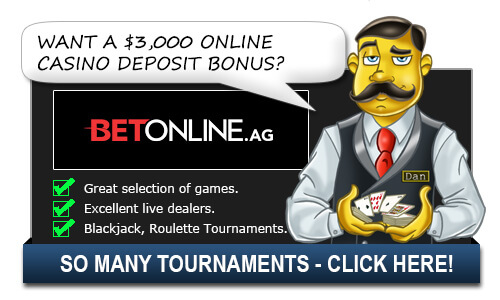 WinADay Casino have created a whole new game called "Power Keno". This IS Keno at its most powerful. With Power Keno, you get to play multiple Keno cards all at once, all within the same game. It's an awesome new variation of Keno which is becoming the most popular Keno game online. We're seeing other casinos try to match it with "three card Keno", but nothing comes close to the great software that is Power Keno.
So head on over to Bovada who are the creators of Power Keno. You can try the game out for free, and also get a no deposit bonus.
And while there is no such thing as live dealer keno – yet – there is still a good variation of other keno games.
I've got an article up with a list of all the different types of keno games. And I don't just mean standard keno games with a different skin. I mean games where there is a Starball that impacts the game, or a game with a Superball and also a game which offers wild card numbers.
Top Keno Casinos for Americans

| # | Online Casino | Reason | Visit |
| --- | --- | --- | --- |
| 1 | WinADay Casino | Amazing Multi Card Keno Game | |
| 2 | Slots.LV | $22 No Deposit Bonus just for registering, Fun Keno Game | |
Additional Live Dealer Keno Questions:
None Yet
Related Questions:
Alternative Ways to Ask/Incoming Search Traffic:
The answer to the question Where To Play Live Dealer Keno Online is also applicable for the following questions:
Is there live dealer Keno? can I get the live experience of Keno online? How to play live dealer keno, what online casinos offer live dealer keno
Top Keno Casinos for Americans

| # | Online Casino | Reason | Visit |
| --- | --- | --- | --- |
| 1 | WinADay Casino | Amazing Multi Card Keno Game | |
| 2 | Slots.LV | $22 No Deposit Bonus just for registering, Fun Keno Game | |