Casino bonuses are one of the main reasons I play at online casinos. If I go to Vegas, pitch up at the Bellagio, they're not going to say to me, "Hey, here's a $200 bonus because you've just bought $200 in chips!" The only time a casino will ever even consider giving you a bonus is if you're a high-roller.
But not at online casinos. Oh, no. Nearly every single casino online will at least match your first deposit and then give you various bonuses throughout your playing time with them. And I love it. I really, really love casino bonuses, as I'm getting something for essentially nothing.
Casino bonuses vary depending on the casino, with some offering to match your first deposit, while others will offer you up to 400% of your first deposit bonus. The thing is, although some might give you more money, it might be harder to clear that bonus, or you might not be able to clear that bonus playing your favorite game.
So, if your favorite game is pai gow poker, it's important that you pick out a casino bonus that not only gives you the best value, but also allows you to clear the bonus playing pai gow poker. Because if you can't clear the bonus playing your favorite game, the bonuses is more or less useless and you'll be stuck playing games you don't enjoy just so you can clear the bonus. Trust me, I've made that mistake once and it sucks.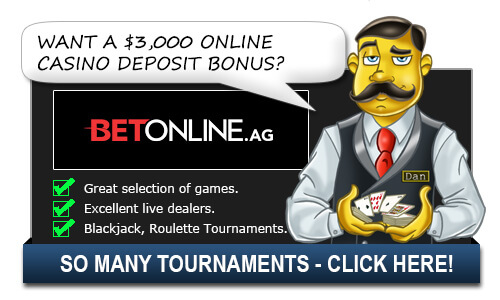 Pai gow poker isn't the most popular game online, so there are casinos that don't include it in their bonus clearance requirements, so if you stick to the advice in this article, you'll find the best casino bonuses out there for pai gow poker players.
Bovada is one of the best casinos bonuses out there and offer many bonuses, and it is definitely one of the best casinos out there for pai gow poker players.
Pai gow poker is also known as double-hand poker. It is based in part of the traditional pai gow Chinese dominoes. The game itself is played with a standard 52-card deck and a single joker. The point of the game is to defeat the banker. The banker may be one of the other players, the dealer, or a player who is working with the dealer as co-banker.
The game itself was invented by Sam Torosian, owner of the Bell Card Club in Los Angeles, in 1985.
Additional Pai Gow Poker Bonus Questions:
Are there any variants of Pai gow poker?
There are many different variations of Pai gow poker that vary from casino to casino. Among the variations are Pai Gow Mania, Fortune Pai Gow, Emperors Challenge, and Progressive Fortune Pai Gow.
Top Casinos for Americans

Related Questions:
Alternative Ways to Ask/Incoming Search Traffic:
The answer to the question What Is The Best Pai Gow Poker Casino Bonus? is also applicable for the following questions:
What casinos offer a pai gow poker bonus? Where can I get a bonus playing pai gow poker? Can I clear a casino bonus playing pai gow poker?
Top Casinos for Americans