One of the big ways that online casinos and live (offline) casinos differ is the amount of games on offer for the customer to play. You see, with online casinos, the amount of floor space is never an issue. You want to add a new game? As long as the serves can handle it and the software is okay, you can go ahead and add it to the lobby. However, with live casinos, the games on offer tend to differ between countries, states and even cities. It's simply due to the profitability of each game the casino has on offer and how much space it takes up on their floor.
For instance, online casinos don't have to worry if their Hi-Lo Switch game (which is great fun, for what it's worth) doesn't generate them as much profit as a roulette wheel would. Far from it. They know people will play and as it doesn't take up any physical space, it's no problem.
But if an offline casino had a Hi-Lo Switch game and it was a loss maker for them, or made very limit profit in relation to the size of the table, the casino would quite rightly replace the game with something else. So, a lot of the time it depends on what the public like in a specific area. Of course, other times it's because of laws and regulations, or because the casino owners just don't think it's a good game.
So, what will you most likely to be able to play should you venture away from your online casinos and hit the offline casinos?
Well, I think it's safe to say you'll find some form of blackjack, regardless of what country you live in. A great game, where you can get a lot of action in very little time. It's so much fun to play and because there are different strategies for playing it, you can understand why it's so popular. It's the staple game for casinos everywhere and is regarded as one of the best, if not THE best, for gamblers to play, as the house edge is tiny compared to other games. "But why would a casino have a game with such a tiny house edge?" you might ask. Well, for one, there are always bad players that will negate any edge and tip it unbelievably in the casino's favor. But also, have you ever seen how crowded blackjack tables can get? The amount of times I've had someone "play my box" just because they can't get on in their own box must be in the thousands. So, before you hit the blackjack tables, head on over to the blackjack section and get yourself familiarized with the game.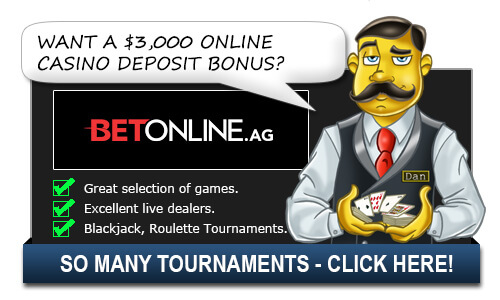 You'll also find roulette almost everywhere you go. Again, it's a very popular game because of its simplicity. Pick a number, bet on it and if the ball lands on your number, you win! What could be easier than that? You don't have to worry about systems, or what the person beside you has done, you just pick a number and hope fate favors you. If it does, the payouts can be handsome. Of course, the house edge on this is considerable, but it's still a lot of fun to play sweating on a big win when the balls slows down near your number. There are two different variations of roulette: French/European Roulette and American Roulette. American roulette has a single 0 and a double 0 on the wheel, while a French/European wheel has only the single 0. So it stands to reason that French/European roulette favors the gamble slightly more than its American counterpart.
Craps is an extremely popular game in North America, not so much in Europe, although more and more casinos in Europe are taking the game on. It's seen as a more complicated game than other casino staples such as blackjack and roulette, but once you get the hang of it, it's another seriously exciting game. Check out our craps section for a lot more information on the game, as to do the game justice in one article would not be enough. If you've never played it before, the main point is one player throws two die and 7 is good. Seriously, check out the craps section.
Slots are very simple. Put your money in, watch the reels/graphics spin and if you get a winning line, you win that sum of money. There are great things like bonus features where you can stand to win the big bucks and also machines with progressive jackpots, where you can win the potentially life-changing sums of money. Slots are where big money can be won at a relatively low risk compared to the rest of the games. It's also what you'll find the most of in casinos, because you can pack them in tightly and they'll generate plenty of income for the casino owners. Slots generally have the same principle, it's just the graphics and the theme of them tends to change not only from casino to casino, but also from machine to machine – you could have an Egyptian theme machine sitting right next to a Wild West themed machine. Slots were once seen as a way to get old people into the casinos, but now with their huge jackpots, everyone is realizing that slots are great fun.
So, those are the mainstays in most casinos, with minor variations depending on where you play them. For example, the casino you play at might have blackjack Perfect Pairs. It might have Blackjack Switch. It might have a speed roulette wheel without all the outside bets, just numbers. Whatever they have, you can almost rest assured the games will be there in some form and the slots will definitely be different depending on where you play, although it will mostly be a cosmetic change, as the idea is always the same with slots.
But what else can you play at a live casino? Well, it's a pretty extensive list, but here's the main selection:
Baccarat (James Bond's favorite game in the original Casino Royale. Don't let Daniel Craig fool you, Baccarat really is the game for real men).
Casino Hold 'Em
Sic Bo
"Wheel of Fortune" (you know the one – you spin the giant wheel and if it lands on what you've bet, you win. Simple!)
These are the main games you'll find in the biggest casinos. Smaller casinos will stick to the traditional favorites, but these games are out there and the number of casinos laying them for players is growing by the day. If you have a question about them, feel free to ask us!
Top Casinos for Americans

Additional Game Selection Questions:
(None Yet)
Related Questions:
Alternative Ways to Ask/Incoming Search Traffic:
The answer to the question What Games can I play at an Online Casino? is also applicable for the following questions:
Can I play blackjack at a live casino? Do live casinos have the same games as online casinos? What casinos games are there? What games can I play in a casino?

Top Casinos for Americans