Playing Video Poker is very easy. Even though there's hundreds of different video poker games, it really is a case that if you have played one game, you've played them all.
If you've ever been to a casino, even online or offline, you've probably been amazed at all the different types of video poker. Jacks or Better video poker, mystery bonus poker, wildcard video poker – double bonus video poker. So many crazy variants, yet they all play the same with a slight few differences.
We're going to use an online casino to demonstrate how to play Video Poker. We'll be playing at Gaming Club Casino, the oldest casino online.
Okay so the first thing you do is put your money in the machine. Once that is done, you hit "Deal" and you are given five cards, as indicated below: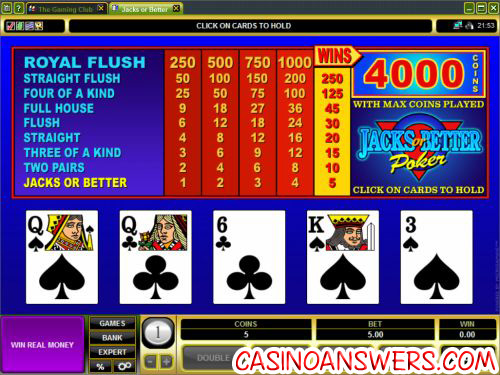 Now what we have to do is decide what cards we are going to hold, and what cards we are going to discard. We are playing Jacks or Better Video Poker, so the minimum payout is a pair of jacks or better. We already have a pair of queens in this hand, so we are going to hold them and discard the rest, and hope to improve our hand. Either way, with this pair we are still going to win money on the hand.
Here are the cards that we are holding: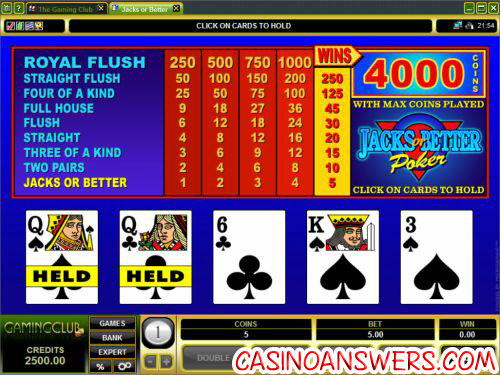 Then we discard the rest, and this is our final hand: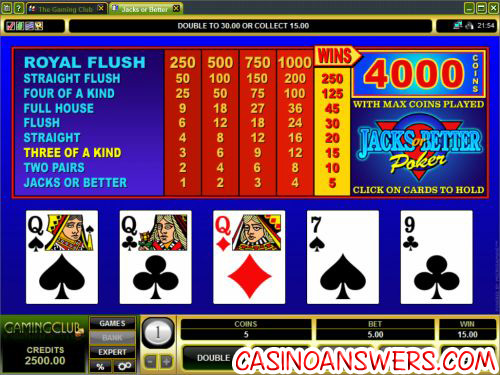 And that's how you play Video Poker. Our hand improved to make three of a kind.
Now there is one additional game to many Video Poker machines – the bonus game. These come in a variety of different formats. After winning, you have the option of collecting your funds, or attempting to double them in the Video Poker bonus game. Lets try and double them and see what happens: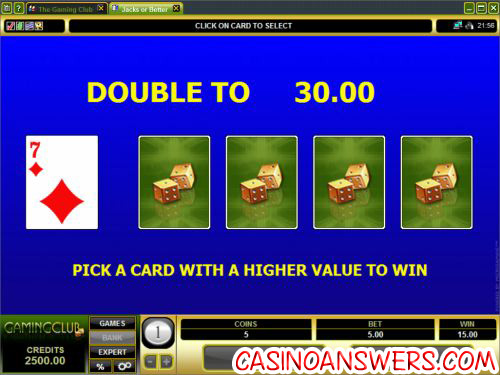 Okay so in this instance, we receive a card, and then four other cards. We have to pick a card that will be higher than the card we received. If it is of a higher value, then we double our winnings. Lets pick one: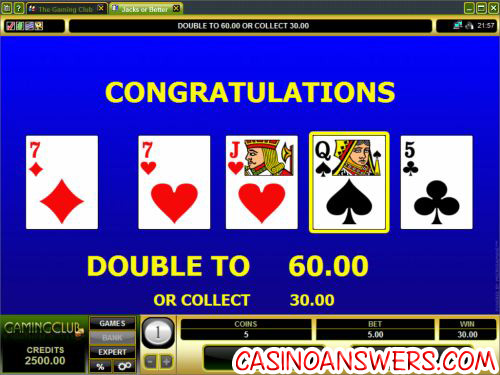 The card we picked ended up being the queen, which is of course higher than a 7, so we win the hand. Some video poker machines won't have a bonus game, others will have the bonus game but allow you to play it only once, while video poker machines like the one located at Gaming Club Casino lets you double as often as you want.
That's all there is to Video Poker. The only difference from Jacks or Better and other machines is generally the payout schedule, and the rankings. Here are just a couple of examples of the many, many different variations of Video Poker:
Joker Poker Video Poker: Joker Poker video poker is just like regular video poker, except jokers are added to the deck. This changes the payout – for example, the minimum payout is usually kings or better. A natural royal flush still has the highest return at a 5000-5 payout(assuming you bet the maximum 5 credits, however there are additional payouts like 5 of a kind and a joker royal flush.
Mystery Bonus Poker: In every hand of video poker that you play, one payout option, ie: a straight or jacks or better, will offer a special bonus if you win with that hand.
Multi-Line Video Poker: It's actually best if we just show a screenshot of this one. Basically you play multiple lines of video poker at once. You're dealt 5 cards, and then the ones you hold will be held on ALL the lines. You can play from 4-line video poker all the way up to 100-line video poker. Here's an example of 25 line Video Poker: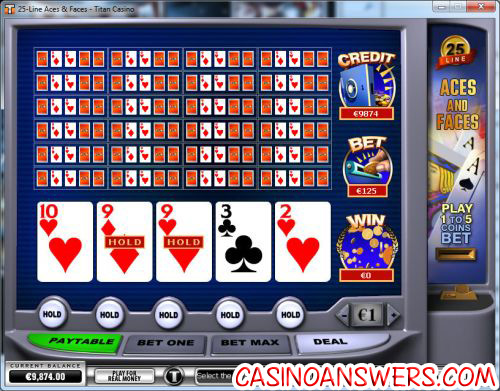 In that particular hand we held two nines, so we are going to get a variety of two pair winning hands, three of a kind, a few full houses and potentially some quads.
When it comes to video poker, a great place to play video poker is Club World Casinos. They have one of the widest selection and variety of video poker games available. Click here to visit Club World Casino.
Additional Video Poker for Dummies Questions:
(None yet)
Related Questions:
Alternative Ways to Ask/Incoming Search Traffic:
The answer to the question How Do You Play Video Poker? is also applicable for the following questions:
Video Poker for Dummies? Complete Idiots guide to Video Poker? How to play video poker? Video Poker beginners guide?