If you've ever been to a casino – and I really hope you have – you'll know how strange a place they can seem. There is honestly nothing like a casino in the world and you have to experience them to believe them.
It never fails to amaze me that I can go into a casino around 9pm and not come out until daylight, yet if feels like I've only been playing poker/blackjack for a couple of hours, not 9 hours straight. It really is sick, but there is a reason that I've lost track of all time.
Casinos are designed to keep you there and spending your money. One of the ways they do this is by not having clocks on the walls or on any displays. It's such a simple idea, really. I mean, say I'm sat at the blackjack table and I look up and see a clock reading 3:00am, I'm more likely to say, "Wow, I've been here for a long time! I should be getting home!" However, if there's nothing on the walls for me to look at between hands, I've got no concept of what time it is and that's when I begin to lose track of time.
It's almost sinister, but you can understand why they do it. At the end of the day, they're a business that needs to keep you in there for as long as possible so they can squeeze every penny out of you and they'll use as many tricks as they can to do it.
So, the first thing to remember when you're going to a casino is to either wear a watch and have a set time you want to leave at, or set an alarm on your cell phone for a specific time and make sure you leave at that time. It's simple and it stops the casino from taking you for as much as they can and you should be able to leave with money. Of course, the other way to do it is simply leave once you've made a bit of money, regardless of the time. Call it a night earlier than you normally would if you've made a nice profit and I can promise you that you're partner will be unbelievably happy with you.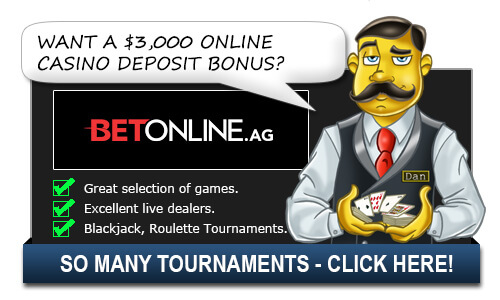 Of course, that's a trick when you're playing at a live casino, but you would never have that problem if you were playing online. For a start, there's a clock in the corner of my screen and there are clocks dotted around my home, so regardless of my computer is, I'll know what time it is and when it's time to stop gambling and go to bed.
However, it's not that easy. I have found myself sat up for a ridiculously long stint in front of the computer playing at online casinos. So while it's easy to sit in a casino for a long time and lose track of what time it is, you can still do it online, especially if you find a slot machine that really takes your fancy. So remember to always keep a clock nearby.
Top Casinos for Americans

Additional Clocks in a Casino Questions:
(None yet)
Related Questions:
Alternative Ways to Ask/Incoming Search Traffic:
The answer to the question Why Are There No Clocks In A Casino? is also applicable for the following questions:
Why do casinos not have clocks? What tricks to casinos use to keep you playing? Why should I wear a watch to the casino?
Top Casinos for Americans