Ontario, in Canada's east, is the fourth largest area in the country, but it is the largest in terms of population, due to the fact that the two major cities of Ottawa and Toronto can be found in the province. South Ontario is where most of the population can be found, and it is seen as the gateway to the north-east of the United States of America thanks to its borders with Minnesota, Michigan, Ohio, New York and Pennsylvania. Ontario also boasts two National Hockey League teams – the Toronto Maple Leafs and the Ottawa Senators – as well as one National Basketball Association team – the Toronto Raptors – and one Major League Baseball team – the Toronto Blue Jays. And there is the small matter of Niagara Falls being located in the state, too. It is safe to say that Ontario has an abundance of reasons to visit and it is one of the tourist hotspots in the country, especially for city breaks.
With such a populated area, and with a booming tourism industry, it is no surprise that the province is home to more casinos in Canada than any other area. In fact, there are currently around 25-30 places that could be classed as casinos in the province of Ontario, with the biggest casino in Ontario being the Fallsview Casino Resort, which you can find at 6361 Fallsview Boulevard, overlooking Niagara Falls.
Fallsview Casino Resort is a $1 billion resort with some of the most spectacular views you will find anywhere in the world, never mind in Canada. The spectacular vista of Niagara Falls is second to none. Of course, if you are going to be spending most of your time on the casino floor, the views are not what you came to Fallsview Casino Resort for. No, you will have come for the 3,000-plus slot machines and video poker machines, at the very least. At over 200,000 square feet, those 3,000-plus slot machines and video poker machines take up no space at all – the casino floor is unbelievably vast. As well as the electronic gaming machines, you will find over 100 gaming tables with a huge selection of games to choose from – baccarat (and variations of baccarat), blackjack (and variations such as Switch and Double Attack), craps and roulette being the most popular choices, but there is also Caribbean Stud Poker, Four-Card Poker, Let It Ride, Mississippi Stud, and Three-Card Poker pai gow, sic bo, Casino War, Texas Hold 'Em Bonus and Ultimate Texas Hold 'Em to choose from. Needless to say, you are spoiled for choice at Fallsview Casino Resort.
Fallsview Casino Resort is also home to a large poker room, where you can play any variation of poker you can think of at various levels to cater for all bankrolls. The poker room is open 24 hours a day, 7 days a week and also has a bad beat jackpot on offer should you be on the end of an unlucky loss.
For the high-rollers among you, Salon Prive is where you will want to be – a secluded area away from the masses where you can play on the high-value slot machines as well as play pai gow, blackjack, baccarat and roulette with generous house limits. Fallsview Casino Resort knows how to look after all its patrons, but takes special care in looking after their high-rollers.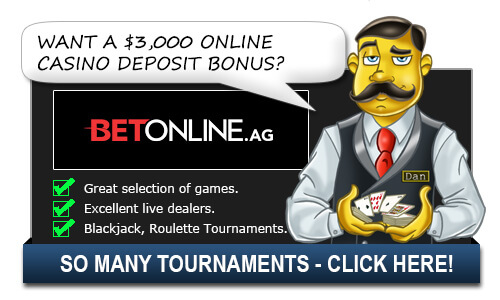 Something else that Fallsview Casino Resort offers that is hard to come across in many casinos is tournaments – there is usually at least two tournaments a month, on slot machines or on a table game such as blackjack. It is a nice touch that differentiates Fallsview Casino Resort from its competitors, as casino tournaments are still relatively new and yet to take off in the way they should.
Away from the gaming floor, Fallsview Casino Resort is also a great entertainment venue, with a 1,500 seat theater on-site, which plays host to around 250 shows a year, ranging from Diana Ross to Sylvester Stallone, to Neil Diamond and everyone in-between.
And if you want to make a vacation of it, Fallsview Casino Resort has a Hilton hotel in its grounds, with almost 375 rooms to choose from. The hotel has a Four Diamond rating, ensuring that the luxury you get from the casino is replicated in its hotel rooms.
Top Casinos for Americans

Additional Ontario Casino Questions:
Does Kingston, Ontario have a casino?
No. However just 25 minutes drive away from Kingston is the small city of Gananoque, which has an OLG Casino.
Related Questions:
Alternative Ways to Ask/Incoming Search Traffic:
The answer to the question What is The Biggest Casino in Ontario? is also applicable for the following questions:
Biggest casinos in Ontario, what is the biggest casino in Toronto?
Top Casinos for Americans