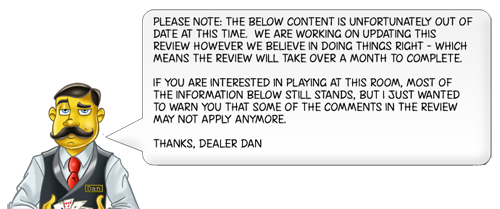 Hollywood Sportsbook is one of the older sportsbook on the internet and offers a full line of sports betting as well as horse racing and a casino. Around since 1997 this sportsbook offers one of my very favorite promotions.
2006 Promotions: -107 Juice(Vig) For Life, 10% Signup Bonus (Up to $500), 5% Reload Bonus (Up to $500), Free $10,000 NFL Picks challenge
***PLAY AT HOLLYWOOD SPORTSBOOK NOW – CLICK HERE***
When signing up for Hollywood Sportsbook you are presented with two options: -107 Vig or Star Treatment. With the -107 Vig program you get -107 Vig (Juice) on online wagering for life which makes it one of the best on the internet. The downside is you give up the 5% reload bonuses and are only offered a 10% initial signup bonus. With the Star Treatment program you can receive up to 30% on your initial deposit, as well as 5% reload bonuses as well as other special promotion bonuses. They are also offering 10% back on your NFL losses, if you have bet on at least 12 of the 16 weeks of the seasons and shown a loss. The downside, of course, is that you pay the -100 juice (vig). Both have their advantages, it just depends on what kind of bettor you are.
The sports offered on Hollywood are pretty standard for the industry, with a focus on American sports as well as money lines on foreign soccer leagues. Suprisingly, at this time they have no lines on film, television, politics, poker, the stock market or any other non-sports that have become popular to bet on.
***PLAY AT HOLLYWOOD SPORTSBOOK NOW – CLICK HERE***
IThe look of the site is rather basic, but easily navigatable. The home page offers some sports news and betting information, but little else in extras. The actual sportsbook is on a different site and is very plain with virtually no graphics. As far as betting goes, it is quite easy. Straight bets, parlays, teasers, "buy points", "If" bets (win or push and win only), Action Reverses and Futures/Props are all available. Not the best selection of betting options, but not the worst either.
Hollywood does not have a large selection of deposit options. NETeller is available, but some of the other popular cash transfer options are absent. On deposits over $300 Hollywood will cover the transaction fees, but not on anything less. Withdrawls take two days to process and are only done on Monday through Friday. A $30 credit on withdrawl transfer fees is offered once every 30 days.
Hollywood Sportsbook's customer service is solid offering email, live chat and 24/7 365 toll free telephone support.
***PLAY AT HOLLYWOOD SPORTSBOOK NOW – CLICK HERE***
Payment Methods: PhoneCard Solutions, Person to Person, E-Check, NETeller, 900Pay, Wire Transfer, Credit Card
Dealer Dan's Cash-In: "With some of the best juice in the business, Hollywood is a star!"
Alternative Ways To Ask/Incoming Search Traffic:
People who were looking for this Hollywod Sportsbook Review were also looking for answers to the following:
hollywood sportsbook review,
Hollywood Sportsbook doesn't have the most betting options, but we think that most US players will be able to find what they are looking for. The most recent lines can be found at their website.
Here is an idea of what you can find at Hollywood Sportsbook:
Exotics: The Exotics category at Hollywood Sportsbook encompasses anything that doesn't fit into the sports categories. This includes events such as the Academy Awards, elections, talent shows such as The X-Factor and even the Lingerie Football League (we can understand why this wouldn't fit in the Football category).
Horses: Hollywood Sportsbook offers lines for daily racing matchups, horse futures, weekly futures and prop bets. You can bet on anything from the Kentucky Derby to the Hong Kong Sprint.
Auto-Racing: Bet on all of the upcoming NASCAR and F1 races at Hollywood Sportsbook in the Auto-Racing section.
Here are the categories you can bet on at Hollywood Sportsbook:
Auto-Racing
Baseball
Exotics
Football
Golf
Hockey
Horses
MMA/Boxing
Soccer
Tennis