Pirate 21 is a blackjack game; but it is quite different from the blackjack version most people are used to.
For instance, a player uses three hands at a time in this game, not 1 as in the classic version. But the fundamentals of blackjack are still upheld when playing this game. For instance, the goal is to get cards whose total is as close to 21 as possible.
Card values when playing Pirate 21 should be familiar to anyone who enjoys a regular game of blackjack. Aces are worth a 1 or an 11, while face cards are worth 10 points. Cards between 2 and 9 are worth their face value.
One notable peculiarity about this game is that no 10s are used during the game. In fact, that is why it is called 'Pirate'. There is also no chance to make an insurance bet, and a 21 wins regardless of whether the dealer has a 21 or not. Additionally, a dealer's blackjack is valued below the player's.
Pirate 21 Review
Software: Pirate 21 is the work of gambling software giant, BetSoft Gaming. This gaming software company knows how to render its games; and it adds to the traditional excitement of the game by introducing many player-friendly tweaks to the game. Although this has something to do with the fact that a deck without 10s is less friendly to the player; and the game needed a way to compensate for this disadvantage.
Graphics: Pirate 21 looks pretty good aesthetically. The graphics and the entire game design is configured to provide a gaming experience that is more lifelike. The green-colored table offers great contrasts with other elements on the table for a comfortable playing experience. The cards and their values are clearly visible, as well as the chips and their values. Additionally, with animation effects, this game is sure to offer a captivating playing experience.
Gameplay: Anyone who likes a good game of blackjack should find Pirate 21 to be just as delightful. For instance, the most desired card combination, the 21, is made using an ace and a face card. Other advanced playing rules such as splitting and doubling down are also available. A bonus game is also available.
Game Strategy: The house edge on this game is lower than with regular blackjack. So, choosing this game over the traditional blackjack variant is already a pretty good strategy. But beyond that, players can take advantage of the fact that this game is played using three decks. A simple approach is to ensure that you try a "no busting" strategy on one of the decks.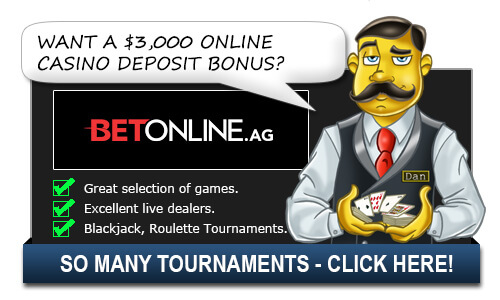 This should have you covered when the dealer busts since he has to draw until he gets a 17. You can play other hands based on how your preceding hands turn out, which would be a minor form of card counting. For instance, if you get high value cards in the preceding deck(s), you can expect lower value cards on the current deck, and that can tell you whether to hit or stand.
The advantage may not be noticeable over a few games, but slight advantage should make quite a difference over the long term. As any good blackjack player knows, true winnings lie in playing the game over a longer period.
Top Casinos for Americans

Additional Pirate 21 Questions:
None Yet
Related Questions:
Alternative Ways to Ask/Incoming Search Traffic:
The answer to the question Pirate 21 is also applicable for the following questions:
Where to play Pirate 21 online,
Top Casinos for Americans