3 Card Hold'Em is a type of poker game. Gaming Network was a one-time marketer of this game.
Reliable reports cite the Las Vegas-based Golden Nugget casino as the place where 3 Card Hold'Em first appeared in early 2012. Betwiser, Squarejack Gaming, and Games Marketing are among the different game companies that have the rights to 3 Card Hold'Em game or suchlike replicas.
However, Games Marketing has at least developed an online-oriented variant of 3 Card Hold'Em. "3 Card" denotes the required winning combinations, wherein it is the player versus the dealer. 3 Card Hold'Em uses 52 cards like related variants, albeit only one deck.
First, a 3 Card Hold'Em player is required to place the "Ante Bet" in the run up to being dealt cards.
Secondly, the dealer offers the player two cards, which have noticeable face values; the dealer gets cards too.
Third, the dealer provides three community cards, wherein only one card's face value is initially revealed.
This prompts the dealer or the 3 Card Hold'Em player to match the lone community card with their hand. The last two community cards are then revealed progressively for comparison. Whoever has a relatively better set of three cards is declared the winner.
The main bet of 3 Card Hold'Em has a $1—$500 betting range; its bonus bet ranges from $1 (minimum) up to $250 (maximum). The payouts of 3 Card Hold'Em range from 1:1 for a Straight up to 100:1 for AKQ perfect match plus paired face values. Other payouts are 9:1, 10:1, and 40:1 for 3 of a kind', Straight Flush, and AKQ Suited, respectively. Paired and Suited cards have payouts ranging from 1:1 to 30:1.
3 Card Hold'Em: Game Review
3 Card Hold'Em should not be confused with Three Card Poker. Even then 3 Card Hold'Em is a synthesis of both Three Card Poker and Texas Hold'Em, and these names point it out. Two players can play simultaneously. It has a main and side bet. In the 3 Card Hold'Em, all ties favor the player, prompting the return of both Ante Bet and Raise Bet. The players recover their Ante bets even if their hands are lower, as long as dealers fail to qualify. The game seemingly gives priority to players because dealers only qualify with pair of fours exclusively. The results of main bets do not affect side bets unlike in some games. The high RTP implies enhanced players' winning chances.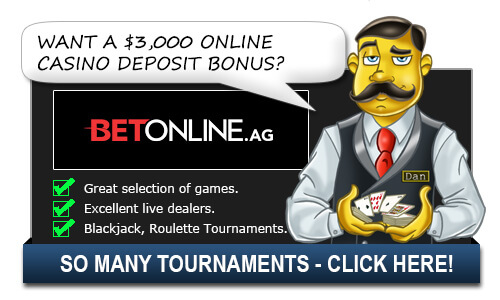 3 Card Hold'Em has a flip side. Players can experience terrible losses if they don't know the best hand and worse hand to fold. For example, in Texas Hold'Em, which 3 Card Hold'Em is modeled on, paired Aces are awesome, whereas 2 /6, 2/7, 2/8, and 2/10 are among the worst hands.
3 Card Hold'Em: Strategy
The RTP of 3 Card Hold'Em can be as much as 98.72%. The Ante Bet of 3 Card Hold'Em is associated with a house edge of roughly 3.05%. This can rise to 4.49% (for Straight/Up) and up to 4.83% (for Paired/Suited) if you factor in side bets; therefore, a player needs to ignore the side bet feature because it greatly decreases the house edge. Another strategy is raising bets, especially if holding paired cards, gutshot draw, and double-ended straight draw.
Top Casinos for Americans

Additional Questions:
None Yet
Related Questions:
Alternative Ways to Ask/Incoming Search Traffic:
The answer to the question 3 Card Hold'Em is also applicable for the following questions:
What is 3 Card Hold'Em, where to play 3 Card Hold'Em,
Top Casinos for Americans