Slot machines don't offer the type of variety of bets that a game like Craps does, however there are quite a few different variations of betting in slot machines that you should know before you play.
One thing that most slot machines have in common is how many credits you wish to bet. For every spin of the reel, you can bet a different amount of credits. Most classic slot machines allow you to only bet up to 3 credits, while you will find a lot of online slot machines offer the option to bet multiple credits.
When playing slot machines, it is usually always best to bet the maximum three credits. The reason for that is the payoff is bigger when you bet the maximum amount of credits. Take the Bank On It slot machine available at Slots Oasis Casino for example: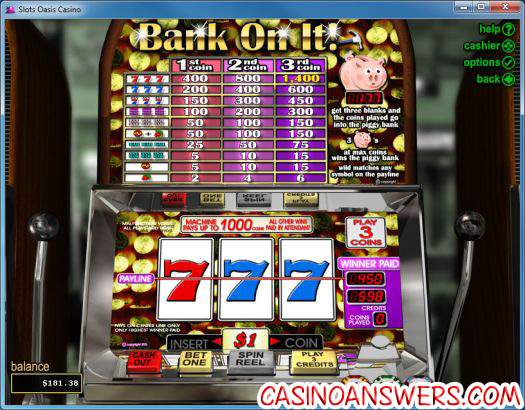 As you can see, getting three red 7s with 1 coin gets you 400 credits, 2 coins wins 800 credits, and 3 coins wins 1400 credits, which means you are getting a better payout, and more bang for your buck.
(Also if you are curious, that screenshot was taken during my Slots Oasis Casino Blog where I won a whopping $450. That was a nice day!)
Casinos also usually have the rule that if you want to win the progressive jackpot, you have to bet the maximum amount of coins available at a slot machine. The slots progressive jackpot, depending on the amount, can lower the house edge, so betting the maximum amount of coins does make sense.
To try out a wide variety of slots, including interactive story slots and progressive jackpot slots, your destination is: Slots Jackpot Casino.
Additional Questions:
(None yet)
Related Questions:
Alternative Ways to Ask/Incoming Search Traffic:
The answer to the question What Different Kinds of Slots Betting Is There? is also applicable for the following questions:
Different types of slots bets?