Alien Invasion is a classic 3-reel slot machine with a wild symbol developed by Vegas Technology. You can play Alien Invasion at Crazy Slots Casino or Caribbean Gold Casino.
Predictably, Alien Invasion has got a sci-fi theme. The symbols include various different monsters, different spaceships, an alien, a blaster, the planet Jupiter and more.
Coin values available on the Alien Invasion slot machine are $0.10, $0.25, $0.50, $1, $5 and $10. You can get one coin by hitting the "Bet One" button once and then hitting the "Spin" button. Bet two coins by hitting it a second time before you hit "Spin." To bet all three coins, you can either hit "Bet One" a third time, or simply by hitting "Bet Max" to bet three coins and spinning the reels automatically.
To play Alien Invasion, simply choose your coin value at the left. Then, choose how many coins you wish to bet and hit the spin button. You can wait for the reels to stop themselves or if you wish to stop the reels mid-spin, you can hit the "Stop Spin" button at the very right. Once the reels stop, if a winning combination occurs along the single payline, the slot machine will light up, music will play and your winnings will be added to your casino account. Here is a screenshot of the Alien Invasion classic slot machine: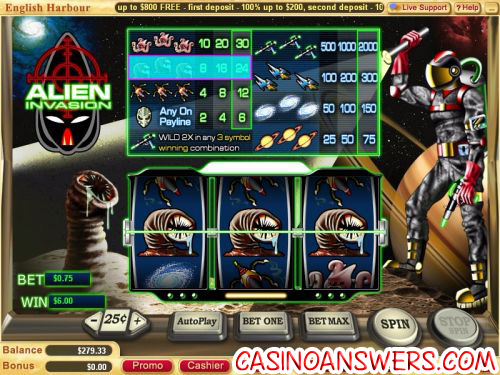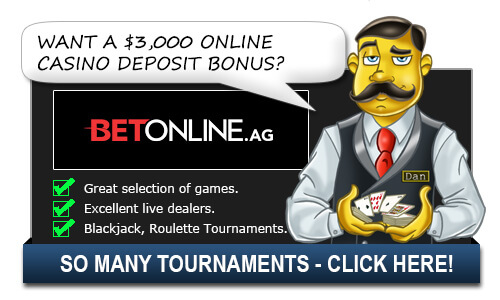 The top jackpot in Alien Invasion is the laser blaster. On a 3 coin bet, hitting three laser guns will win you 2000 coins. The laser gun also acts as a wild symbol. Any winning combination you complete using the laser gun will double your winnings.
If you're not one who likes continually hitting buttons, Alien Invasion has an autoplay feature. Simply hit "Autoplay" next to the coin value selection and you will open up a box. Here you can choose the spin settings: number of spins (5, 10, 25, 50, 100, 250 or 500) and the number of seconds between spins (1, 1.5 or 2). You can also determine the stop settings from which the autoplay spins are played: stop once all spins are complete, stop when jackpot is won, stop if a win exceeds or equals ($50, $100, $150, $200 or $250), stop on any win or stop if credits increase/decrease by ($50, $100, $150, $200 or $250). You can stop autoplay at any time.
The Alien Invasion slot machine is a very basic classic slot machine. Casino players who double as sci-fan fans will enjoy the sci-fi theme. Casino players can get a $12,500 welcome bonus – 100% up to $777 on your first 15 deposits along with 4 free slot tournament tickets at Crazy Slots Casino!
Additional Alien Invasion Questions:
Can US players play Alien Invasion?
Crazy Slots Casino, Caribbean Gold Casino and all other Vegas Technology casinos that host Alien Invasion will welcome deposits from players in the United States.
Does Alien Invasion have a progressive jackpot?
No, Alien Invasion is not a progressive jackpot slot. The top jackpot on Alien Invasion is $20,000. You can find other progressive jackpot slots such as Mega Money Mine, Pay Dirt and Treasure Trail at Crazy Slots Casino.
Related Questions:
Alternative Ways to Ask/Incoming Search Traffic:
The answer to the question Alien Invasion Slot Machine Game Review, Q&A, Flash Game, Rules is also applicable for the following questions:
What alien themed slot machines are there? What alien fruit machine did I play? Is there any cool casino games based on aliens or martians?