The Big Heist is a 3-reel, 1-line classic slot machine found at select Realtime Gaming online casinos, featuring bonus wins and a progressive jackpot. You can play The Big Heist at Bovada.
The Big Heist is a cop-themed slot machine, centering on stopping a big bank heist. Symbols on The Big Heist are police-centric, including a Pistol, Sunglasses, Cup of Coffee, Doughnut and a Police Badge. There is also a Dial bonus symbol.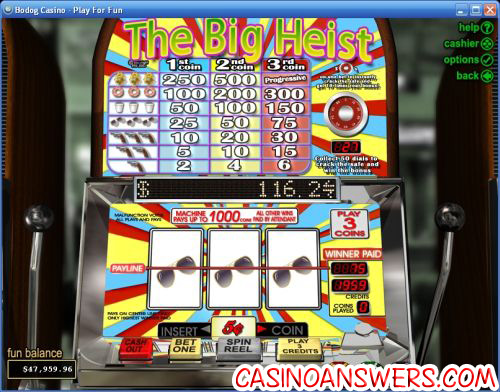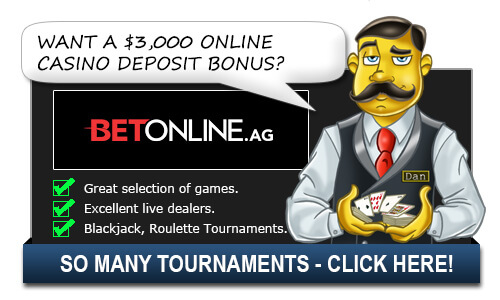 Get started playing The Big Heist classic slot machine by selecting a coin value of $0.05, $0.25, $0.50, $1 or $5. Total bets range from $0.05 up to $15 per spin. Once you have selected a coin size, you can buy casino credits by clicking on the $5, $25 or $100 chips. You will not permanently lose the money you spend on a casino chip, as you can always hit "Cash Out" and have the remaining cash converted back into your currency and returned to you. To play 1 or 2 coins, click the "Bet One" button the appropriate number of times, followed by the "Spin Reel" button. To play all 3 coins, hit "Play 3 Credits."
The $0.05, $0.25 and $0.50 coin sizes on The Big Heist slot machine have progressive jackpots. At this moment, the jackpots are at $116, $503 and $1,050 respectively. To win one of these progressive jackpots, you must have 3 Police Badge symbols appear on the payline. If you are instead playing the $1 or $5 coin sizes, you will be playing for a 2000 coin fixed jackpot rather than a progressive one.
As you play The Big Heist, you will occasionally hit Dial symbols. You will collect every Dial symbol that appears. Once you have collected 50 Dials, you will crack the safe and win a bonus prize. The counter is located to the right of the paytable. Each coin size will have its own counter, but your counters will not reset if you leave the game or change coin sizes. If you are lucky enough to receive 3 Dial symbols on a single spin, you will crack the safe immediately and win 10X your bonus! Start collecting bonus symbols now at Bovada!
There are 7 winning combinations on The Big Heist slot game. They include (1/2/3 coin payouts in parenthesis): 1 Gun symbol (2/4/6), 2 Gun symbols (5/10/15), 3 Gun symbols (10/20/30), 3 Sunglasses symbols (25/50/75), 3 Coffee symbols (50/100/150), 3 Doughnut symbols (100/200/300), 3 Police Badge symbols (250/500/2000 or progressive).
To play The Big Heist and try to win one of the progressive jackpots, sign up and make your first deposit today at we consider to be the best online casino, Bovada!
Additional Big Heist Questions:
Are US players able to play The Big Heist for real money?
Yes, American players are welcome to sign up and deposit at Bovada Casino!
How do I win the progressive jackpot on The Big Heist slot game?
To be eligible for one of the progressive jackpots on The Big Heist, you must be using the $0.05, $0.25 or $0.50 coin sizes. From there, you must use the "Play Max" button to make 3-coin maximum bets while playing The Big Heist.
Related Questions:
Alternative Ways to Ask/Incoming Search Traffic:
The answer to the question The Big Heist Classic Slot Guide & Review is also applicable for the following questions:
Where can I play a good three reel classic slot? Big Heist casino game,