Strike Gold is a 3-reel, 1-line progressive jackpot slot machine from Rival Gaming. The Strike Gold classic slot machine can be played at Slots Jackpot Casino and Superior Casino.
The common theme in Strike Gold is… you guessed it, gold! The background is in gold, the logo is gold and most of the symbols are gold too. As far as the presentation and design of Strike Gold go, we have absolutely no complaints. The symbols are animated and all look nice. Here a screenshot to show what the Strike Gold progressive slot looks like: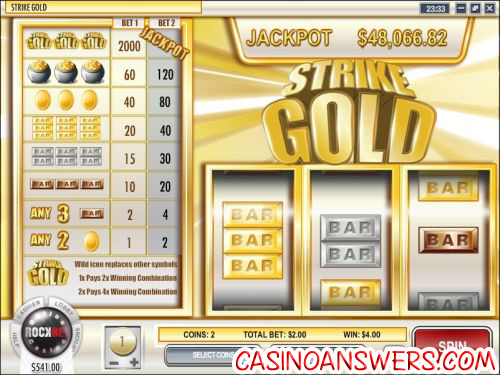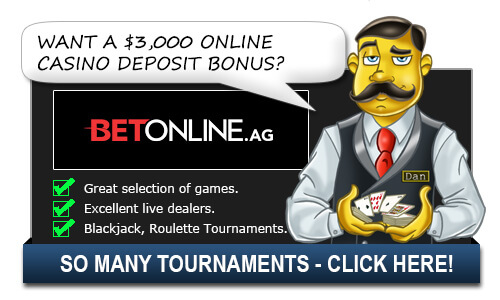 To play the Strike Gold slot machine, simply select whether you want to bet one or two coins and hit "Spin" at the right. The reels will spin. If a winning combination lands on the single center payline, a sound effect will play and your winnings will be credited to your casino account. The winning combination will blink on the paytable.
Strike Gold does not offer a wide range of betting options. One dollar is the only coin value. You can bet $1 or $2 on a spin. The only way to win Strike Gold's progressive jackpot is to bet $2.
Winning combinations and payouts on the Strike Gold progressive jackpot slot are (1/2-coin payouts listed in parenthesis): any 2 gold coins (1/2), any 3 bars (2/4), 3 single bars (10/20), 3 double bars (15/30), 3 triple bars (20/40), 3 gold coins (40/80), pot of gold (60/120), Strike Gold wild symbol (2000/jackpot).
Strike Gold has a wild symbol – the Strike Gold logo. The wild symbol will replace any of the symbols. If you use one wild symbol to complete a winning combination, you will double your winnings. Two of them will quadruple your winnings.
Get three Strike Gold wild symbol logos in a row on a 2-coin bet and you will win the Strike Gold progressive jackpot! This is no small progressive jackpot, either. Strike Gold's progressive jackpot can range anywhere from $25,000 to over $50,000!
For online casino players looking for a win that can dramatically enhance their lives, Strike Gold makes for an attractive choice. All you have to do is line up three symbols and you will find yourself several thousands of dollars richer. Sign up at Slots Jackpot Casino and take advantage of their great 100% signup bonus offer to play the Strike Gold today!
Additional Strike Gold Progressive Jackpot Slot Questions:
Can players from the United States win the Strike Gold progressive jackpot?
No, American players are no longer allowed to play at Rival online casinos. Instead, we suggest you check out a Slotland casino like Win A Day Casino for all your online gambling needs.
What other progressive jackpot slots can I find at Rival-powered casinos?
Rival Gaming online casinos offer the progressive slots Money Magic, Major Moolah and One Million Reels BC in addition to Strike Gold.
Does Strike Gold have any special features such as a bonus game or free spins?
Other than the progressive jackpot, the only special feature on Strike Gold is a wild symbol with a multiplier.
Related Questions:
Alternative Ways to Ask/Incoming Search Traffic:
The answer to the question Strike Gold Slot Machine Review, Q&A, Flash Game, Rules is also applicable for the following questions:
What Rival Progressive Jackpot Slots are there? How much is the Strike Gold Progressive Jackpot Slot Machine worth?