Spy Game is a 5-reel, 15-line iSlot-branded video slot developed by Rival. Spy Game features wild symbols, a free spins feature with multipliers and a 3-stage bonus game. You can play the Spy Game video slot at Slots Jackpot Casino and Superior Casino.
Spy Game is an iSlot, which stands for "interactive slot." The iSlots have multi-stage bonus games that are almost like real video games that even have a storyline. This increases the play value of the iSlots over most video slots exponentially.
When you start the Spy Game iSlot up, you are greeted with an intro movie of a factory where Weapons of Mass Destruction are being built. Here you will be introduced to the almost comic book art style that Spy Game employs. In the story, you play a Super Spy (inspired by James Bond) and your first job in the game is to blow the building where the WMDs are being built using a bomb. How you're going to manage to do this will be revealed below.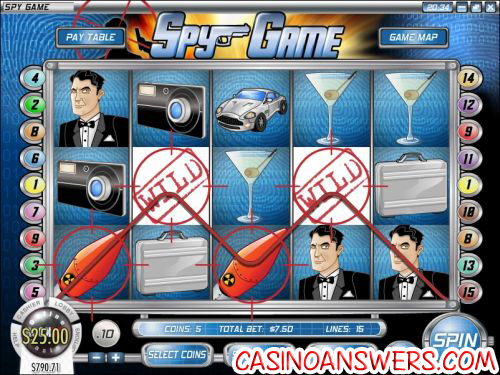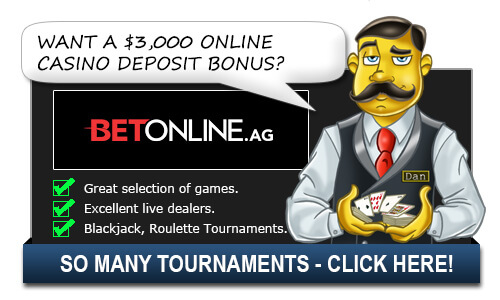 Symbols on the Spy Game iSlot include the WMD, the Super Spy, the Spy Girl, the Wild Pistol symbol, Martini, Camera, Briefcase, Car (equipped with projectiles), Scattered Classified Folder plus bonus symbols.
If you like a lot of music, sound effects and animations in your slot machines, Spy Game delivers in spades. The Spy Game video slot has cutscenes that play if you have a winning combination of four or more symbols. These only last a few seconds and don't distract too much from the game. If you don't like them, you can always hit the "Spin" button to skip them. Spy Game also has dramatic background music that plays all throughout the game, which you can turn down in the Options menu if you want.
To get going on the Spy Game iSlot, you must first select your coin value. The available coin values are $0.01, $0.05, $0.10, $0.25, $0.50 and $1. Once you have chosen a coin value, you can choose how many coins you wish to bet per spin. Once you have your bet per line set, you can set your number of lines (up to 15). You can bet as little as a penny per spin or you can wager the maximum bet of $75 per spin. Spy Game facilitates both casual players and high rollers. We recommend you leave Spy Game at 15 lines as to not miss any winning combinations. To play 5 coins and 15 lines at your coin value, hit the "Bet Max" button. To play Spy Game using the bet you have set yourself, hit the "Spin" button.
To win Spy Game's top fixed jackpot of 800 coins, 5 Spy Girl symbols must appear in a row on an active payline. The Spy symbol is the second largest jackpot at 400 coins. The jackpots on Spy Game are not very impressive because the big wins in the game come from free spins and the bonus games.
The wild symbol on Spy Game is the top secret classified folder symbol. It does not pay out by itself, but it will substitute for any symbol in the game except for the scatter symbol. It has a 3X multiplier during the free spins feature.
Spy Game's scatter symbol is the pistol. Like the wild symbol, it does not pay out by itself, but it is the most desired symbol in the game. Every time you hit a pistol symbol, you will hear a gunshot sound effect. You need three of these scattered pistol symbols anywhere on the reels to trigger the free spins feature.
3 or more pistol symbols and you will be awarded 10 free spins with a 4X multiplier. However, the important thing about the free spins feature is that it is the only way to trigger the bonus game. During free spins, three bomb part symbols will be added to the reels. All three of these symbols must appear during the free spins feature to trigger the bonus game. If you're a real money player, the game's autoplay feature is the best way to trigger the free spins feature. When you trigger the free spins feature, you will be shown a cutscene ripped straight out of the opening to every James Bond film.
In the first stage of the Spy Game bonus feature, you must choose one of four bomb sites – Power Plant, Chemical Factory, Assembly Hangar or Operations Center. Once you choose one of the three locations, you will be treated to a cutscene and awarded a prize.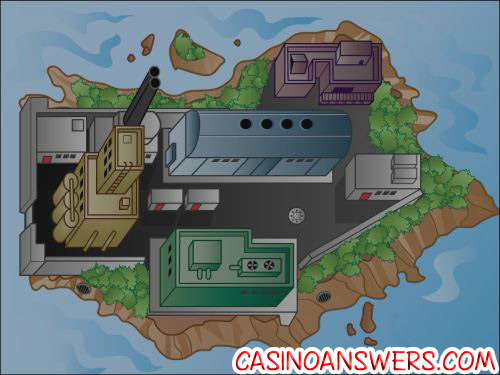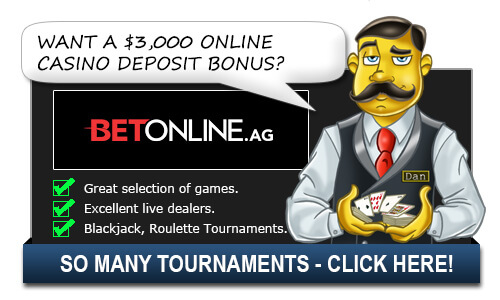 Once you have completed the first mission, you will now have to assemble a rifle in the free spins feature to get to the second stage of the bonus game. You can track your game progress by using the Game Map. There are three bonus levels to play on the Spy Game interactive slot.
All wins on Spy Game pay left to right, except for scatter wins (which pay any). All wins are multiplied by the coins staked per line, except for scatters (which are multiplied by the total bet). Only the highest win per selected line will be paid out.
Spy Game has some pretty cool special features such as the free spins, multipliers and the bonus game is fine if you're looking for something more along the lines of most other video slots, but compared to other iSlots such as Heavyweight Gold and Psychedelic Sixties, it falls short in the interactivity department. If you want to try Spy Game out, do it with a 100% up to $500 signup bonus from Slots Jackpot Casino.
Additional Spy Game iSlot Questions:
What is an iSlot?
An iSlot (or interactive slot) is a branded video slot exclusively from Rival, which means you can only find it at online casinos such as Slots Jackpot Casino. The iSlot takes the video slot, adds a storyline and an interactive bonus game among other special features to make the video slot more interactive and more fun to play.
Are Americans able to play the Spy Game iSlot?
No, American players are no longer allowed to play at Rival online casinos. Instead, we suggest you check out a Slotland casino like Win A Day Casino for all your online gambling needs.
Related Questions:
Alternative Ways to Ask/Incoming Search Traffic:
The answer to the question Spy Game iSlot Machine Review, Q&A, Flash Game, Rules is also applicable for the following questions:
Spy Game interactive Slot Machine Review, Q&A, Flash Game, Rules,