8-Ball Slots is a 3-reel, 1-line classic slot machine found at Playtech Casinos. You can play 8-Ball Slots at such online casinos as Omni Casino and Casino Tropez.
8-Ball Slots is based on the popular 8-Ball pool game. All of the symbols in 8-Ball Slots are pool balls from 1 up to 15. The 8-Ball slot machine is presented in classic reel slot format to add realism to the game. Here is a screenshot of 8-Ball Slots, provided by Omni Casino: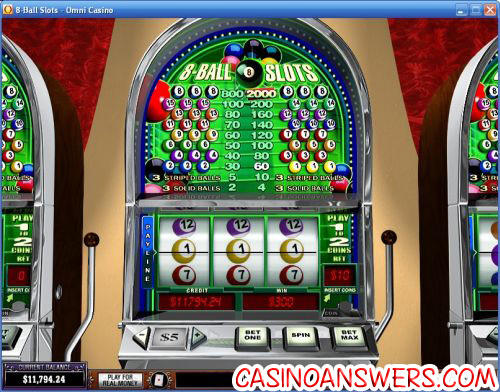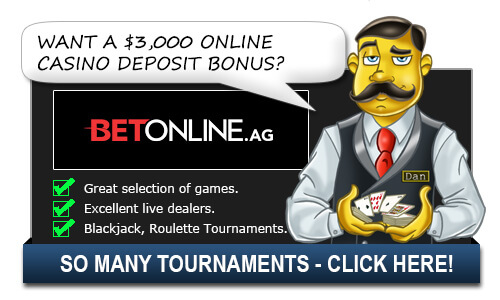 To play 8-Ball Slots, you must first choose a bet. Coin values in 8-Ball Slots are: $0.05, $0.10, $0.25, $0.50, $1, $2 and $5. 8-Ball Slots is a multi-coin slot, thus you must choose to bet one or two coins per spin. To bet one coin, hit "Bet One" followed by the "Spin" button. To bet two coins, simply hit the "Bet Max" button on the far right of the game buttons. The 8-Ball Slots machine will then spin and if a winning combination lines up along the single center payline, you will win a prize.
Payouts in 8-Ball Slots are (1/2 coin payouts listed in parenthesis): 3 solid balls (2/4), 3 striped balls (5/10), 3 1-Balls or 2-Balls (30/60), 3 3-Balls or 4-Balls (40/80), 3 5-Balls or 6-Balls (50/100), 3 7-Balls or 9-Balls (60/120), 3 10-Balls or 11-Balls (70/140), 3 12-Balls or 13-Balls (80/160), 3 14-Balls or 15-Balls (100/200), 3 8-Balls (800/2000).
As one could assume based on the name of the slot machine, the top jackpot on 8-Ball Slots is the 8-Ball symbol. Line three 8-Balls up along the center payline on a 2-coin max bet and you will win 2,000X your bet. That means that if you bet the $10 max bet on a spin, you can win $10,000!
8-Ball Slots has an autoplay feature found in the game menu. In the simple mode, you can set the number of spins to play automatically (up to 9999), the delay between spins, to stop on jackpot win, to stop if a single win is more than any value you enter, to stop when your overall win more than a value you can enter and to stop when your overall loss is more than any value you enter. You can stop the autoplay feature at any time.
Playtech has provided us with another good classic slot machine in 8-Ball Slots. 8-Ball Slots is great for casino players who just want to play a straight forward slot machine with no special features for as cheap as a nickel per spin. If you're looking for the right casino to play 8-Ball Slots, Omni Casino offers a 100% up to $100 signup bonus, a $200 reload bonus and a $100 weely bonus on Sundays. If that sounds good to you, head over to Omni Casino!
Additional 8-Ball Slots Questions:
If I'm in the United States, am I able to play 8-Ball Slots for real money?
Casino players from the United States cannot play at 8-Ball Slots at Omni Casino for real money. We strong advise you to check out some of the great classic slot machines at RTG casinos such as Lucky Red Casino.
Does 8-Ball Slots have a progressive jackpot?
No, 8-Ball Slots only has a top fixed jackpot of 2,000 coins. This means that you can win up to $10,000 if you are lucky enough to have three 8-Ball symbols appear in a row on a spin. Omni Casino does have other progressive jackpots, including several Marvel Jackpot Slots.
Related Questions:
Alternative Ways to Ask/Incoming Search Traffic:
The answer to the question 8-Ball Slots Review, Q&A, Flash Game, Rules is also applicable for the following questions:
Where can I play a snooker or pool based classic slot machine?