Ski Bunny is a 3-reel, 1-line AWP fruit machine slot developed by Microgaming, with nudge features, a hold feature, Shifta feature, Let 'em Spin feature and a bonus game. You can play the Ski Bunny pub slot at Ladbrokes Casino and Gaming Club Casino.
The Ski Bunny character is a sexy rabbit in a ski suit, drinking a martini. Why she would be drinking a martini in the middle of skiing is unknown. She will speak when you hit many of the game's special features, such as nudges. Symbols on the Ski Bunny slot machine include Ski Bunny, Watermelons, Plums, Bar symbols, Oranges, Lemons and Cherries. There is a lot going on in the background of the Ski Bunny slot game. It's got snow, penguins, a lodge, a bunny driving in a car checking Ski Bunny out.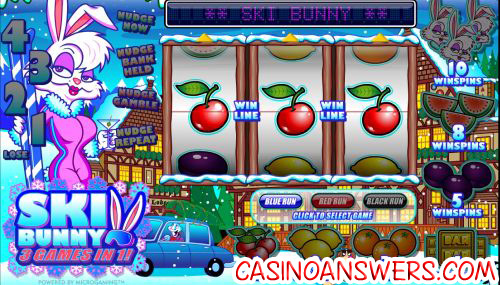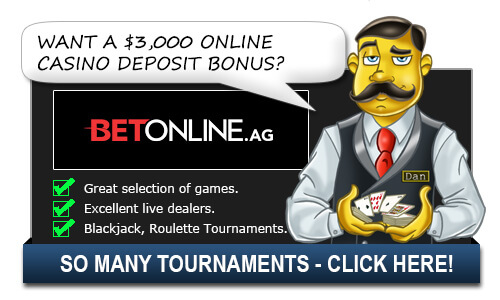 Bets on the Ski Bunny fruit machine start at $0.10 per spin and also include: $0.20, $0.25, $0.50, $1, $2, $5 and $10. Select your bet by using the "+" and "-" buttons. As is common in fruit machines, the goal of Ski Bunny is not to win money from the regular slot game, but to get "Win Spins" that will take you to a bonus game where you can win money. There are three different levels of Ski Bunny – Blue Run, Red Run and Black Run. The higher the level, the more Win Spins you can win. However, they will become more difficult to win with each subsequent level. You can win up to 50 Win Spins in the regular slot game. To spin the reels of the Ski Bunny AWP slot game, hit the "Spin" button.
As you can expect from an Amusement with Prizes pub slot machine, Ski Bunny has a nudge feature. The nudge feature is random and gives you the ability to bump a reel down one position to potentially create a new winning combination. You can win up to 4 nudges in the regular slot game. You can tell how many nudges you have won by which number at the left side is highlighted. Use the arrows above the reels to "Sneak Peak" the next two symbols on the reel.
One of the nudge-related features is the ability to bank your nudges. The feature is activated randomly when the "Nudge Bank Held" light flashes. To bank your nudges (save them for your next spin), hit "Spin" without using your nudges. You must use your unused nudges on the next spin.
Another nudge feature is Nudge Repeat. It is also random. When you have used all your nudges, the Nudge Repeat light will flash and you will be awarded the same number of nudges as you have just used. This can be very helpful in creating a winning combination while playing Ski Bunny at Ladbrokes Casino!
The last nudge feature is Gamble Nudge. Using it, you can gamble your nudges to win up to 4 nudges. "Gamble" and "Collect" buttons will be added to the game and you will can decide whether to gamble your nudges or keep them.
By hitting winning combinations on the Ski Bunny fruit machine, you will receive Win Spins. After hitting any winning combination, you will be taken to the Ski Bunny Win Spin bonus game. The Win Spin bonus game is a 3-reel, 5-line slot machine. Payouts on the Win Spin bonus game are as follows: 3 Ski Bunny symbols (500), 3 Ski symbols (25), 3 Lift symbols (10), 3 Helicopter symbols (5), 3 Chalet symbols (2) and 3 Carrot symbols (1).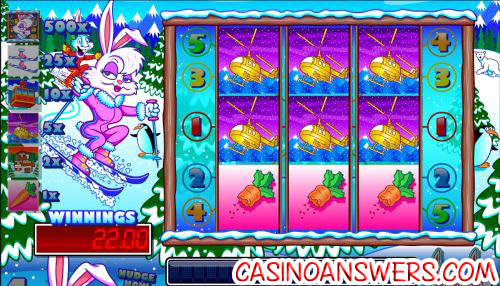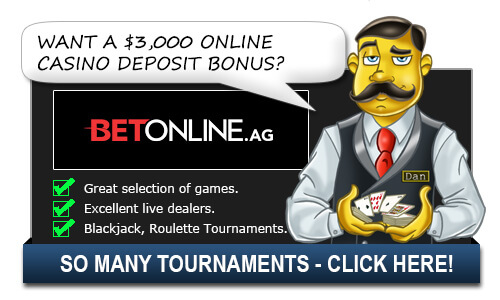 If you are able to match two of the three symbols after using all of your nudges, you may trigger the Let 'em Spin feature. The Let 'em Spin feature will spin the reels into an automatic winning combination. Make sure not to hold the reels when using Let 'em Spin, because otherwise it will deactivate the feature.
The Shifta! feature on the Ski Bunny fruit machine is a randomly triggered automatic win. Upon activation, the reels will spin automatically into a winning combination.
Ski Bunny's randomly activated hold feature gives you the ability to hold as many reels as you like for the next spin. Hit "Cancel" to re-select the reels you wish to hold.
For those who enjoy fruit machines, Ski Bunny is everything you can expect from one. It has many of the features you expect to find, although it does lack a cash ladder feature. To play the Ski Bunny pub slot game, visit Ladbrokes Casino!
Additional Ski Bunny Questions:
What is the top jackpot on the Ski Bunny fruit machine?
You can win up to 500X your bet by getting 3 Ski Bunny symbols in the Win Spins bonus game.
Where can I play a Flash game of the Ski Bunny AWP game for free?
A No-Download Flash version of Ski Bunny is available at both Ladbrokes Flash Casino and Gaming Club Flash Casino. You can play for free or for real money. If you are unable to load the Ski Bunny Flash slot game, try downloading and installing the latest version of Adobe Flash Player.
Are players from the USA able to play the Ski Bunny pub slot for real money?
Unfortunately, players from the United States of America are not able to play Ski Bunny at Microgaming online casinos at this time. For interactive video slots with a lot of special features in their own rights, play the iSlots at the US-friendly Pantasia Casino.
How do I trigger a special feature on the Ski Bunny slot machine?
Other than the Win Spins bonus game, all features on the Ski Bunny fruit machine are activated at random. Keep playing Ski Bunny and you are sure to trigger some of its special features!
At what casino should I play the Ski Bunny online slot?
It's up to you, but we recommend you play the Ski Bunny fruit machine at Ladbrokes Casino or Gaming Club Casino. For more on Gaming Club, you can read our Gaming Club Casino Review.
Related Questions:
Alternative Ways to Ask/Incoming Search Traffic:
The answer to the question Ski Bunny Fruit Machine (Microgaming) is also applicable for the
following questions:
What microgaming fruit machines are there?