Party Time is a 3-reel, 1-line classic slot machine developed by Microgaming. You can play the Party Time slot machine at Gaming Club Casino and Wild Jack Casino.
Party Time is a party-themed slot machine from Microgaming. Symbols on the Party Time classic slot machine consist of: Cherry, Martini, Champagne, Seven, Jukebox and the Party Time logo.
To start partying on with the Party Time slot machine, first set your coin size. Coin sizes available are $0.25, $0.50, $1, $2 and $5. After that, select the number of coins you wish to bet (up to 3) by either using "Bet One" or clicking on the paytable and click the "Spin" button. You can also use the "Bet Max" button to play the 3-coin maximum bet. Play the maximum bet on Party Time for the best value. You can bet as little as a quarter per spin on Party Time and as much as $15 per spin. Here is a screenshot of the Party Time slot machine: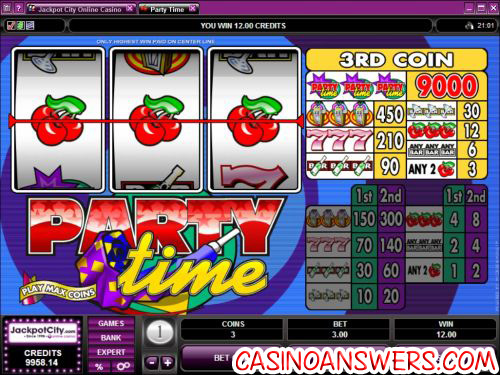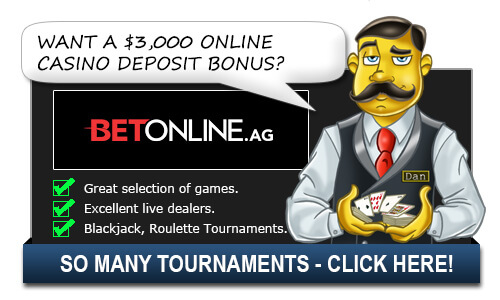 Party Time has a 9000 coin top jackpot. This is quite a big jackpot for a simple single-line slot machine like Party Time. You can win this jackpot by making the maximum bet and hitting three Party Time symbols on the center payline. The Party Time symbol only appears on the maximum 3-coin bet.
Payouts on the Party Time classic slot machine are as follows (1/2/3 coin payouts in parenthesis): any 2 Cherry symbols (1/2/3), any 3 Bar symbols (2/4/6), 3 Cherry symbols (4/8/12), 3 Martini Bar symbols (10/20/30), 3 Champagne Bar symbols (30/60/90), 3 Seven symbols (70/140/210), 3 Jukebox symbols (150/300/450), 3 Party Time symbols (9000). There are eight winning combinations on the Party Time slot machine.
To access the Party Time slot machine's autoplay feature, change over from Regular mode to Expert mode. You will now see additional game buttons such as 5X for five quick autoplay spins and 10X for ten quick autoplay spins. You will also now see an "Autoplay" button for the advanced autoplay features. Advanced spins settings are: number of spins (5, 10, 25, 50, 100, 250 and 500) and number of seconds between spins (0, 0.25, 0.50, 0.80 and 1.50). Advanced stop settings include: stop once all spins are complete, stop when the jackpot is won, stop if a win exceeds or equals ($25, $50, $100, $250, $500, $1000 and $2500), stop on any win, stop if credits increase by ($25, $50, $100, $250, $500, $1000 and $2500) and stop if credits increase by ($25, $50, $100, $250, $500, $1000 and $2500). You may cancel autoplay at any time by using the "Stop" button.
Play Party Time and over 255 other slot machines when you sign up and make your deposit at Gaming Club Casino!
Additional Party Time Questions:
I'm looking for a great casino signup bonus to play Party Time. Where can I find one?
Visit Gaming Club Casino to get a 100% up to $100 signup bonus plus 30 free spins!
Are US players able to play the Party Time slot machine game?
Players based in the United States are currently out of luck when it comes to playing the Party Time classic slot. However, there are other places American casino players can play, such as Bovada Casino.
Related Questions:
Alternative Ways to Ask/Incoming Search Traffic:
The answer to the question Party Time Classic Slot Review, Q&A, Flash Game, Rules is also applicable for the following questions:
What is a really fun slot machine to play?