Heavy Metal is a 3-reel, 3-line classic slot machine developed by Microgaming. You can play the Heavy Metal classic slot machine at Bovada.
Heavy Metal Game Description
Surf the galaxy with Cyber Girl in this sci-fi themed slot machine. Symbols on the Heavy Metal slot game include Cyber Girl, Metallic 7 and three Bar symbols. For a look at Microgaming's Heavy Metal classic slot, a screenshot has been provided below: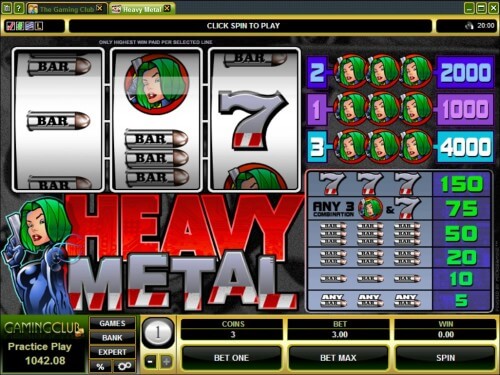 Heavy Metal Betting Options
The Heavy Metal casino game is a quarter slot. Bets on the Heavy Metal slot machine are $0.25, $0.50 and $1 per line. You can select 1-3 lines on the Heavy Metal online slot. The maximum total bet on Heavy Metal is $3 per spin – a low betting range suited for casual players. To play the Heavy Metal classic slot machine, select your bet and press the "Spin" button. To play with all 3 lines enabled, use the "Bet Max" button.
Heavy Metal Top Payouts
The top-paying symbol on Heavy Metal is the Cyber Girl symbol. If you hit 3 Cyber Girl symbols on the third payline, you will win the 4000 coin top jackpot. On payline 1 and 2, this Cyber Girl symbol will pay out 1000 or 2000 coins respectively. You can win big from hitting this winning combination when you play Heavy Metal at Bovada!
Heavy Metal Payout Schedule
There are 7 winning combinations on the Heavy Metal classic slot machine. The complete payout schedule is as follows (1/2/3 line payouts in parenthesis): any 3 Bar symbols (5), 3 Single Bar symbols (10), 3 Double Bar symbols (20), 3 Triple Bar symbols (50), any combination of 3 Cyber Girl and Metallic 7 symbols (75), 3 Metallic 7 symbols (150) and 3 Cyber Girl symbols (1000/2000/4000).
Heavy Metal Autoplay Mode
The Heavy Metal slot machine has an autoplay mode with advanced settings. To access Heavy Metal's autoplay feature, hit "Expert" and you can play 5 or 10 autoplay spins or hit the "Auto Play" button to open up advanced settings. You can set the number of spins (5, 10, 25, 50, 100, 250 and 500), number of seconds between spins (0, 0.25, 0.50, 0.80 and 1.50), stop once all spins are complete, stop when jackpot is won, stop if a win exceeds or equals ($25, $50, $100, $250, $500, $1000 and $2500), stop on any win and stop if credits increase/decrease by ($25, $50, $100, $250, $500, $1000 and $2500). You can stop autoplay at any time on the Heavy Metal fruit machine.
Heavy Metal Summary
You can win the 4000 coin top jackpot when you play the Heavy Metal sci-fi slot game at Microgaming online casinos like Bovada!
Additional Heavy Metal Questions:
Can American players play the Heavy Metal online slot machine for real money?
No, but American players can play USA-friendly slots at Bovada.
Where can I read more sci-fi slot reviews?
For more sci-fi slot reviews, please read our list of sci-fi slots.
Can I play Heavy Metal with no download required?
Look for the Heavy Metal flash game around page 4 of the flash casino at Bovada. You can play for free in practice mode or for real money. If you experience any issues with the flash casino, download the latest update to Adobe Flash Player.