3-Reel Fruit Fiesta is a 3-reel, 3-line progressive jackpot slot machine from Microgaming. You can play Fruit Fiesta at Microgaming casinos such as All Jackpots Casino and Lucky Nugget Casino.
3-Reel Fruit Fiesta is a progressive jackpot slot that is linked to the Fruit Fiesta Progressive Jackpot. The Fruit Fiesta jackpot starts at $800 and usually isn't hit until for a long time. The average Fruit Fiesta jackpot win is $25,000. The highest it has ever got it a sweet $160,000. If you ever see the Fruit Fiesta progressive jackpot that high, we suggest you go for it immediately, because we know we would! There is also a 5-Reel edition of Fruit Fiesta also available at All Jackpots Casino.
Most of Fruit Fiesta's symbols are fruits such as oranges, watermelons, pineapples and plums, but there are also 7 symbols, bells, and bars. The slot machine has a green background, which gives it some of its tropical fruit feel. Here's a screenshot of the 3-Reel version of Fruit Fiesta: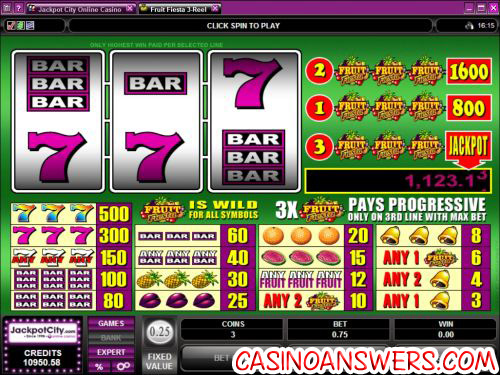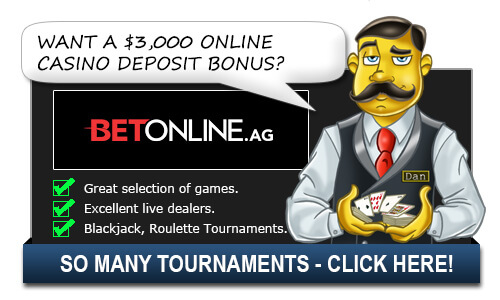 Playing Fruit Fiesta is easy. It is a fixed quarter slot, which means $0.25 is the only coin value available. You can play up to three coins. Playing the maximum bet ($0.75 per spin) is the only way to win the Fruit Fiesta progressive jackpot. To play Fruit Fiesta, hit "Bet One" for however many coins you wish to play, then hit "Spin." For each coin you play, you will activate a payline on the slot machine. Alternatively, you can hit "Bet Max" to bet 3 coins and spin the reels automatically.
As mentioned, the only way to win the progressive jackpot is to bet three coins. To win, you must line three Fruit Fiesta wild symbols on the bottom payline. This payline is only active on 3-coin max bets. On the first payline, three Fruit Fiesta wild symbols will pay out 800 coins. On the second line, the three Fruit Fiesta symbols will pay out 1600 coins.
The rest of the paytable on the 3-Reel Fruit Fiesta progressive slot machine is simple. Here is a list of the payouts on the Fruit Fiesta slot (payouts in parenthesis): 1 bell (3), 2 bells (4), 1 Fruit Fiesta symbol (6), 3 bells (8), 2 Fruit Fiesta symbols (10), 3 of any fruit symbols (12), 3 watermelons (15), 3 oranges (20), 3 plums (25), 3 pineapples (30), 3 of any bar symbols (40), 3 single bars (60), 3 double bars (80), 3 triple bars (100), 3 of any 7 symbols (150), 3 pink 7 symbols (300) and 3 multi-coloured 7 symbols (500). The Fruit Fiesta symbol is wild for all symbols and can complete any non-singular winning combination.
The 3-Reel Fruit Fiesta progressive jackpot slot is one of Microgaming's most popular slot machines, and for good reason. The most obvious reason is that it has a progressive jackpot that reaches a very high value. Few can resist the idea of winning a $25,000 progressive jackpot with only a $0.75 spin. The other reason Fruit Fiesta is so popular is because it is so simple. All you have to do to win a large sum of money is line up three symbols along a payline. It doesn't get much easier than that. For your chance to win the Fruit Fiesta progressive jackpot, head over to All Jackpots Casino now!
Additional Fruit Fiesta Jackpot Questions:
What are the differences between the 3-Reel and 5-Reel Fruit Fiesta slots?
Both the 3-Reel and 5-Reel Fruit Fiesta progressive slots are linked to the same progressive jackpot. The 3-Reel edition is more of a traditional slot machine, whereas the 5-Reel edition is a video slot. To win the Fruit Fiesta progressive jackpot on the 5-Reel video slot, you must line up the Fruit Fiesta logo on the fifteenth payline. You can also play the 5-Reel Fruit Fiesta progressive jackpot slot at All Jackpots Casino.
As a US-based player, can I play for the Fruit Fiesta progressive jackpot?
Players located in the United States are unable to play at casinos on the Microgaming platform. For some of the biggest US-friendly progressive jackpots around such as Aztec's Millions, Jackpot Pinatas and Mid-Life Crisis, you will want to head over to an RTG US-friendly casino such as Bovada Casino.
Can I play Fruit Fiesta for free in practice mode?
No, players can only play Fruit Fiesta and other Microgaming progressive jackpots for real money.
Related Questions:
Alternative Ways to Ask/Incoming Search Traffic:
The answer to the question Fruit Fiesta 3-Reel Slot Review, Q&A, Flash Game, Rules is also applicable for the following questions:
Are there other versions of the Fruit Fiesta slot machine game?